Sponsor: Westways Visual Communication & A Team Printing
Presenter: Neil Cranny, Westways Visual Communication

Westways Visual Communications is a diverse graphic design, photography, video production, web development studio and major print supplier. The company motto is "From business cards to websites and everything in between."  Westways Visual Communication has been based in the City of Belmont for over 25 years.  
A Team Printing are Perth's commercial printing experts, delivering high quality printing and design services across a huge range of mediums. They offer a wide range of services including both graphic design services and branding specialising in the Perth market. No matter what the size of your business you can be assured that you will always be getting the very best with their high quality, competitive pricing and fast service. 
Winner: Oh How Kind
Accepted By: Kaye Lirio, Oh How Kind

Oh How Kind is a hand-made, mixed media, online earring store centred on promoting wellness and self-care. Their beautiful products have brought joy to many customers, with over 300 testimonials and thank you's received so far. Founder, Kaye Lirio, believes in making a difference in style, a sentiment which is evident through all aspects of her product, starting from the item, to the customer service, and right down to the packaging. Oh How Kind uses multiple platforms for marketing to spread their positive message – with over 13,000 followers on Instagram alone.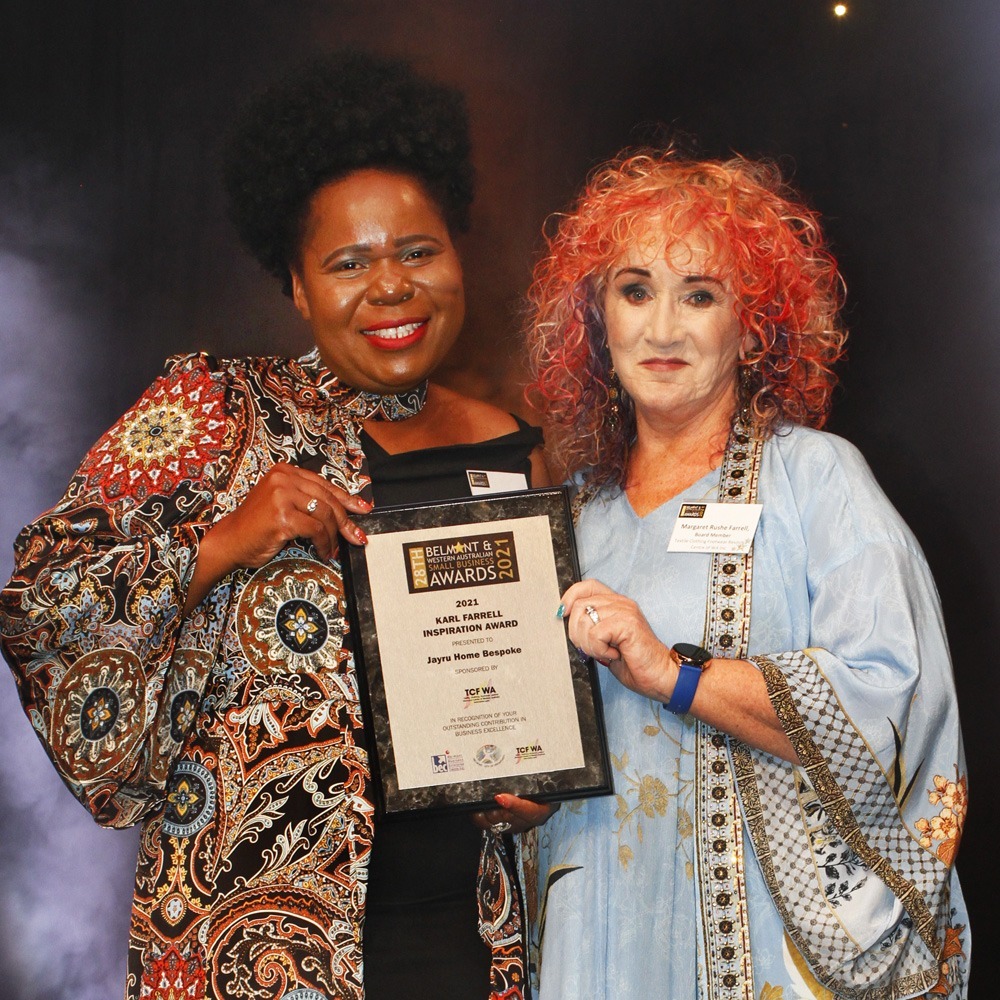 KARL FARRELL INSPIRATION AWARD  
Sponsor: Textile, Clothing and Footwear Resource Centre of Western Australia Inc. (TCFWA)
Presenter: Margaret Rushe Farrell, Board Member, TCF WA 
The Textile, Clothing and Footwear Resource Centre of Western Australia provides a valuable resource for the fashion and TCF industries. Established in Belmont in 1998, the not-for-profit centre has been so successful, that it now receives requests from across Australia and overseas. TCFWA provides specialised fashion business skills, mentoring and supply chain sourcing on and offshore and has been recognised as a leader and role model organisation.  Karl Farrell was an inspirational Chair of TCFWA and this award honours his memory. 

Winner: Jayru Home Bespoke 
Accepted By: Ruth Chimombe, Jayru Home Bespoke 
Ruth Chimombe, Founder and designer for Jayru Home Bespoke, is passionate about helping transform her clients' living spaces with her functional custom-made furniture, storage solutions and decorative pieces. Originally from Zimbabwe, Ruth studied mechanical engineering in her home country before migrating to Australia. She recently won the Excellence in Innovation Award in the Western Australian African Community Awards, and as a first-generation Zimbabwean migrant woman, Ruth is a shining example of the success women can achieve in the STEM field, which is largely a male dominated territory.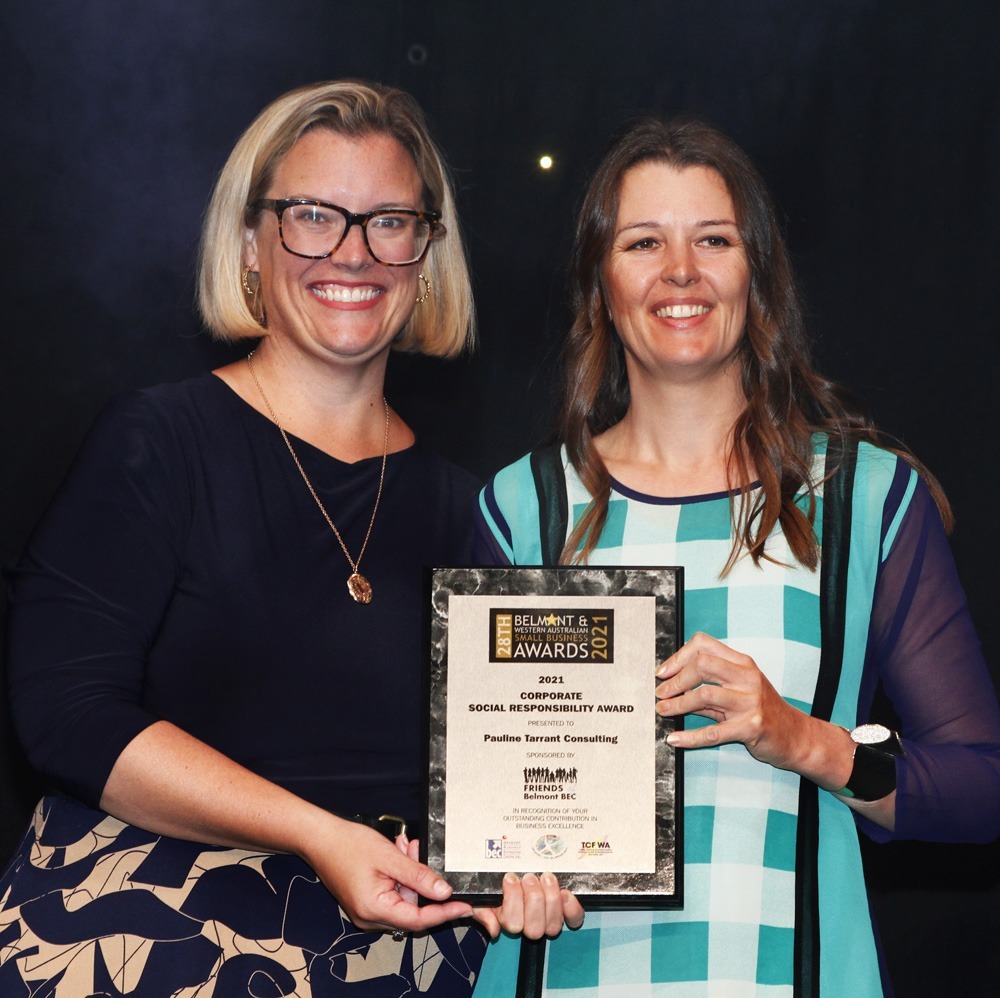 CORPORATE SOCIAL RESPONSIBILITY AWARD  
Sponsor: Friends of Belmont BEC
Presenter: Hannah Beazley MLA, Member for Victoria Park, (Past Board Member Belmont BEC) 
Belmont BEC delivered 'Count Me IN' Disability Employment Awareness support across Belmont  and Perth Metro region and still continues to provide free access to its 'Breaking Down Barriers' in  Disability Employment webinars. Friends of the Belmont BEC supported the CSR Award category in  2021 to recognise those businesses going 'above and beyond' in regards their corporate social         responsibility. Friends of Belmont acknowledges support from Cassie Rowe, MLA Member for  Belmont, Hannah Beazley MLA Member for Victoria Park and Geoff Baker, MLA Member for South  Perth towards the 2021 Corporate Social Responsibility Award.   
Winner: Pauline Tarrant Consulting
Accepted By: Pauline Tarrant, Pauline Tarrant Consulting  
Pauline Tarrant Consulting is focused on providing tailored HR solutions to their clients across Western Australia and beyond. They assist leaders to optimise HR practices, incorporating contemporary strategies that offer best-fit improvements to their business. Pauline Tarrant Consulting actively supports charitable and not-for-profit organisations via pro bono consulting. They are also a member of 100 Women, which is an organisation that works to advance the empowerment of women and girls, as well as a panel member of the WA National Disability Scheme. 
Sponsor: Designedge Innovation Festival
Presenter: Irving Lane, Chair Textile Clothing Footwear Resource Centre WA Inc
The Designedge Innovation Festival established by Belmont BEC & TCFWA, now in its 17th year, is an annual Festival that includes workshops, webinars, events and networking forums that are staged in Belmont, Perth Western Australia, nationally and globally online.   In 2021, the Designedge Innovation Festival hosted over 100 events that showcased cyber security experts, global business entrepreneurs, innovators, designers, creatives, industry associations and a presentation by India Consulate of Perth.  
Winner: BlueSky Digital Labs
Accepted By: Rizal Farok, BlueSky Digital Labs 
Kewdale based BlueSky Digital Labs is a team of developers, front end designers, data analysts and system integrators following their passion to push the boundaries and pioneer new ground in the technology space. The name of their company stemmed from an expression in business known as 'blue sky thinking', which refers to the activity of creating original ideas. This is evident in Blue Sky Digital Labs work, having helped hundreds of clients improve their business and increase the impact of their work through custom online solutions. They work together with their clients to bring raw and unfinished ideas to life through their Exploring Ideas Sessions, and creativity through collaboration. 
Sponsor: RES-Q IT
Presenter: Nick Shmakov, Director, RES-Q IT 
At Res-Q IT they are all about how to deliver innovation and innovative ideas while providing you with an outstanding computer care and support. If your computer beeps in despair, or you feel the need to throw it right through the window, Res-Q Team is there to save you and bring the smile back to your face.   Res-Q IT helps clients to have the time, space and focus for their own success. They want their clients to do what their good at – while RES-Q do what they are good at. They can help get phones sorted, cloud and web domain hosting, wireless, office back up and much more.
Winner: Hamer Airport Parking
Accepted By: Jesse Hamer, Hamer Airport Parking 
Redcliffe based Hamer Airport Parking is a family owned and run business offering customers a range of airport parking options, as well as valet, and additional car services such as detailing and mechanic checks. With over 15 years' experience in WA, they have built a reputation with their clients based on trust and satisfaction. By listening and understanding their customers they have adapted to their needs, offering a safe, simple and reliable service. Hamer Airport Parking ensure their staff offer the highest standard of service every time, with their proven track record in exceptional customer service recently recognised at the 2021 Australian Achiever Awards. 
Sponsor: TCF Global
Presenter:  Jasmyn Mumme, Board Member, TCF Global  
TCF Global assists small business with sourcing and linkages to global networks of sustainable suppliers. TCF is recognised for its long-time delivery of online sustainable fashion and its founder Carol Hanlon, is often invited as a guest speaker at numerous international forums on fashion sustainability and the circular economy. TCF Global delivers free online energy efficiency webinars for small business to reduce energy usage.  
Winner: Regen Power
Accepted By: Ambika Nayar, Regen Power 
Regen Power provides ground breaking renewable energy supply products and service to Australia and Internationally. Their mission is to provide communities the capacity to have sustainable power solutions for the future. In 2010, Regen Power pioneered an innovative solar integrated power system named HybridGEN, which has been utilised in projects both here and overseas. Both Regen Power and founder, Professor Nayar, have received various awards for their contribution to the sustainable energy field, a testament to the success of the business.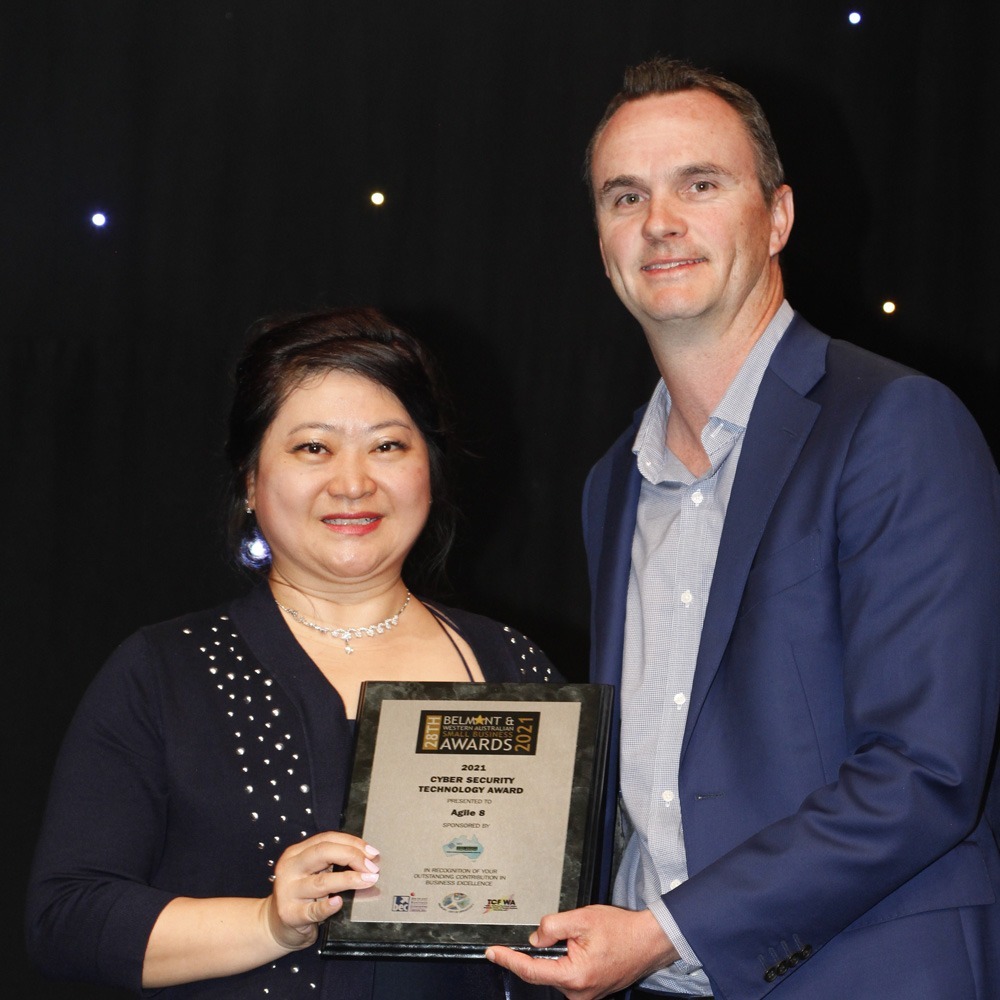 CYBER SECURITY TECHNOLOGY AWARD  
Sponsor: MY Business Incubator™ Cyber Security Training & Mentoring Project
Presenter: Brett Duane, Regional Manager – Greater Perth, AusIndustry, Department of  Industry, Science, Energy and Resources 
MY Business Incubator® CYBER SECURITY Training & Mentoring Project is providing access to  free cyber security advice to over 1,250 sole traders, micro, small and medium businesses across  Australia through helpline, mentoring, webinars, workshops and forums.  Often, small businesses  and management do not have access to cyber security expertise until they have a specific  cybercrime problem, and then have to seek solutions to problems reactively. This award seeks to  recognise the best business practices utilised by small business in being proactive about cyber  security practices. The MBI Cyber Security Project is funded by the Australian Government  Department of Industry Science, Energy and Resources through the Cyber Security Business  Connect Program.   
Winner: Agile 8
Accepted By: Esther Oh, Agile 8  
Agile 8 provide Smart Glasses that connect to remote specialists and AI assistance for life-critical  decision support for frontline workers. The Smart Glasses include services such as live video  streaming, secure data storage and data encryption. As such, Agile 8 make cyber security a top  priority in their business. Some of the measures they take to ensure best practice include biometric  and multi – factor authentication, system automated controls, utilising military grade standards of  data encryption, periodic and independent security reviews and testing to ensure network security is   robust. Agile 8 constantly educate staff and clients on the latest hacks, phishing attacks, viruses and  malware to stay on alert and prepared for any cyber security breach.
Sponsor: Storage King Perth Airport 
Presenter: Lauren Carvell, Storage King Perth Airport 
Storage King were the winner of Canstar Blue's Most Satisfied Customer award for 2021 and offer a huge range of store locations across Australia and New Zealand. Storage King at Perth Airport are your local experts for anything from small locker style storage, all the way up to garages for vehicles or a 4-bedroom home. With Christmas just around the corner, will you need extra space to hide the gifts for any little or big kids? 
Winner: Ayurveda for Wellness
Accepted By: Vidhu Sharma, Ayurveda for Wellness 
Dr Vidhu Sharma knew her path was in medicine before she finished her schooling in India. But this path was difficult and success did not come easy or overnight. Dr Sharma survived the New Zealand Earthquakes, was displaced, lost her family home and belongings, but did not lose hope or courage. With her dream still intact though, Dr Sharma studied and trained hard with a vision to spread the name of Ayurveda to the world. Today, she is a well-respected doctor and runs her business – Ayurveda for Wellness. Dr Sharma has previously been recognised for her achievements when receiving the national Australia Day Community Citizen of the Year Award in 2020. She continues to work tirelessly building her successful business, and with her 'can-do' attitude, providing her patients with ancient medical therapies to encourage relaxation and well-being. 
Sponsor: Belmont Business Enterprise Centre
Presenter: Jules Lewin, Charthill Legal (Past Chair Belmont BEC)  
Belmont BEC is a not-for-profit association established in 1994, providing small business training and mentoring services, and has assisted over 30,000+ individuals in Belmont, WA and beyond to start or improve their small business during that time, and is a specialist in virtual business incubation.   Belmont BEC has developed well-known projects for the benefit of its small business clients that have included the Belmont & WA Small Business Awards, 'Ask an Expert' Belmont Business Sundowners, Designedge Innovation FESTIVALS, TCF Resource Centre WA, Multicultural Business Support Services, WA Racing Industry Development Project, Belmont Clothes Library, Count Me IN Disability Employment Awareness Project, MY Business Incubator Cyber Security Training & Mentoring Project and the BPW Business Incubator supporting women in small business projects.
Winner: Mette is Baking
Accepted By: Mette Nielsen, Mette is Baking
In 2013 Mette Nielsen, owner of Mette is Baking, had the idea to try and bake her own Nordic crackers after returning from a trip to Denmark, where she was born and raised. Mette wanted to re-create the staple from her childhood and make something exciting and delicious for everyone to enjoy. From humble beginnings, her products now supply gourmet stores, supermarkets and restaurants in Perth and the South West. Mette works from her garage, which has been converted into a Health Department approved bakery, and makes her products by hand just as you would in your own kitchen. 
Sponsor: Belmont Forum
Presenter: Shane McLean, Belmont Forum

Belmont Forum is pleased to sponsor the Best Retail Business Award in the City of Belmont. This is the 28th consecutive award Belmont Forum has sponsored and we congratulate all tonight's finalists.   
Winner: The Coffee Club Belmont Forum
Accepted By: Preeti Soni & Bindya Patel, The Coffee Club Belmont Forum

The Coffee Club Belmont has both endured and accomplished so much in the timeframe since owners Preeti and Bindya bought the business. When Covid-19 hit, it was a huge blow to the business however, instead of calling defeat, Preeti and Bindya were fast to come up with ideas on how they could maintain their business during this difficult time. Now, business is booming and the hard work Preeti and Bindya put in has paid off. As previous winners of the WA Franchise of the Year Award, Preeti and Bindya are both passionate businessowners, which is evident through their loyal customer base and well-earned success.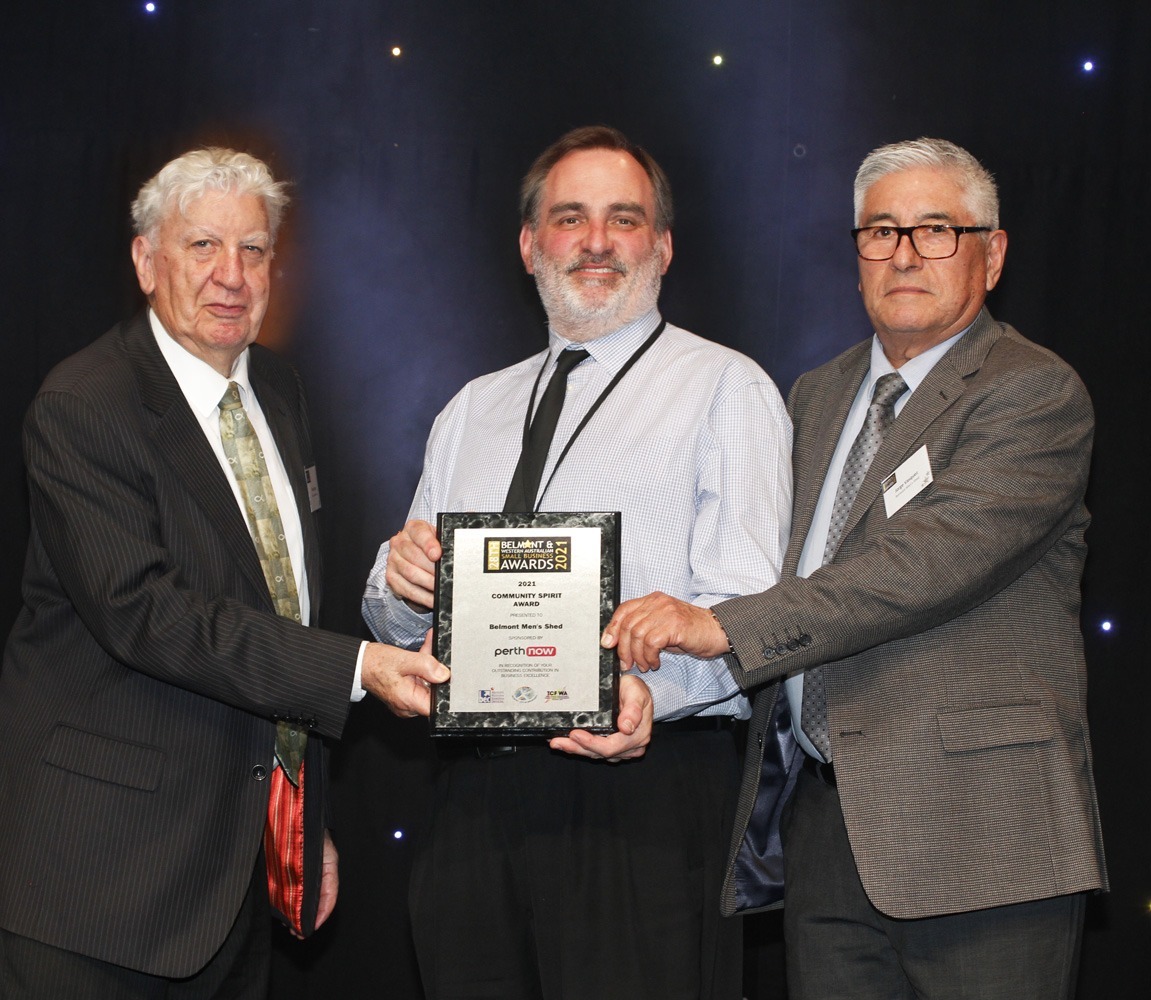 COMMUNITY SPIRIT AWARD

Sponsor: PerthNow
Presenter: Andrew Clark, PerthNow

PerthNow is WA's top news and entertainment website. Through the combined reporting resources of Seven West Media, PerthNow gives you the latest local, national and international news, hottest entertainment happenings, must-know lifestyle stories and the biggest sporting updates seven days a week. PerthNow also brings its well-known, vibrant brand and large social media following to your local newspaper. The FREE weekly newspaper prides itself on helping our readers connect with their community. Valued for covering local issues, events and news, we get to the heart of local matters! 
Winner: Belmont Men's Shed
Accepted By: Brian Carey & Jorge Vasquez, Belmont Men's Shed    
 Belmont Men's Shed aims to provide a facility where people can share ideas and knowledge and work on projects in a safe, supportive and friendly environment. A forum for men to discuss issues and problems relating to health and well-being, it also provides an opportunity for men to support each other in a comfortable setting. Recent projects include: renovating park bench seating, and providing tables and chairs for a women's refuge. Belmont Men's Shed is for men of all ages who are looking for a place where they can feel accepted, connect with others, and find a new purpose. Participants can feel this sense of belonging all while giving back and making a difference in their local community.
Sponsors: TCF Australia & Apparel Export Promotion Council of India & Consulate General of India (Celebrating [email protected])
Presenters: Dantu Charandasi, Consulate General of India & Irving Lane, Chair TCFWA &  TCF Australia 

TCF Australia (TCFWA) is a Belmont based non-profit community organisation established in 1998, who has assisted over 6,000+ designers, fashion & TCF related industry small businesses with business skill development, linkages in the global supply chains, international trade missions and industry networks.  
The Apparel Export Promotion Council (AEPC), together with the Consulate General of India, are proud to sponsor the Fashion Industry Award with TCF Australia. The Apparel Export Promotion Council (AEPC), sponsored by the Ministry of Textiles, Government of India, is the official body of Apparel exporters in India that provides assistance to Indian exporters and is a one-stop destination for those looking for guidance. The Consulate General of India, Perth, is celebrating 'Azadi Ka Amrit Mahotsav' ([email protected]), an initiative of the Government of India to celebrate and commemorate 75 years of progressive India and the glorious history of its people, culture and achievements. It is an embodiment of all that is progressive about India's socio-cultural, political and economic identity. This celebration is dedicated to the people of India who have not only been instrumental in bringing India thus far in its evolutionary journey but also hold within them the power and potential with a vision of activating India 2.0, fuelled by the spirit of Atmanirbhar Bharat (self-reliant India). 
Winner: CIZZY Bridal Australia
Accepted By: Emma McCagh, CIZZY Bridal Australia

CIZZY BRIDAL AUSTRALIA started as a family business, with the father and son team at the helm in 2009. The wedding dress supplier's popularity quickly spread through the country, fast becoming one of the most well recognised suppliers in Australia. Over the years, the business has expanded and now there are four sister brands – each one catering to a different bride style in its collection offerings. The sister brands to CIZZY include: Zavana Bridal, Zavana Couture, White April and Wedding Societe. Showing their creative flare, CIZZY Bridal Australia's diverse of collections prove that their designs can be both fresh and current, as well as traditional and elegant. They aim to provide the most beautiful gowns, paired with a customised service experience.
Sponsor: City of Belmont
Presenter: Cr Phil Marks, Mayor City of Belmont

The City of Belmont is a vibrant, modern City located just six kilometres from Perth CBD. The City is a thriving network of economic growth and development opportunities and is located in one of the most significant logistics hubs in the region. The City's most significant community infrastructure project Belmont Hub opened in 2020.  This state-of-the-art facility with integrated services, continues to consolidate its position in the City centre. Belmont's prime location provides opportunities for economic and community development in our City and has attracted new families and businesses of varying sizes and across a range of industries. These communities have made Belmont their home to live, work and invest.

Winner: WLC Medical
Accepted By: Adam Johnston, WLC Medical

As a local business in Belmont, WLC Medical is a team of highly qualified and dedicated health professionals working together to provide healthcare to people of all ages, body types and levels of health. Their vision is a happier and healthier Australia which they work to achieve through their values of honesty, transparency, support, collaboration and ingenuity. Their centre is supported by a GP, Physiotherapist, Dietician and Clinical Psychologist. The team focus on discovering the 'why' of a patient's current health concerns and aim to help their clients reach and maintain their best health and weight.
Sponsor: Quest Perth Ascot
Presenter: Brodie Kleeman, Quest Perth Ascot
Quest Perth Ascot provides a new hotel experience in the City of Belmont, given the close proximity to Perth Airport and CBD the property works as steppingstone to Perth's main attractions and locations. Decorated with the statue of racehorse, fitting to the area of Ascot and its extensive race history, the property is a home for both the business and leisure traveller as they embark on their travels across Western Australia. Offering a suite of room types and free airport shuttle service, the property has been successful by working with local business and industry within the City of Belmont.
Winner: Authentic Wine Brands
Accepted By: Mark Leake, Authentic Wine Brands
Mark Leake, the Founder and Owner of Authentic Wine Brands, has worked in the hospitality industry for more than 20 years. Over the years, he has worked in the areas of restaurant management and ownership, sales and distribution, marketing and brand ambassadorship. Mark established Authentic Wine Brands to represent and build brands with soul, believing that brands that have a story are authentic in their quality, mission and delivery. Authentic Wine Brands have a strong network both in Perth and nationally, developed through Mark's success in growing sales and distribution. These efforts have been recognised through multiple awards, including 2016 WA Wine Rep of the Year and 2016 finalist National Wine Rep of the Year.
Sponsor: Fortix
Presenter: Paul Faix, Director, Fortix
The Best are Powered by Fortix. Since 2004 Fortix Digital Asset has significantly increased the value of businesses operating on Fortix. SRG Corporate, Perth Solar Force, Ford & Doonan Air Conditioning, Future Engineering, SignARama, Moore Stephens and many others manufacturing & distribution, professional services and insurance businesses all use Fortix's innovative, fast and secure management platform to scale up their businesses. Fortix is private, West Australian owned and operated company. For more information about Fortix, visit www.fortix.com.au.
Winner: Dial-A-Doctor
Accepted By: Mike Dale, Dial-A-Doctor
Dial-A-Doctor is an accredited and established medical deputising service, supporting GP clinics by providing urgent care for their patients in the Medicare-defined after-hour period. They know that illness can strike at any time, and when your GP is closed, this can be frightening.  Dial-A-Doctor provide safe, reliable, high quality medical services in your own home. Mike Dale, CEO of Dial-A-Doctor, has been with the business since 2012. Mike's expertise lies in initiating innovative operational and strategic changes to match the ever-changing economic climate and government policies. He is described a strong leader, with over 15years experience in Senior and Management roles in the Medical Industry.
Sponsor: 1001 Business Tips from 101™
Presenter: Carol Hanlon, CEO, Belmont BEC & TCFWA
The Belmont Business Enterprise Centre Inc. & Textile Clothing Footwear Resource Centre of WA have assisted over 34,000 entrepreneurs to start, develop and grow their small businesses since 1994, a current project is producing a new eBook that will feature expert tips from Cyber Security IT specialists and mentors from around the globe for the benefit of others.  The '1001 Business Tips by 101™ Cyber Security IT Experts' eBook will assist small business owners with insights and tips to overcome the many challenges that they can face online. The Cyber Experts eBook is being developed through the support provided by the MY Business Incubator Cyber Security Training & Mentoring Project.
Winner: Kais Hire
Accepted By: Sharon Kais, Kais Hire
Founder and Director of Kais Hire, Sharon Kais, bought her first grader in 2004. The business, which is located in Redcliffe, now has 53 machines and 75 staff. Sharon Kais believes in giving back to the community and helping others where she can and supports a Women in Civil Mentoring Program, which began its pilot program this year. This program matches 15 mentees – who are looking for guidance, support and professional growth – with 15 mentors who are highly experienced in their industry. Sharon is an inspiration to aspiring women in a male dominated industry, winning various awards and achievements with her team. She has a drive to see the success of other women in the industry and is very active on the Women in Civil Committee.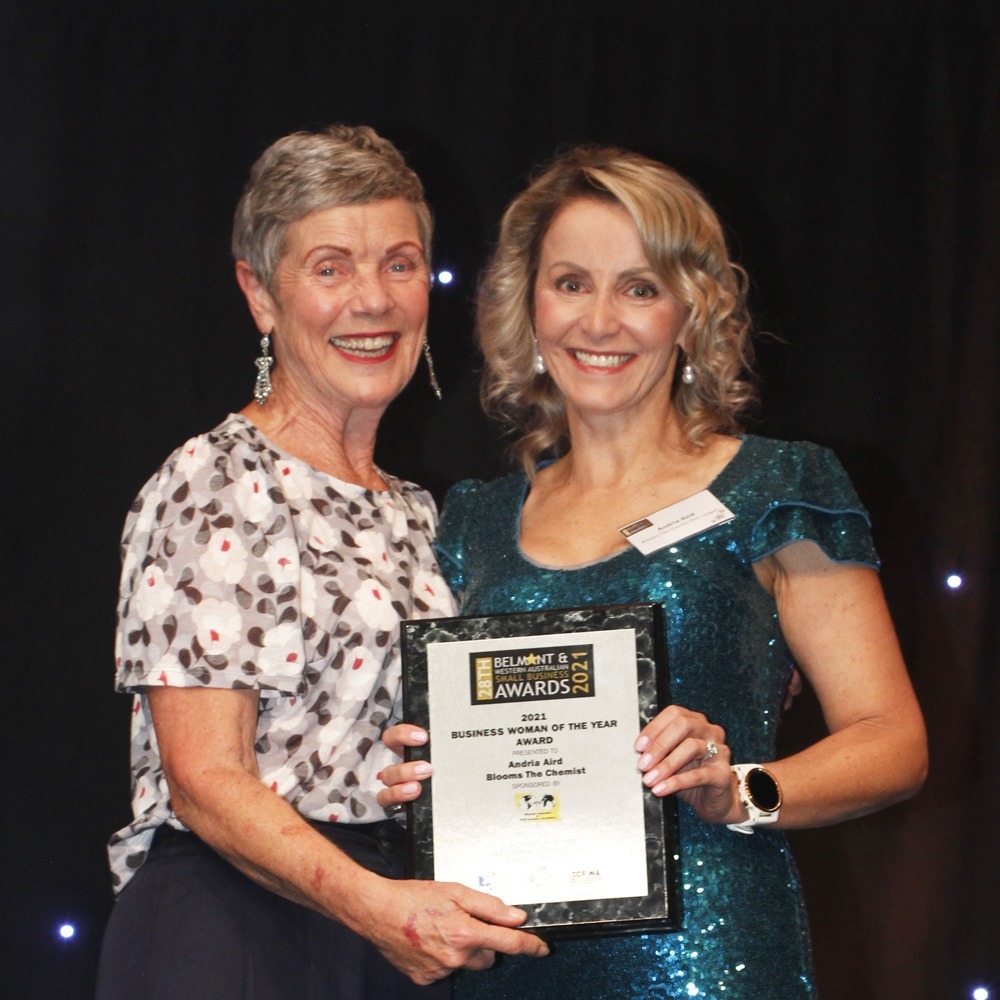 BUSINESS WOMAN OF THE YEAR AWARD
Sponsors: BPW WA & BPW Business Incubator & Delance Swiss Watches
Presenter: Sandra Cook, State President, BPW Western Australia
Business & Professional Women Western Australia established in 1950's, is part of a global network of Business and Professional Women organisations across 100 countries, making real differences in women's lives by taking action for women's equality at work, on boards and in leadership.   Members give their time and passion to support various campaigns and projects that benefit women and their communities. BPW Business Incubator ONLINE Training and Mentoring Programs are conducted by Belmont BEC, which is a specialist business improvement provider to women owners and managers in small businesses across WA, Australia and beyond.  Delance Swiss Watches President, Giselle Rufer, is passionate about global women's empowerment as a member of BPW Switzerland, and is proud to support the Business Woman of the Year Award.
Winner: Blooms the Chemist
Accepted By: Andria Aird, Blooms the Chemist
Andria Aird, Pharmacist and, Proprietor of Blooms the Chemist in Port Coogee, completed her Bachelor of Pharmacy in 1994. Growing her business has been both challenging and exhausting, but the rewards are beyond comparison. Andria has previously worked as a Business Support Officer for the Pharmacy Guild of Australia, assisting pharmacy owners in all aspects of their business. Andria lends her time to media, having been a guest on 6PR and Health Professional Radio, to speak about health concerns and answer listeners questions, as well as speaking with online health sources such as Yahoo Lifestyle and Essential Baby. She works tirelessly to ensure people are receiving the right advice, interpreting all the health information and communicating what that means to her customers as well as the general public.
Sponsor: Mustera Property Group
Presenter: Nick Zborowski, Director, Mustera Property Group
Mustera Property Group Ltd (Mustera) is an Australian focused Real Estate Investment and Development Company listed on the ASX, with a particular focus on quality residential, commercial, industrial, and mixed-use projects. Mustera provides integrated real estate investment solutions with the ability to pursue a diverse range of Australian real estate opportunities across all investment types, capital structures and asset classes.
Winner: Pazaz Dance Company
Accepted By: Jennifer Sutton, Pazaz Dance Company
Pazaz Dance Company is one of the leading dance institutions in Belmont and Rockingham. They began in 2002 and offer programs for children of all ages that develop coordination skills, musical appreciation movement, fitness, creativity and imagination. With a community over competition mindset, they are ensuring the children have fun and are engaged in a stress free, non-competitive environment. As the largest community based, non-competitive performance academy in Perth, Pazaz Dance Company still provide a small community feel where everyone is valued.
Sponsor: Blake Digital
Presenter: Adam Blake, Blake Digital
Blake Digital is a leading international creative brand and communications agency based here in Belmont. Their award-winning work incorporates high-end visual design with strategic brand communication, business development, marketing, integrated websites and social media. Seek them out for a chat about how they can help your business.
Winner: Riseley Square Barbershop
Accepted By: Jake Shamjhu, Riseley Square Barbershop
Jake Shamjhu was born and raised in Mauritius before moving to Perth in 2012. A barber by trade, he bought Riseley Square Barbershop in 2018. In just three years, the business has grown from two staff members to eight, and has created local jobs for apprentices. He is a big promoter of local business, helping his fellow Applecross businesses at every opportunity he can. As a previously sponsored employee, Jake is a strong believer in giving back and took on his first sponsored employee this year. He is excited to sponsor more overseas employees in his field, giving others an opportunity that has helped him in his successes today.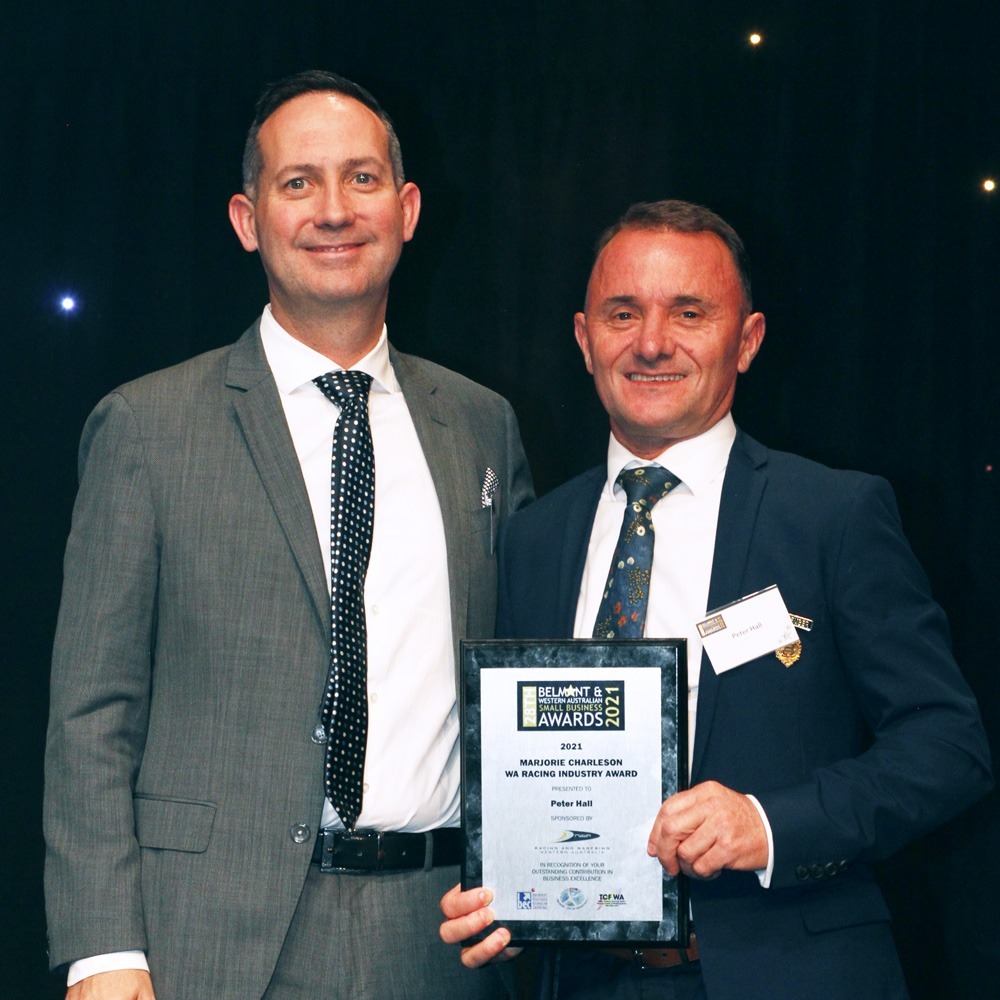 MARJORIE CHARLESON WA RACING INDUSTRY AWARD
Sponsor: Racing and Wagering Western Australia
Presenter: David Hunter, RWWA
Racing and Wagering Western Australia (RWWA) is the statutory body regulating all greyhound, harness and thoroughbred racing throughout WA. RWWA's charter is to foster the development, promote the welfare and ensure the integrity of the WA racing industry, which provides important economic and social benefits to the State. More than 24,400 people participate in the racing industry in Western Australia, which contributes $821 million to the State's economy each year.
Winner: Peter Hall
Accepted By: Peter Hall
Peter Hall's career began in 1983 when he was just 15 years old. Over his career, he has achieved 973 wins, including 2 Group 1 wins, with a total prize money pot of over $22 million. Peter's success shows he has won almost every race in Western Australia multiple times and ridden all over Australia, as well as internationally, during his career. Peter has recently become Racing and Wagering WA's new jockey coach, and with this new role, comes the responsibility of mentoring, instructing and motivating the next generation of jockeys.
The Marjorie Charleson WA Racing Industry Award is very special because Marjorie passed away last August.  Marjorie was a media & PR trailblazer in 1970's Golden Era of Perth Racing and went onto to establish "Racebreed Australia" magazine in1998. This annual award will continue in her memory.
Shared Sponsor: The Australian Asian Association WA & MY Fashion Incubator Migrant Small Business Projects
Presenters: Mel Fialho, Vice Chair, The Australian Asian Association WA Inc AND Kumar Peiris, Vice Chair, TCF WA & MY Fashion Incubator Migrant Small Business Project
 TCF WA – MY Fashion Incubator Migrant Small Business Project provides business skills to encourage migrants in WA to start, grow or improve their small business in Western Australia through a range of online webinars, networking and business opportunities. TCFWA has also facilitated many village sewing projects that include Ormoc, Philippines and more recently shipped a 40ft container of donated sewing goods to women in Beirut, Lebanon.
 The Australian Asian Association of WA – The Australian Asian Association was incorporated in 1956. It was initially set up to cater for the needs of students under the Colombo Plan and is currently one of the longest serving ethnic associations involved in providing Settlement, Aged Care and Youth services for CALD and other newly arrived migrants and refugees. Our main office is at 275 Stirling St, East Perth and functions as an umbrella organisation for many ethnic and welfare organisations, both large and small, from the continents of Asia, Africa, Latin America and Europe. A large number of these organisations do not have the means, expertise or capability to communicate effectively without the support and assistance provided by us. Our current service provision focuses on Aged Care and Disability, in which we have excelled and made massive strides. In our building we provide office space for a large of our conglomerate groups, including the Consulates of Chile, Nepal and the Philippines. We also operate a branch office in the City of Gosnells, in Perth's South East corridor, from where Emergency relief is distributed
Winner: Melissa's Supermarket
Accepted By: Melissa Aguasa, Melissa's Supermarket
When Melissa Aguasa, the owner and Manager of Melissa's Supermarket, first arrived in Perth she worked odd jobs and put her savings towards her business idea. Today, Melissa's Supermarket is a community friendly hub for Filipino's in WA, stocking a wide range of affordable products. Melissa also believes that an integral part of the business is social responsibility and gives back to her community where she can. She is very active in charity fundraisers and supports many local and Filipino organisations including the Holy Trinity Orphanage, Curtin Filipino Students Society, Filipino Australian Healthworkers Association Inc. and Peel Multicultural Association Inc.
Sponsor: BEC Global
Presenter: Malav Oza, Board Member, Belmont Business Enterprise Centre Inc. (BEC Global)
BEC Global has a 28year history of providing international trade support to small business for importing and exporting, whether through webinars, workshops, mentoring and specialist trade speakers at networking events, linking with international business councils, trade exhibitions and international government associations and consulates.
Winner: The Little Bar Cart
Accepted By: Pippa Candido, The Little Bar Cart
The Little Bar Cart became an overnight sensation when it launched in Perth in 2016. Their custom designed and built Cart is a mobile bar service that is currently operating not just across Australia, but has expanded internationally, with many locations operating in the USA and Canada.  The Little Bar Cart can be utilised in almost any location, indoors and outdoors. They offer a unique, polished and professional service that will give your next event that 'WOW' factor. The Little Bar Cart caters to any event providing a service which includes beer, wine, spirits, cocktails and soft drink to suit their clients' ideas and requirements.
Sponsor: R. Moore & Sons
Presenter:  Stuart Davis, General Manager, R. Moore & Sons
Moore and Sons (RMS) is a world-class company providing a vital link in the supply chain for OEMs and major repairers. RMS partner with these organisations as they undertake extensive component remanufacturing and maintenance programs for their customers in power generation, mining, defence, shipping, rail, transport and agriculture. The service RMS offers is elite and end-to-end, lowering costs, emissions and overall environmental impacts for their customers for over 100 years.
Winner: Helping Solutions
Accepted By: Omair Chodhry, Helping Solutions
Helping Solutions' mission is to create an environment that improves the live-ability, wellbeing and sustainable independent living of people with disabilities. As a registered NDIS provider, they have enjoyed extensive business growth to now include over 170 employees. Offering high quality products and services, they work closely with all relevant parties in order to deliver the sustainable, independent living of people with disabilities. Their personalised service process means that each of their participants receives a proposal tailored to meet their needs and a care plan for delivery of those services.
Sponsor: Flintel
Presenter: Droyt Robb, Flintel
Flintel is a successful WA-based Telecommunications company delivering quality internet & telephony service for business clients nationally. Offering a full technical team to support your internet service with an incomparable customer focus, Flintel is the preferred supplier to Business. Flintel's tailored fixed wireless and Satellite options offer customers fast, reliable, internet connectivity. Let Flintel take care of all your communication needs so you can take care of your business. Make Flintel your Telco & communications partner!
Winner: Jasmat Steel Fabrications
Accepted By: Glen & Annette Melling, Jasmat Steel Fabrications
Glen & Annette Melling, Directors at Jasmat Steel Fabrications, have accrued many years of knowledge and experience in their industry. They have worked tirelessly through good times and bad to build their Kewdale based business and are proud of what they have achieved. Glen and Annette are able to meet and exceed their customers' requirements due to their excellent facilities, committed staff and their relationships with their suppliers.  Jasmat Steel Fabrications operates with a Quality Assurance system that satisfies their client's requirements and conforms to all Australian standards for fabricated structural steel work.
 Sponsor: Friends of Belmont BEC
Presenter: Patron Belmont BEC, Louise Percy
Belmont Business Enterprise Centre Inc. established the Belmont Small Business Awards in 1994, and this year celebrates its 28th Annual Small Business Awards, which has now expanded to recognise small business achievements and excellence not only in Belmont and the Perth metropolitan area, but across Western Australia. Since 1994, many thousands of small businesses in WA have participated as Award Finalists, with many going on to win state or national awards. In 2021, the Judging Panel have nominated a small business they would like to recognise for their achievements and the services being provided.
Winner: Empower2Free
Accepted by: Cynthia Wong, Empower2Free
Empower2Free is an organisation that teaches money management to youth and families, empowering the next generation for the real world. Through teaching financial literacy, Empower2Free equips young people with the tools they need to make smart and informed decisions and builds independence, resilience and confidence. They teach the lessons on money management we wish we all had learned in school. Founders Cynthia and Mei Yi have designed programs to help young people develop good habits from an early age.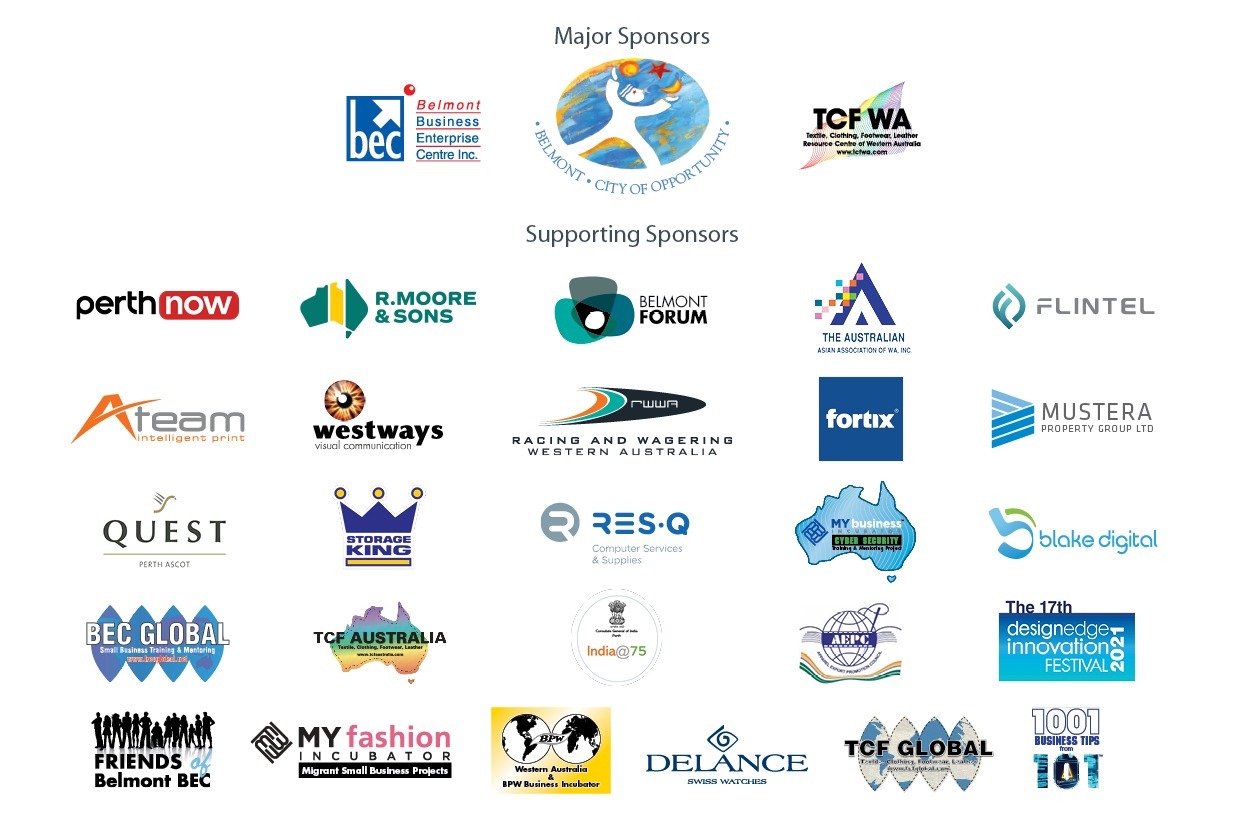 The Belmont Small Business Awards in previous years