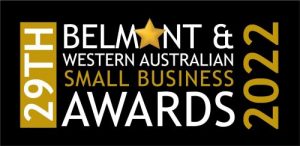 Winners of 29th Belmont & Western Australian Small Business Awards Announced 
Winners of the 29th Belmont & Western Australian Small Business Awards were announced on the 26th of October 2022 at the 'Night of Stars Event' in the ballroom of the Perth Convention and Exhibition Centre.
The Belmont & Western Australian Small Business Awards are coordinated by the Belmont Business Enterprise Centre Inc. (Belmont BEC), a not-for-profit community organisation that provides business webinars, workshops, mentoring and guidance to persons wishing to start or grow their business both within the Belmont region, state-wide and nationally.
Welcome to Country – Daniel & Johnny Garlett Welcome to Country
Entertainment – Kaylene Taylor Kaylene Taylor Song 1, Kaylene Taylor Song 2, Kaylene Taylor Song 3, Kaylene Taylor song 4, Kaylene Taylor Song 5
Mayor Cr Phil Marks, City of Belmont 29th Small Business Awards
FINALISTS Certificate Presentations – Video presentation 
Winners media Release   
Finalist Pictures
Social Pictures
Parade Pictures
Photos: Courtesy Leon Tang & Jagdeep Singh, EMJ Photography
Sponsor: Westways Visual Communication & A Team Printing
Presenter: Neil Cranny, Westways Visual Communication
Video Presentation

Westways Visual Communications is a diverse graphic design studio and major print supplier. The company motto is "From business cards to websites and everything in between."  Our focus has been making business stand out since 1994. A Team Printing are Perth's commercial printing experts, delivering high quality printing and design services across a huge range of mediums. No matter what the size of your business you can be assured that you will always be getting the very best with their high quality, competitive pricing and fast service.
 Winner: Authentic Wine Brands 
Accepted By: Mark Leake, Authentic Wine Brands 
 Founder and Owner of Authentic Wine Brands, Mark Leake, has worked in the hospitality industry for more than 20 years, establishing Authentic Wine Brands to represent and build brands with soul, brands that have a story and are authentic in their quality, mission and delivery. With a strong network both locally and nationally, over the past 12 months Authentic Wine Brands have delivered robust representation for many of their brands as they moved into the recovery phase from the COVID-19 pandemic.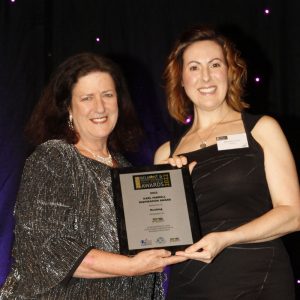 KARL FARRELL INSPIRATION AWARD  
Sponsor – Textile, Clothing and Footwear Resource Centre of Western Australia Inc. (TCFWA) Presenter – Jasmyn Mumme, Board Member, TCFWA
Video presentation
The Textile, Clothing and Footwear Resource Centre of Western Australia provides a valuable resource for the fashion and TCF industries. Established in Belmont in 1998, the not-for-profit centre has been so successful, that it receives requests from across Australia and overseas. TCFWA provides specialised fashion business skills, mentoring and supply chain sourcing on and offshore and has been recognised as a leader and role model organisation.  Karl Farrell was an inspirational Chair of TCFWA and this award honours his memory.
Winner: Noshing
Accepted By: Michelle Farina, Noshing 
Noshing's Managing Director Michelle Farina has been through a lot. In 2021 she underwent treatment for cancer, all whilst still tending to her business Noshing – which manufactures dairy free cheese. Michelle started the business at home in 2016 and has grown the business to have more than 400 stockists Australia wide. Based in Cloverdale, Michelle is supported by an enthusiastic and loyal team that nominated her for this award.  
CORPORATE SOCIAL RESPONSIBILITY AWARD
Sponsor – Friends of Belmont BEC
Presenter – Geoff Baker, MLA Member South Perth
Video presentation

Belmont BEC in conjunction with its extensive Perth Metropolitan business network and business alliances has over past years delivered its Count Me IN Disability Employment Awareness information to over 3,000 business participants across Belmont, Perth Metropolitan region with the aim to assist employers in 'Breaking Down the Barriers' on considering disability employment.   Friends of Belmont BEC wishes to acknowledge the joint donor support of Hannah Beazley MLA, Cassie Rowe MLA, Samantha Rowe MLC & Geoff Baker MLA contributions towards the Corporate Social Responsibility Award.
Winner: Vital Beat
Accepted By: Kaye Waterhouse, Vital Beat
As the founder of one of Perth's hip hop yoga studios, Kaye Waterhouse has developed a business in a typically traditional industry, to create a community that's playful, innovative, and responsive. Kaye's passions lie in the cultivation of connected communities, mental health, the elevation of female entrepreneurs, and the Vital Beat understands its corporate footprint. Corporate Social Responsibility permeates the fabric of how the business markets, recruits, and supports its community. They offer a range of free and low-cost events and also have launched a diversity scholarship opportunity.
Sponsor – FORTIX
Presenter – Paul Faix, Fortix
Video Presentation
 Since 2004 Fortix empowers many local and national businesses with personalised business management systems. Many icons of Western Australian business already use Fortix. Centrewest, Perth Solar Force, Ford & Doonan Air Conditioning, Future Engineering, SignARama, Moore Stephens, Volleyball WA just to mention a few. Fortix's innovative, easy to use, fast and secure management platform can help you to scale up your businesses. Fortix is a West Australian owned company with global head office located in Perth, WA. For more information about Fortix, visit www.fortix.com.au
Winner: Helping Solutions
Accepted By: Omair Chodhry, Helping Solutions
Helping Solutions' mission is to create an environment that improves the live-ability, wellbeing and sustainable independent living of people with disabilities. As a registered NDIS provider, they have enjoyed extensive business growth to now include over 170 employees. Offering high quality products and services, they work closely with all relevant parties in order to deliver the sustainable, independent living of people with disabilities. Their personalised service process means that each of their participants receives a proposal tailored to meet their needs and a car plan for delivery of those services.
Hall of Fame Inductee – presented by Paul Faix, Chair, Belmont BEC
Sponsor – DESIGNEDGE INNOVATION FESTIVAL
Presenter – Brett Duane, AusIndustry WA
Video Presentation
The Designedge Innovation Festival established by Belmont BEC & TCFWA, now in its 18th year, is an annual Festival that includes workshops, webinars, events, forums and networking that are staged in Belmont, Perth Western Australia, nationally and globally online.   In 2022, the Designedge Innovation Festival hosted over 130 events showcasing free topics on cyber security and exporting, global business entrepreneurs, innovators, designers, creatives, industry associations, and women in business networking events.
Winner: Melissa's Supermarket
Accepted By: Melissa Aguasa, Melissa's Supermarket

Melissa's Filipino Shop offers consumer goods imported from the Philippines and other Asian countries. The growing Filipino community in Perth is estimated to be 36,000 people and the shop has accommodated spaces for allied services like money transfer, immigration consulting alongside the large range of food and other products on offer. The business has now brought Filipino cuisine to Westfield Carousel via their colourful food truck. Melissa has recently started a discussion group for women which focuses on helping empower Filipino women in the community.
Sponsor – STORAGE KING PERTH AIRPORT
Presenter – Ian Harrington, Storage King Perth Airport
Video Presentation

Storage King were the winner of Canstar Blue's Most Satisfied Customer award for 2021 and offer a huge range of store locations across Australia and New Zealand. Storage King at Perth Airport are your local experts for anything from small locker style storage all the way up to garages for vehicles or a 4 bedroom home.
Winner: Blooms The Chemist
Accepted By: Cr Chontelle Stone, City of Cockburn on behalf of Andria Aird, Blooms The Chemist
Blooms the Chemist in Port Coogee is managed by Pharmacist and Proprietor, Andria Aird. Andria believes their strong community engagement has allowed them to stand out from their competitors. Blooms The Chemist also offers their customers a price match guarantee. They are also the only local pharmacy to offer free local delivery and free medication packing. Andria and the team have received many testimonials to thank them for going above and beyond for their customers regularly.  Andria is a proud past Belmont City College graduate, who then worked at a popular Pharmacy in Belmont Forum and acknowledges the great mentoring she received during her time there.
Sponsor – TCF GLOBAL
Presenter – Carol Wallbank, Board Member, TCFWA
Video Presentation

TCF Global assists small business with sourcing and linkages to global networks of sustainable suppliers. TCF is recognised for its long-time delivery of online sustainable fashion for over 13yrs and its founder Carol Hanlon, is often invited as a guest speaker at numerous international forums on fashion sustainability and the circular economy. TCF also delivers free online energy efficiency webinars for small business to reduce energy usage.
Winner: Nork Solutions
Accepted By: Chava Berrill, Nork Solutions
Nork was born after founders, Eric and Chava Berrill, found a way to process unused bread from local bakeries to be used as feed at their cattle farm, a cost-effective way to manage feed costs and use a product that would just be going to waste. Although Nork started with a desire to feed livestock for less, but it soon became about more than that. The founders understand the importance of making a lasting impact, both socially and environmentally, investing their time and energy into developing products and services that reduce the environmental impact of farming and food practices.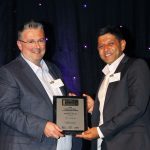 CYBER SECURITY & TECHNOLOGY AWARD
Sponsor – RES-Q COMPUTER SERVICES & SUPPLIES
Presenter – Nick Shmakov, Res-Q Computer Services & Supplies
Video Presentation

At Res-Q IT they are all about how to deliver innovation and innovative ideas while providing you with an outstanding computer care and support. If your computer beeps in despair, or you feel the need to throw it right through the window – Res-Q Team is there to save you and bring the smile back to your face.   Res-Q IT helps clients to have the time, space and focus for their own success. They want their clients to do what their good at – while RES-Q do what they are good at. They can help get phones sorted, cloud and web domain hosting, wireless, office back up and much more.
Winner: BlueBricks Pty Ltd
Accepted By: Vikram Sareen, BlueBricks Pty Ltd
Blue Bricks has been at the forefront of the identity-based digital information security and payment market for nearly 8 years now. Their identity-based data security solutions have secured governments, enterprises and financial institutions in more than 50+ organisations spanning 10 countries, protecting about million plus users with zero fraud using their security product, Axiom Protect. Founder, Vikram Sareen, has more than 21 years of experience with technology, business and innovation, holding multiple awarded patents and has successfully commercialised multiple B2B Enterprise products.
Sponsor – MAXIPICKERS
Presenter – Ruth McWilliam, MAXIpickers
Video Presentation

 MAXI PICKERS, owned & operated by Ruth McWilliam with her partner Richo, hire out Truck Mounted Insulated Elevated Work Platform's. Commonly nick named Cherry Pickers. MAXIpickers contracts to the local government utilities, Arborists, mine sites, Electricians, window cleaners, and does the odd pet rescue. They have trucks as far North as Kununurra, East as Kalgoorlie and South as Esperance. MAXIpickers has the second largest Fleet in Australia of this type of specialised equipment and has been established over 10 years.
Winner: Armed For Life
Accepted By: Adam Przytula, Armed For Life
Armed For Life is a social enterprise driven by the goal of helping children, teenagers and adults develop resilience and increase their well-being and mental health. Director, Adam Przytula, has been involved with running sessions in schools for over 22 years, with his own struggles as a teen and young adult driving him want to help teenagers dealing with the same concerns that he wrestled with alone, and wished he had the guidance that he can now offer. Adam believes that too often we struggle with issues such as depression, anxiety and suicidal thoughts without reaching out and getting the help we need. Armed For Life strive to make it acceptable to ask for that help. For this very reason, Armed For Life is our Spirit of Australia winner for 2022.
Sponsor – BELMONT FORUM
Presenter – Stacie Thomson, Belmont Forum
Video Presentation

Belmont Forum is proud to sponsor the BBEC Best Retail Business Award for the 29th consecutive year. As the largest shopping destination within the City, Belmont Forum has over 130 stores and centre retailers employ hundreds of staff all supporting the Belmont economy. Belmont Forum is proud to service the residents and business workers within the City of Belmont and beyond.
Winner: Guzman Y Gomez Belmont Forum
Accepted By: Mihir Pande, Guzman Y Gomez Belmont Forum
At GYG their passion is creating delicious Mexican food with real ingredients! They believe they are helping to change the industry and re-inventing fast food. Belmont GYG was ranked number 11 amongst all suburban GYG stores when the $3 ground beef taco was launched recently. The team are passionate about customer service, and GYG Belmont is now also able to reach their customers' at their homes and offices via delivery partners.
Sponsor – PERTH NOW
Presenter – Andrew Clark, PerthNow
Video Presentation

PerthNow is WA's top news and entertainment website. Through the combined reporting resources of Seven West Media, PerthNow gives you the latest local, national and international news, hottest entertainment happenings, must-know lifestyle stories and the biggest sporting updates seven days a week. PerthNow also brings its well-known, vibrant brand and large social media following to your local newspaper. The FREE weekly newspaper prides itself on helping our readers connect with their community. Valued for covering local issues, events and news, we get to the heart of local matters!
Winner: Ascot Rotary Club
Accepted By: Dianne Reed, President, Ascot Rotary Club
Ascot Rotary Club are members of the Rotary International Family of community service clubs around the world. Meeting in Belmont and Carlisle regularly, the club has been running Bricktober annually since 2014. The event showcases Lego displays and attracts thousands of members of the community. It's a family friendly event and profits from the event are used to provide Lego play tubs for schools and community groups, along with being able to financial support other worthy local organisations. The Ascot Rotary Club also focus on youth leadership opportunities, and the eradication of Polio throughout the world.
Sponsor – TCF AUSTRALIA EXPORT TRAINING & MENTORING PROJECT
Presenter – Irving Lane, Chair, TCFWA & TCF Australia
Video Presentation
 The TCF AUSTRALIA NATIONAL EXPORT Training & Mentoring Project provides FREE access to EXPORT assistance to those small businesses operating in the fashion, textile, clothing, footwear, leather, accessories, creatives, related TCFL industry sectors and supporting services across Australia looking to improve their exporting skills and gain knowledge into how best to prepare an application for the Export Market Development Grants Program (EMDG).  Business owners and managers can benefit from an extensive range of support through a range of forums including face to face, online webinars, workshops, forums, mentoring, the helpline, and export digital portal.
Winner: CIZZY Bridal Australia
Accepted By: Kayla Matthews, CIZZY Bridal Australia
CIZZY BRIDAL AUSTRALIA started as a family business in 2009, with the father and son team at the wheel. As the wedding dress supplier's popularity quickly spread through the country, they became one of the most well recognised suppliers in Australia. Over time and with major growth, the business has expanded to have four sister brands – each one catering to a different bride style in its collection offerings. Showing their creative flare, Cizzy Bridal Australia's diverse of collections prove that their designs can be both fresh and current, as well as traditional and elegant.
Sponsor –  CITY OF BELMONT
Presenter – Mayor Cr Phil Marks, City of Belmont
Video Presentation
Congratulations to all the finalists and winners in the 29th Annual Belmont & Western Australia Small Business Awards for 2022. The City of Belmont is proud to be a major sponsor of this event since its inception in 1994. As a City we are committed to providing support and services to maintain a progressive business community. These Awards recognise outstanding small businesses, individuals and organisations, providing recognition and encouragement for achievements and business excellence, and the City commends all entrants for their commitment to pursuing their business goals. By recognising quality and excellence in our community, we can continue to learn from each other, lift our standards even higher, and ensure our business community is a leader in the City of Belmont and beyond. We congratulate all the finalists and winners on your achievements.
Winner: CROSSWIM
Accepted By: Dmitri Kogan, CROSSWIM
With training taking place at Belmont Oasis Leisure Centre, CROSSWIM is a well structured, swimming pool based training program which has swimming and strength & conditioning coaching components performed both in and out of water. While swimming and strength and conditioning training have a number of benefits separately, a combination of both gives a tremendous number of health benefits.
Created by head coach Dmitri Kogan, the program is designed for both children and adults who would like to stay fit and offers different training opportunities for any fitness level, and any age.
MARJORIE CHARLESON WA RACING INDUSTRY AWARD
Sponsor – RACING & WAGERING WESTERN AUSTRALIA
Presenter – Cassie Rowe, MLA, Member for Belmont
Video Presentation

 Racing and Wagering Western Australia (RWWA) is the statutory body regulating all greyhound, harness and thoroughbred racing throughout WA. RWWA's charter is to foster the development, promote the welfare and ensure the integrity of the WA racing industry, which provides important economic and social benefits to the State. More than 24,400 people participate in the racing industry in Western Australia, which contributes $821 million to the State's economy each year.
Winner: Dr Peter Symons
Accepted By: Dr Peter Symons
Dr Peter Symons is a Racing regulatory veterinarian. In his role he works at race meetings to protect the health and welfare of both horses, and the jockeys who ride them. He also assists the Stewards to ensure Racing is fairly run and coordinates the collection of drug-control samples. Dr Symons has held his position for over 30 years, and this year initiated the first ever WA Racing Industry Mental Health Forum. A subject close to his heart he has also published a book titled: Brain-Fuel Depletion: Making Sense of Anxiety and Depression.
Sponsor – EMPIRE BAR
Presenter – Gene Sneddon, Empire Bar
Video Presentation

 Whether you're looking for a quality dining experience, expansive outdoor garden bar to relax in, a fantastic function to celebrate any occasion or an energetic sports hub, the Empire has it all. Our Gold Plate Award Winning restaurant (2021 Hall of Fame Prix D'honneu) offers a full contemporary menu to cater for everyone, available through the entire venue. Every Friday night the venue comes alive with electric performances from live bands, then our house DJs bring the party on Saturday.
Winner: The Little Bar Cart
Accepted By: Pippa Candido, The Little Bar Cart
 The Little Bar Cart began in Perth in 2016, by Perth born entrepreneur Pippa Candido. What began as a unique, custom-built drinks cart modelled on a vintage car to service weddings in Perth, has since expanded rapidly to cater for all occasions; and not just local and national events, but internationally in the USA and Canada as well! Infusing Pippa's love of Champagne, celebrating in style and exceptional customer service, The Little Bar Cart caters to any event providing a service which includes beer, wine, spirits, cocktails and soft drinks to suit any client's ideas and requirements.
Sponsor – BELMONT BUSINESS ENTERPRISE CENTRE INC
Presenter – Jules Lewin, Past Chair & Board Member, Belmont BEC
Video Presentation

Belmont BEC is a not-for-profit association established in 1994, providing small business training and mentoring services, and has assisted over 30,000+ individuals in Belmont, WA and beyond to start or improve their small business during that time and is a specialist in virtual business incubation.   Belmont BEC has developed well-known projects for the benefit of its small business clients that have included the Belmont & WA Small Business Awards, monthly 'Ask an Expert' Belmont Business Sundowners, designedge innovation FESTIVAL's , TCF Resource Centre WA, Multicultural Business Support Services, WA Racing Industry Development Project, Belmont Clothes Library, MBI Count Me IN Disability Project, MY Business Incubator Cyber Security Project, BEC National Export Project and the BPW Business Incubator supporting Women in Small Business.
Winner: Belmont Chronicle
Accepted By: Kate Neill, Belmont Chronicle
The Belmont Chronicle is a 100% locally owned and printed, FREE publication that shares uplifting and inspiring stories about the people in the Belmont community. Editor, Kate Neill, started the Belmont Chronicle after finding a lack of local community news that provided relevant content for her local area, the City of Belmont.  Kate also wanted to provide an advertising platform for local business to get their message out to the community. We look forward to the exciting growth this small business will achieve in the years ahead and congratulate The Belmont Chronicle on putting their community interests first.
Sponsor – 1001 BUSINESS TIPS FROM 101™
Presenter – Carol Hanlon, CEO, Belmont BEC & TCFWA
Video Presentation
Belmont BEC through its MY Business Incubator CYBER SECURITY Project produced an eBook – '1001 Business Tips by 101™ Cyber Security IT Experts' assisting small business owners with insights and tips to overcome the many challenges that they can face from cybercrime. An ongoing series of 1001 Business Tips from 101™ eBooks being produced also includes '1001 Tips from 101 Exporters & Trade Advisers' and '1001 Tips from 101 Women in Business'.
Winner: AFG Young Leaders
Accepted By: Maria Aziz, AFG Young Leaders
Afghan Young Leaders are a non-profit youth group with a vision of empowering Afghan youth for a brighter future. Working within the welfare system for over 15 years, and being a devoted mother to three teenage children, Maria Aziz knows a thing or two about understanding and assisting families in difficult times. Since 2010, she has also been a women's rights and Human Rights Activist. As a counsellor, Maria is trained to help people work through difficult stages of their lives and is dedicated to working with those who need help in overcoming traumatic experiences they endure. She supports her clients to overcome their fears and look forward to a happier, healthier future.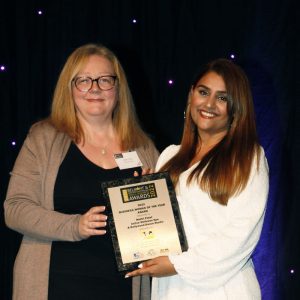 BUSINESS WOMAN OF THE YEAR AWARD
Sponsor – BUSINESS & PROFESSIONAL WOMEN WA & BPW BUSINESS                  INCUBATOR 'WOMEN IN BUSINESS' TRAINING & MENTORING PROJECT
Presenter – Helen Toon, BPW Australia
Video Presentation
 Business & Professional Women Western Australia established in 1950's, is part of a global network of Business and Professional Women organisations across 100 countries making real differences in women's lives by 'taking action' for women's equality – at work, on boards, in leadership.  Members give their time and passion to support various campaigns and projects that benefit women and their communities.  BPW Business Incubator ONLINE Training and Mentoring Programs are conducted by the Belmont BEC, which is a specialist business improvement provider to women owners and managers in small businesses across WA, Australia and beyond.
Winner: Active Wellness Spa & Bollywood Dance Studio
Accepted By: Maitri Patel, Active Wellness Spa & Bollywood Dance Studio
 Maitri Patel is a dynamic, serial entrepreneur who founded Bollywood Dance Studio in 2011, as a Belmont-based dance school and entertainment company. In 2019, following her passion for wellness & recovery, she launched Active Wellness Spa in East Vic Park and a second studio at Nedlands in 2021. Her passion for wellness and holistic healing was instrumental in Active Wellness Spa being born. Maitri developed AWS and its unique, non-invasive biohacking treatments, to help individuals function at their optimal level, combining bio hacking techniques with holistic, non-invasive treatments.
Sponsor – BEC NATIONAL EXPORT TRAINING & MENTORING PROJECT
Presenter – Silvia Caratti, Board Member, Belmont BEC
Video Presentation

 BEC NATIONAL EXPORT Training and Mentoring Project provides  FREE access to EXPORT assistance to sole traders, micro, small, medium size businesses across Australia looking to improve their exporting skills and gain knowledge into how to best prepare an application for the Export Market Development Grants Program (EMDG).  Business owners and managers can benefit from an extensive range of support through a range of services including face to face, online webinars, workshops, forums, mentoring, helpline, and access to a BEC NATIONAL EXPORT Digital Portal.
Winner: Close Comfort
Accepted By: Toby Osmond, Close Comfort
Founded in July 2021, Close Comfort is an air-conditioning business operating in the consumer goods market, based in Perth. The innovative product utilises their own patented, class-leading technologies to provide refrigerative air-conditioning at an affordable price, while using a fraction of the power traditionally used for air-conditioning.
With mission to bring cool comfort to people that wouldn't have otherwise thought it was possible, CEO Toby Osmond is proud to now be able to service countries such as Pakistan, Malaysia, Singapore, Indonesia, India, and locally in Australia.
Sponsor – MUSTERA PROPERTY GROUP
Presenter – Nick Zborowski, Mustera Property Group
Video Presentation

Mustera Property Group Ltd (Mustera) is an Australian focused Real Estate Investment and Development Company listed on the ASX, with a particular focus on quality residential, commercial, industrial, and mixed-use projects. Mustera provides integrated real estate investment solutions with the ability to pursue a diverse range of Australian real estate.
Winner: Riseley Square Barbershop
Accepted By: Jake Santosh Kumar Shamjhu, Riseley Square Barbershop
 Born and raised in Mauritius, owner Jake Shamjhu moved to Perth in 2012 and bought Riseley Square Barbershop in 2018. Since then, the business has grown from two staff members to eight, and created many opportunities for apprentices and local businesses in the Applecross area. Specialising in all aspects of barbering including fades, hair designs, scissor cuts, beards and face shaves, their purpose is to make people young and old feel confident through a fun and friendly barber shop experience.
Not only is Jake a big promoter of giving back to the local community, with the ongoing success of Riseley Square, an exciting venture awaits Jake and his team. Market Street Barbershop in Fremantle opening its doors as a second location, earning him the Achievement Award in the 2022 awards.
Sponsors – HONG KONG AUSTRALIA BUSINESS ASSOCIATION WA & MY FASHION INCUBATOR MIGRANT SMALL BUSINESS PROJECTS
Co-Presenters – Winnie Lai Hadad, President, Hong Kong Australia Business Association WA Chapter & Kumar Peiris, Vice Chair, TCF WA, MY Fashion Incubator.
Video Presentation
 The Hong Kong-Australia Business Association Limited (HKABA), initiated by the Hong Kong Trade Development Council was established in 1987 aiming to reinforce economic ties between Hong Kong SAR/China and Australia. Members are local businessmen with strong Hong Kong connections or those interested in doing business with Hong Kong and Hong Kong organizations based in Australia. The Association provides networking opportunities on which strong trading and investment links are built between Hong Kong companies and Australian companies. We have different state chapters and by joining one chapter state, in WA, you have access to other states. We are also part of the Federation of Hong Kong Business Associations xWorldwide which is a unique network of 47 Hong Kong Business Associations with representations in over 36 countries and regions.
MY Fashion Incubator Migrant Small Business Project established by TCFWA provides business skills to encourage migrants in WA to start, grow or improve their small business in Western Australia through a range of online webinars, networking and business opportunities. TCFWA has also facilitated many village sewing projects that include Ormoc, Philippines and in 2021 shipped a 40ft container of donated sewing goods to women in Beirut, Lebanon to start micro sewing businesses and is currently assisting the Afghan Women Refugee Sewing Projects in Belmont & Mirrabooka with donated sewing machines and textiles.
Winner: Equinox Beauty & Cosmetic Clinic
Accepted By: Fatemeh Saki, Equinox Beauty & Cosmetic Clinic
Equinox Beauty and Cosmetic Clinic offers a wide variety of procedures for your skin and face, and is located in Belmont Forum Shopping Centre in the City of Belmont. The business is managed by Fatemeh Saki, who was born in Iran, and studied nursing in her home country. She moved to Australia in 2011 and completed relevant courses. Fatemeh held various roles in different clinics before jumping at the opportunity to run her own business in 2019. Equinox Beauty and Cosmetic Clinic now offers the latest and most advanced treatments on the market, and provides training to the industry.
Sponsor – BLAKE DIGITAL
Presenter – Adam Blake, Blake Digital
Video Presentation

Blake Digital is a leading international creative brand and communications agency based in Belmont. Our award-winning work incorporates high-end visual design with strategic brand communication, business development, marketing, integrated websites and social media. Seek us out for a chat about how Blake Digital can help your business.
Winner: The FIFO Project
Accepted By: Emma Hitchens, The FIFO Project
Emma Hitchens "officially" launched the FIFO Project in 2021, after spending 12 months working with a number of female FIFO clients. The 6 Week On and Off Site Challenge works on daily routines and habit building to create a productive, healthy routine while at work and at home.
Since the launch of The FIFO Project, the 6 Week On and Off Site Challenge has evolved to also become a 12 week online holistic health and wellness program – working with females on fitness, nutrition, mindset, hormones, sleep and stress. Together, the FIFO Project creates stronger, more productive, efficient, safer, and healthier ladies.
Sponsor – R. MOORE & SONS
Presenter – Stuart Davis, R. Moore & Sons
Video Presentation
Established in 1920, R. Moore and Sons (RMS) is a world-class company providing a vital link in the supply chain for OEMs and major repairers. RMS partner with these organisations as they undertake extensive remanufacturing programs, enabling multiple life cycles of components for their customers in power generation, mining, defence, shipping, rail, transport and agriculture. With a smart shop floor factory based in Kewdale, the service RMS offers is elite and end-to-end, lowering costs, emissions and overall environmental impacts for their customers for over 100 years.
Winner: Regen Power
Accepted By: Nikhil Jayaraj, Regen Power
With a mission to provide communities the capacity to have sustainable power solutions for the future, Regen Power provides ground breaking renewable energy supply products and services to Australia and Internationally. In 2010, Regen Power pioneered an innovative solar integrated power system named HybridGEN, which has been utilised in projects both locally and overseas. The organisation has received various awards for their contribution to the sustainable energy field, a testament to the success of the business and a merited winner of the 2022 Enterprise of the Year Award.
Sponsor – FLINTEL
Presenter – Droyt Robb, Flintel
Video Presentation
Flintel is a successful WA-based Telecommunications company. We deliver quality internet & telephony service for our business clients nationally. We offer a full technical team to support your internet service, with an incomparable customer focus Flintel is the preferred supplier to Business. Our tailored fixed wireless and Satellite options offer customers fast, reliable, internet connectivity. Let Flintel take care of all your communication needs so you can take care of your business. Make Flintel your Telco & communications partner!
Winner: BlueSky Digital Labs
Accepted By: Rizal Farok, BlueSky Digital Labs
BlueSky Labs was started in 2021, and has quickly grown from 14 staff members to 50. BlueSky Digital Labs is a team of developers, front end designers, data analysts and system integrators following their passion to push the boundaries and pioneer new ground in the technology space. The name of their company stemmed from an expression in business known as 'blue sky thinking', which refers to the activity of creating original ideas. Rizal and the team have experienced financial growth of more than 25% in the last year. They are innovative in their marketing and business development, and regularly host educational events at their office in Perth.
Sponsor –  MY Business Incubator
Presenter – Louise Percy, Patron, Belmont BEC
Video Presentation
Belmont Business Enterprise Centre Inc. established the Belmont Small Business Awards in 1994, and this year celebrates its 29th Annual Small Business Awards, which has now expanded to   recognise small business achievements and excellence not only in Belmont and the Perth metropolitan area, but across Western Australia. Since 1994, many thousands of small businesses in WA have participated as Award Finalists, with many going on to win state or national awards. In 2022, the Judging Panel have nominated a small business they would like to recognise for their ongoing achievements and the services being provided.
Winner: Connection and Wellbeing Australia (CAWA)
Accepted By: Bella Broadway, Connection and Wellbeing Australia (CAWA)
Connection And Wellbeing Australia (CAWA) is a Social Enterprise whose focus is on providing training and support for organisations, community groups and individuals, to work towards a vision of creating a mentally healthy community. They create a safe space for people to access evidence-based workshops that help them develop the skills they need to support clients, colleagues, loved ones and other community members. CAWA also offer a suite of capacity building workshops to ensure that teams are diverse and resilient, creating hope for the future.
Founder and Managing Director, Bella Broadway, is passionate about working towards a suicide safer community, and a worthy winner of this year's Judges Award.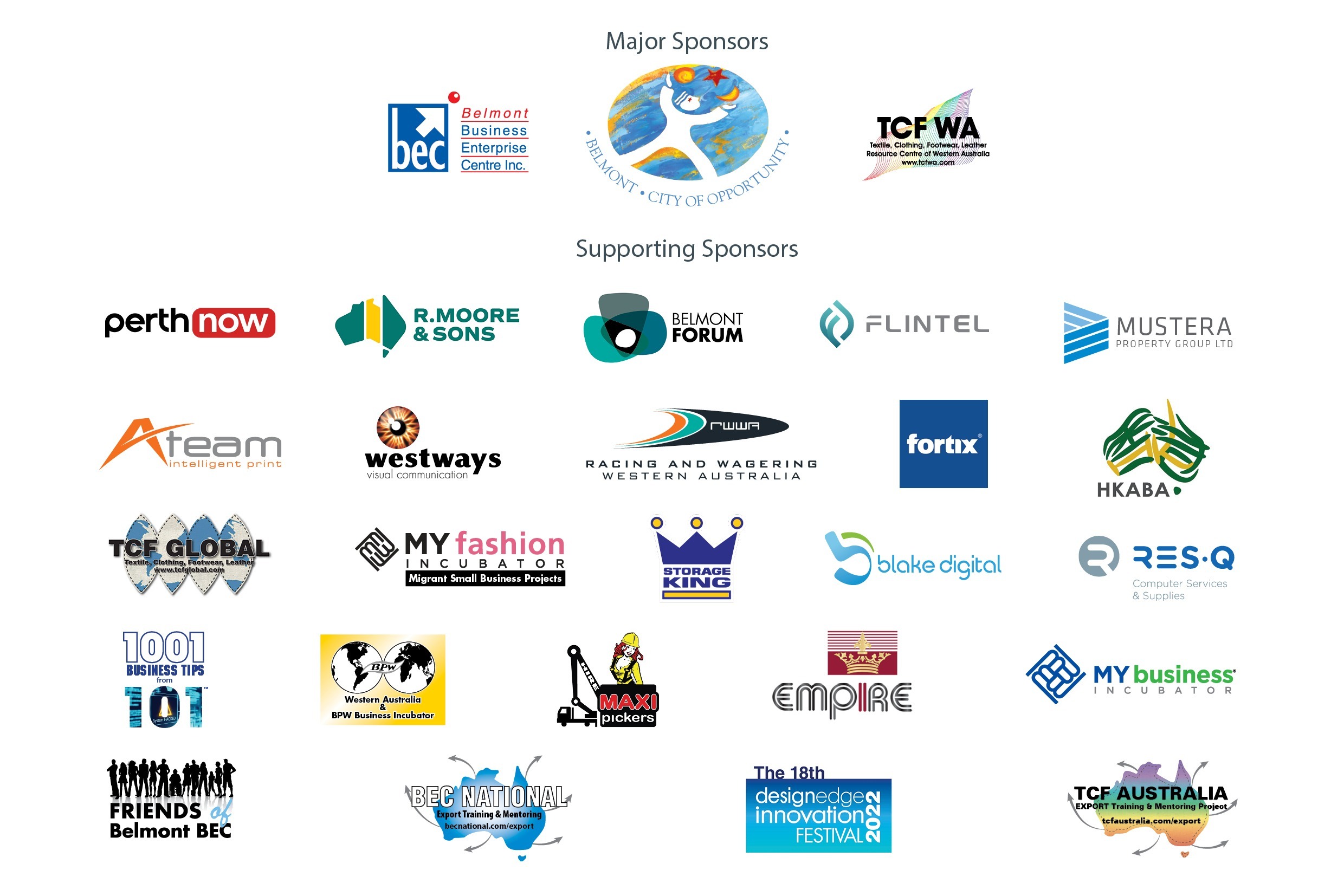 The Belmont Small Business Awards in previous years