Congratulations to the Winners and Finalists
24th Belmont & Western Australian Small Business Awards 2017
25th October
Media Release – Winners of the 24th Belmont & Western Australian Small Business Awards 2017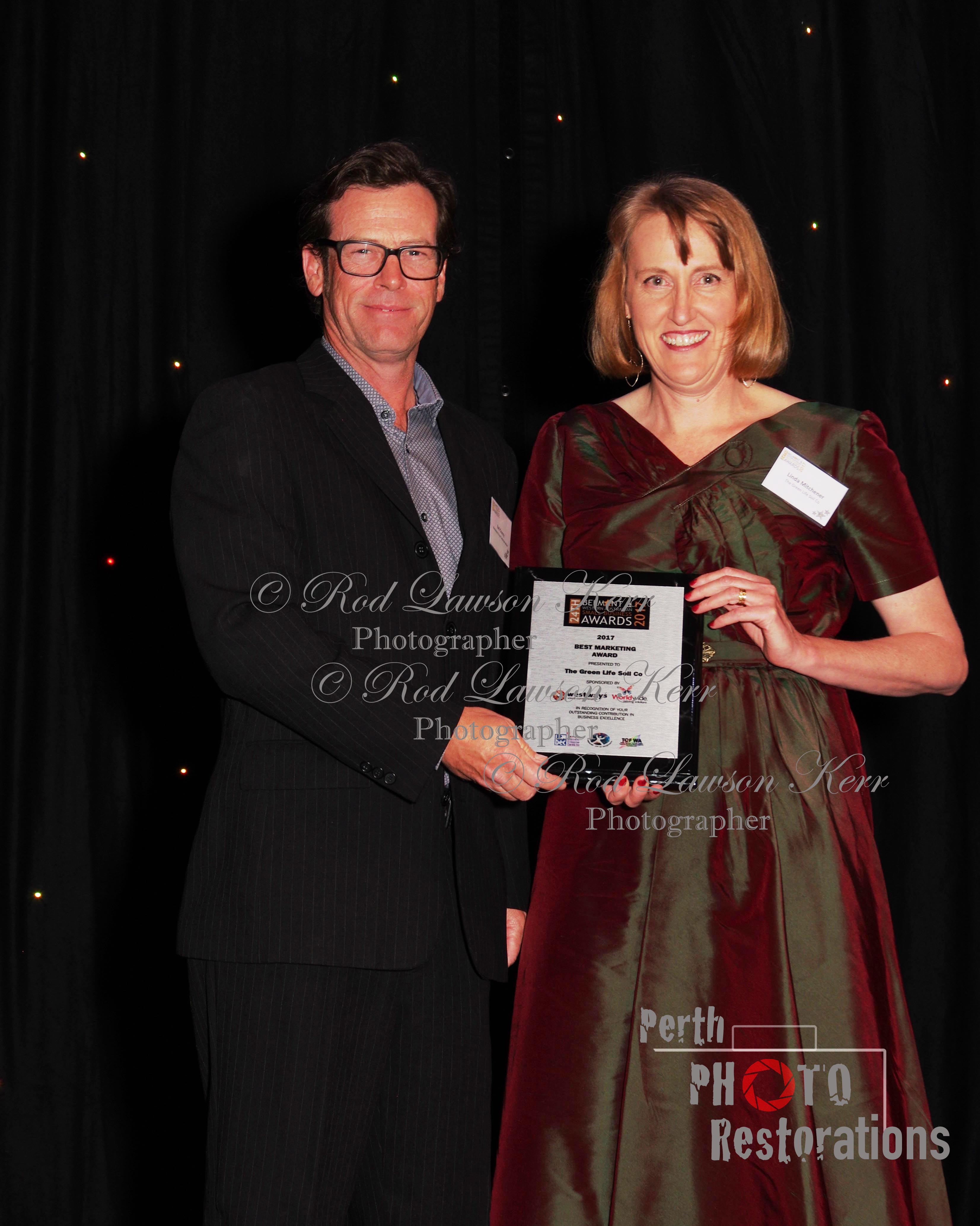 BEST MARKETING AWARD
Sponsor: Westways Visual Communication and Worldwide Printing Solutions
Presenter: Neil Cranny, Managing Director, Westways Visual Communications
Westways Visual Communications is a diverse graphic design, photography, video production, web development studio and major print supplier. The company motto is "From business cards to magazines and everything in between." Westways has been based in the City of Belmont for over 25 years, so next time you're thinking of producing any marketing or promotional material to communicate your business, think Westways Visual Communications – "Their focus is making your business standout"
Winner: The Green Life Soil Co
Accepted By: Linda Mitchener, The Green Life Soil Co
The business which evolved into The Green Life Soil Co. has always been permaculture based. The current owners of The Green Life Soil Co., Paul and Linda Mitchener, bought the business (then known as the Gaia Centre) in 2001. In 2008 they obtained Organic Certification on a number of their unique soil mixes, and remain the sole manufacturer of Certified Organic soil in Perth. Their Harvest Club initiative – launched at the Greener Garden Festival — is a unique program that shares information amongst Perth gardeners.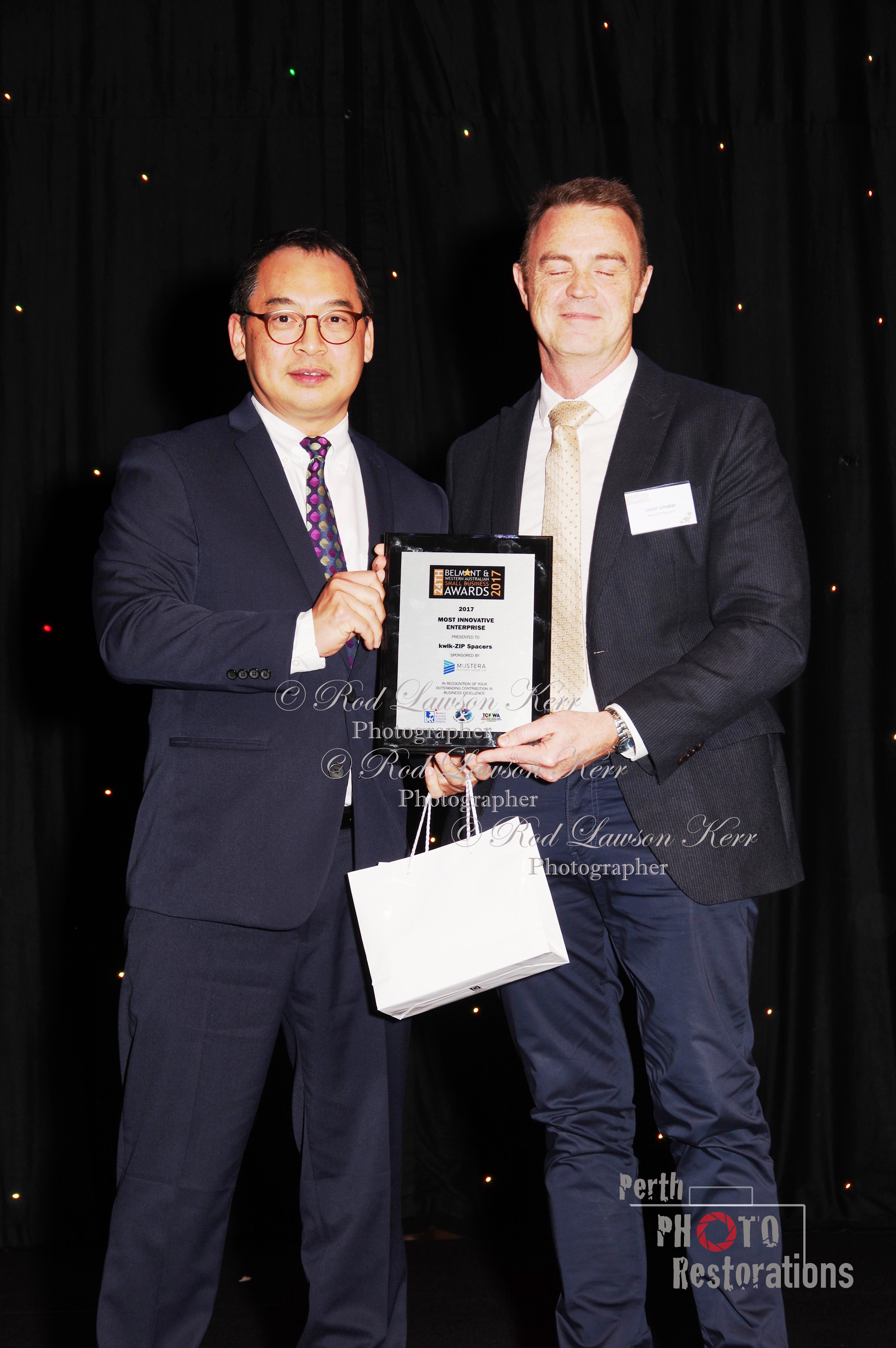 MOST INNOVATIVE ENTERPRISE
Sponsor: Mustera Property Group
Presented By: Chee Onn Kon, Director Mustera Property Group Limited
Mustera Property Group Ltd is an Australian-focused Real Estate Investment and Development company listed on the ASX. The Company provides a real estate development platform for residential, commercial, industrial, and mixed-use projects. Mustera offers integrated real estate investment solutions with the ability to pursue a diverse range of Australian real estate opportunities across all investment types, capital structures and asset classes.
Winner: kwik-ZIP Spacers
Accepted by: Jason Linaker, kwik-ZIP Spacers
kwik-ZIP manufacture and supply a centralizer and spacer system for many industry sectors including production well drilling, trenchless pipeline, Horizontal Directional Drilling and the general civil and construction markets. The kwik-ZIP spacers and centralisers have been developed to solve support, grading and centralisation challenges in the trenchless and pipeline, vertical production drilling, and ground engineering industries.
MOST CREATIVE AWARD
Sponsor: Textile Clothing Footwear Resource Centre of WA (TCFWA)
Presented By: Irving Lane, Chair, TCFWA
The Textile, Clothing and Footwear Resource Centre of Western Australia provides a valuable resource for the fashion and TCF industries. Established in Belmont in 1998, the not-for- profit centre has been so successful, that it now receives requests from across Australia and overseas. TCFWA provides specialised fashion business skills, mentoring and supply chain sourcing on and off-shore and has been recognised as a leader and role model organisation. TCFWA was a national Finalist in the Hong Kong National Business Awards and awarded the City of Belmont Environment Award for its TCF Australia Energy Efficiency Training Project.
Winner: Tree of Memories
Accepted by: Bryce Roberts, Tree of Memories
Tree of Memories is the sole distributor of Bios Urn in WA, the Northern Territory and soon South-East Asia. The Bios Urn is a 100% biodegradable urn in which you can place a passed loved one's or beloved pet's ashes and use this to grow a tree. The Bios Urn becomes a living memorial and allows people to return their loved one's energies into something more natural and to help complete the circle of life. Part of the healing process for grieving friends and family is to select a tree seedling they think will best honour the memory of their loved one.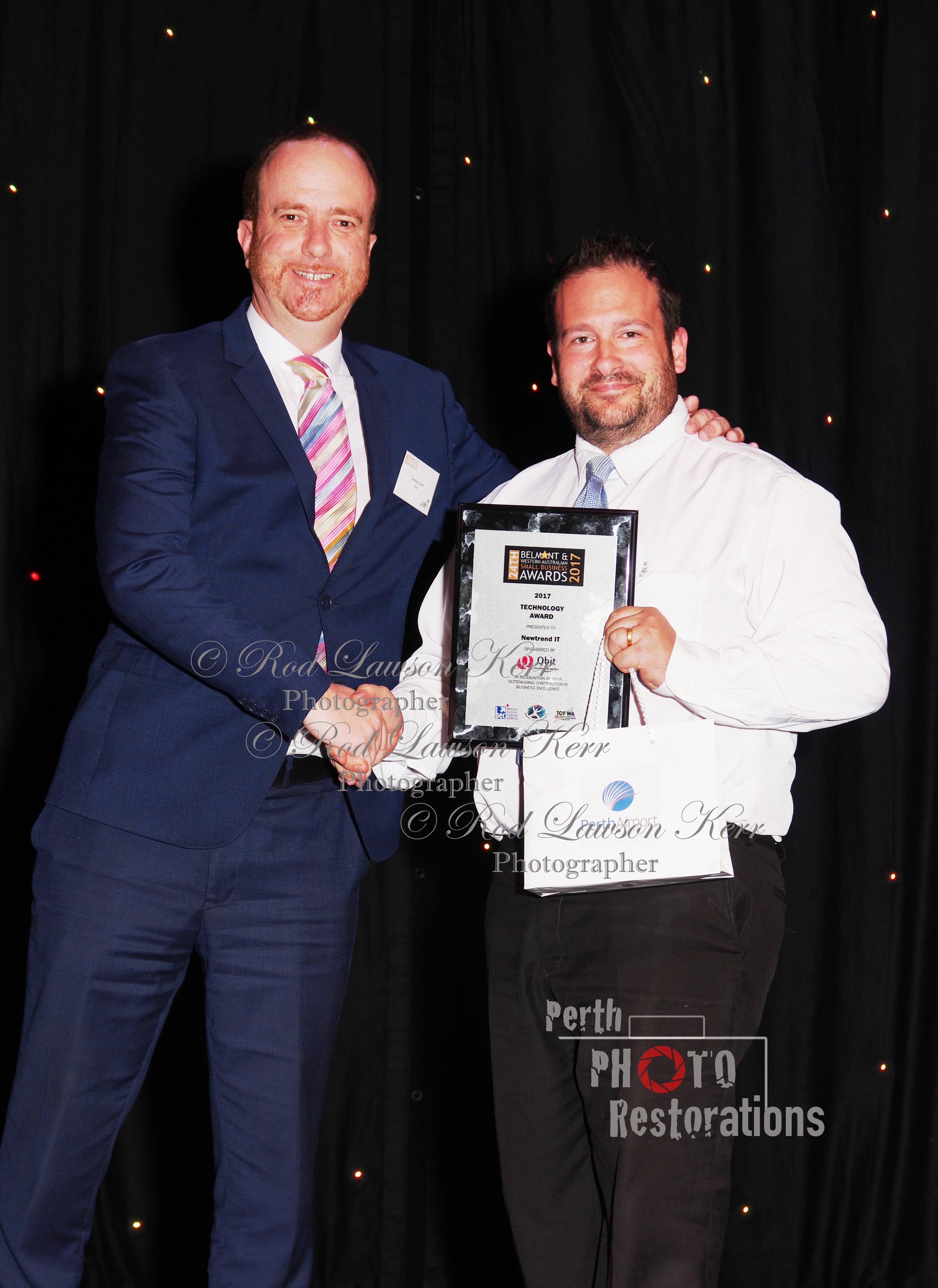 TECHNOLOGY AWARD
Sponsor: Qbit
Presented By: Jamie Duff, Qbit
Established in 2006, Qbit is a progressive and proactive Information Technology company that provides products and services to Perth-based businesses. Investing in the latest technology ensures Qbit are leaders in the IT services field. Qbit has grown from a team of two to 20 over the past 11 years and continues to experience strong business growth. This growth comes almost exclusively from word-of- mouth referrals. Qbit's success is a tribute to our ability to provide exceptional service, reliable, easy to understand IT guidance from a team of dedicated and professional tech staff.
Winner: Newtrend IT
Accepted by: Nicholas Rando, Newtrend IT
Newtrend IT is a Kewdale-based, family-owned and operated business with a large Service Desk team and a dedicated Project Team. Newtrend IT are more than just IT Support, they offer clients the full range of business IT Support services including; Managed Services, Ad-hoc IT Support, Web & Email Hosting, Installation of IT Infrastructure, Design and Engineering of Infrastructure and IT Consultations.
ACHIEVEMENT AWARD
Sponsor: Chorus
Presented By: Louise Forster, Head of Brand & People, Chorus
Chorus is Western Australia's newest community care organisation – the result of the merger of WA-based care providers Care Options, Volunteer Task Force and Community First, which have collectively supported the community for 100 years. With 22 locations throughout Western Australia, Chorus is a not-for- profit organisation that provides a diverse range of support for people later in life, those with a disability and those in mental health recovery. They have over 1000 staff and volunteers who develop coordinated approaches to ensure customers get what they need to live the life they choose. Underpinning everything is an organisation dedicated to professionalism, timeliness and providing the kind of support customers want but didn't realise was available.
Winner: Genesis Lodge
Accepted by: Ken Hayward on behalf of Jeremy Yarran, Genesis Lodge
Genesis Lodge is a 100% Aboriginal-owned and managed short term and long term Aboriginal accommodation provider. Established in 1984, Genesis provide a hostel-style facility that supports residents by providing a culturally secure and safe environment, assisting with access to local educational institutions and providing care to those with medical needs. The Lodge provides facilities including accommodation for up to 62 residents. Their vision is to enable a positive future for Aboriginal people by providing integrated services and connections to the wider community.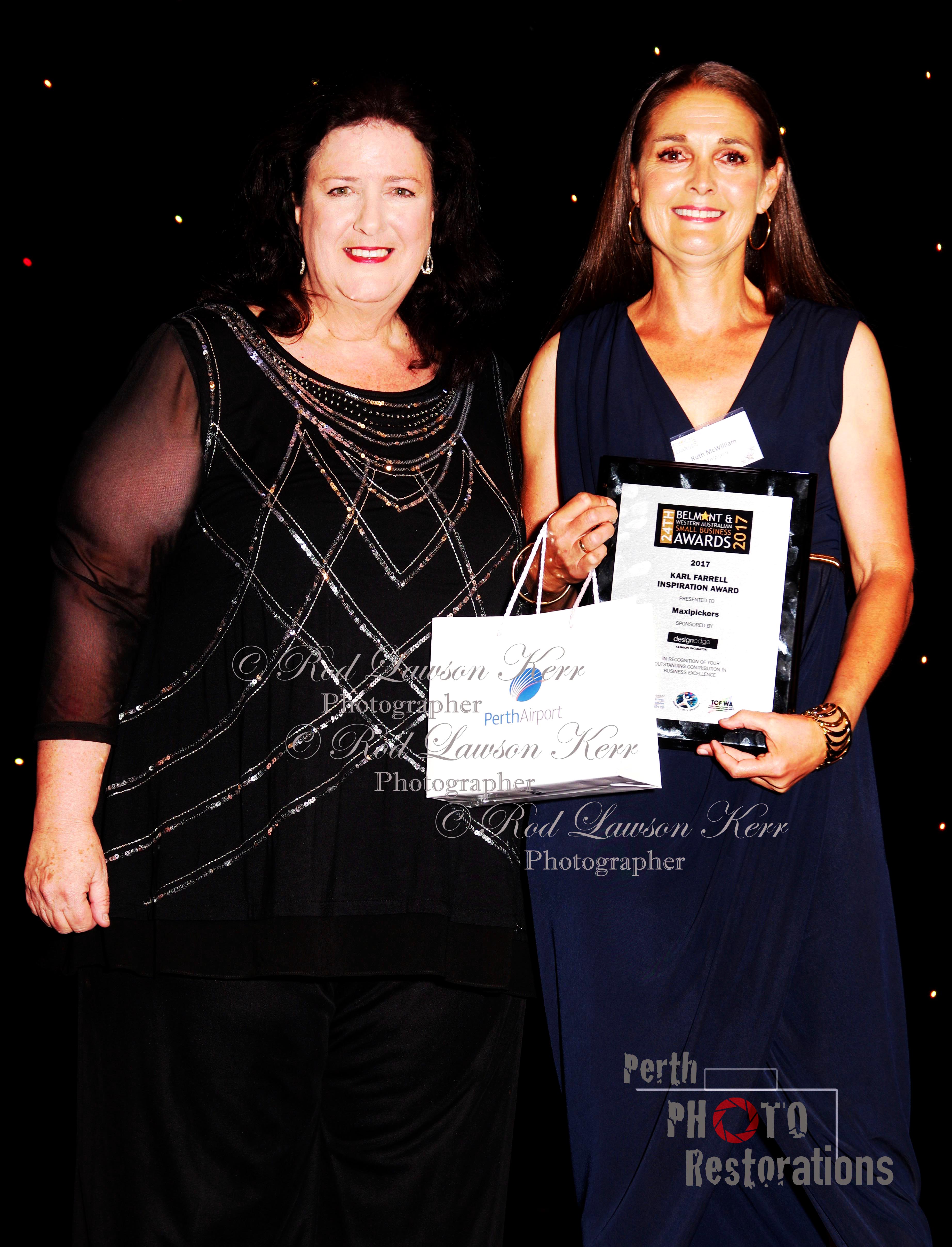 KARL FARRELL INSPIRATION AWARD
Sponsor: Designedge Fashion Incubator
Presented by: Jasmyn Mumme, Committee Member, designedge & TCF WA
Designedge Fashion Incubator was developed and hosted by TCFWA and has conducted a range of innovative projects and programs over the past 15 years that include the Designedge Trade Exhibition staged at the Burswood Convention Centre and a retail Designedge Fashion Incubator at Belmont Forum. Designedge has assisted many designers to exhibit their collections at both national and international fashion weeks. Another well-known designedge project is the Designedge Innovation Festival now in its 13th year hosts events, webinars, workshops and networking opportunities.
Winner: Maxipickers
Accepted by: Ruth McWilliam, Maxipickers
Kewdale-based, MAXIpickers is a locally owned Truck Mounted Elevated Work Platform /Cherry Picker hire business serving Perth and the entire South West of WA. Ruth McWilliam started the business six years ago and in the past six months the business has grown more than 90 percent. From a single mother working in a bar, Ruth has worked hard to enter a traditionally male-orientated industry and Maxipickers is a credit to her hard work.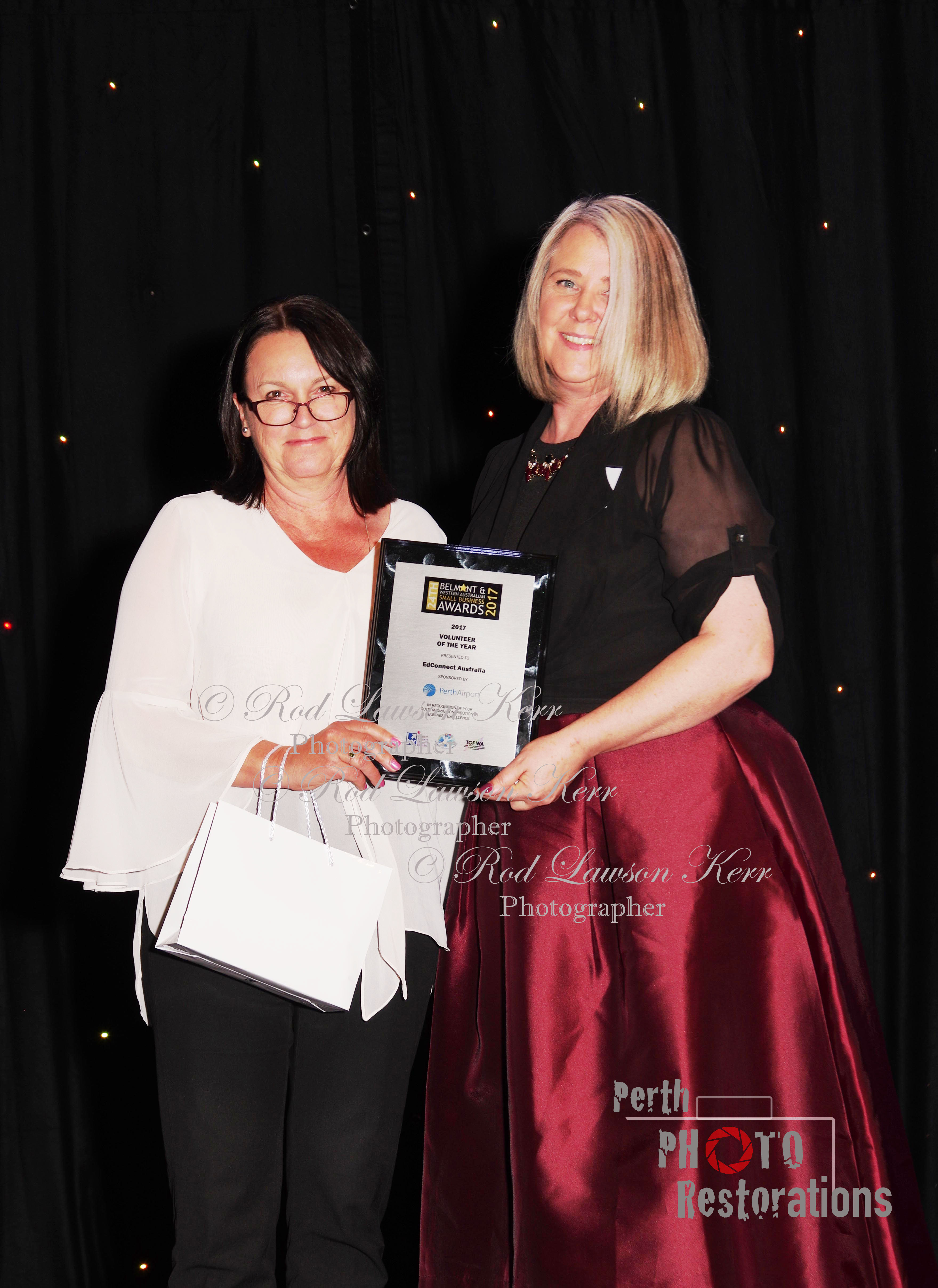 VOLUNTEER OF THE YEAR
Sponsor: Perth Airport
Presented By: Debra Blaskett, Chief Corporate Services Officer, Perth Airport
As the gateway to Western Australia which sees 14 million passengers travel through the international and domestic terminals each year, Perth Airport's own Ambassador Program is vital to ensure that passengers and visitors to the airport are provided with information, assistance and a great customer experience.  The airport recognises the invaluable contribution that volunteers, like the Gold Coats, make to the community, and would like to congratulate the winner of the Volunteer of the Year Award and all entrants in this category.
Winner: EDConnect Australia
Accepted by: Julie Mullet, EDConnect Australia
EDConnect Australia based in Maylands connects volunteers who want to make a difference with young people in school who need extra help. They harness the wisdom and skills of older generations to enrich the learning experience of young people who are at risk of falling by the wayside in an often over-burdened school system. EDConnect Australia enhances wellbeing and enriches lives and communities by enabling people of all ages to help each other.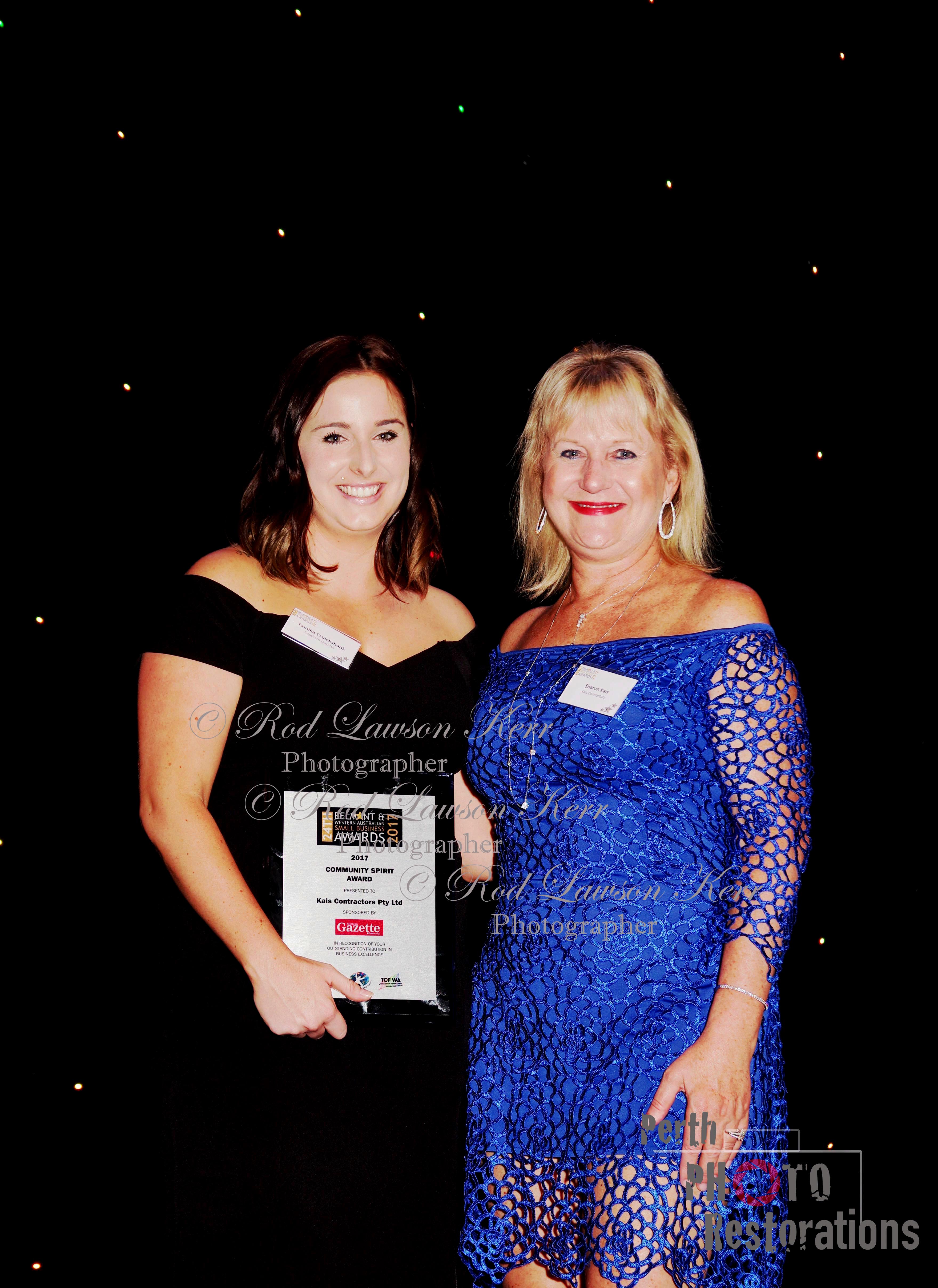 COMMUNITY SPIRIT AWARD
Sponsor: Southern Gazette
Presented By: Tamika Cruickshank, SME/Direct Sales Director, Southern Gazette, Community Newspaper Group
Community Newspaper Group's seventeen local papers and online edition cover the entire Perth metropolitan area; from Yanchep and Two Rocks in the North, Mandurah in the South and East to Northam, Toodyay and York. Community Newspaper Group prides itself on helping its readers to connect with their local community. Valued for covering local issues, events and news, the Southern Gazette team gets to the heart of local matters.
Winner: Kais Contractors
Accepted by: Sharon Kais, Kais Contractors
Redcliffe-based, Kais Contractors has an impressive record in the civil and earthmoving industry, renowned for the best service and top-quality equipment. Whilst specialising in the Earthmoving, Civil construction and Mining industries in Western Australia's remote regions, Kais Contractors has become well-known over many years for actively supporting a range of worthy charities such as Ronald McDonald House, Variety and various sporting clubs.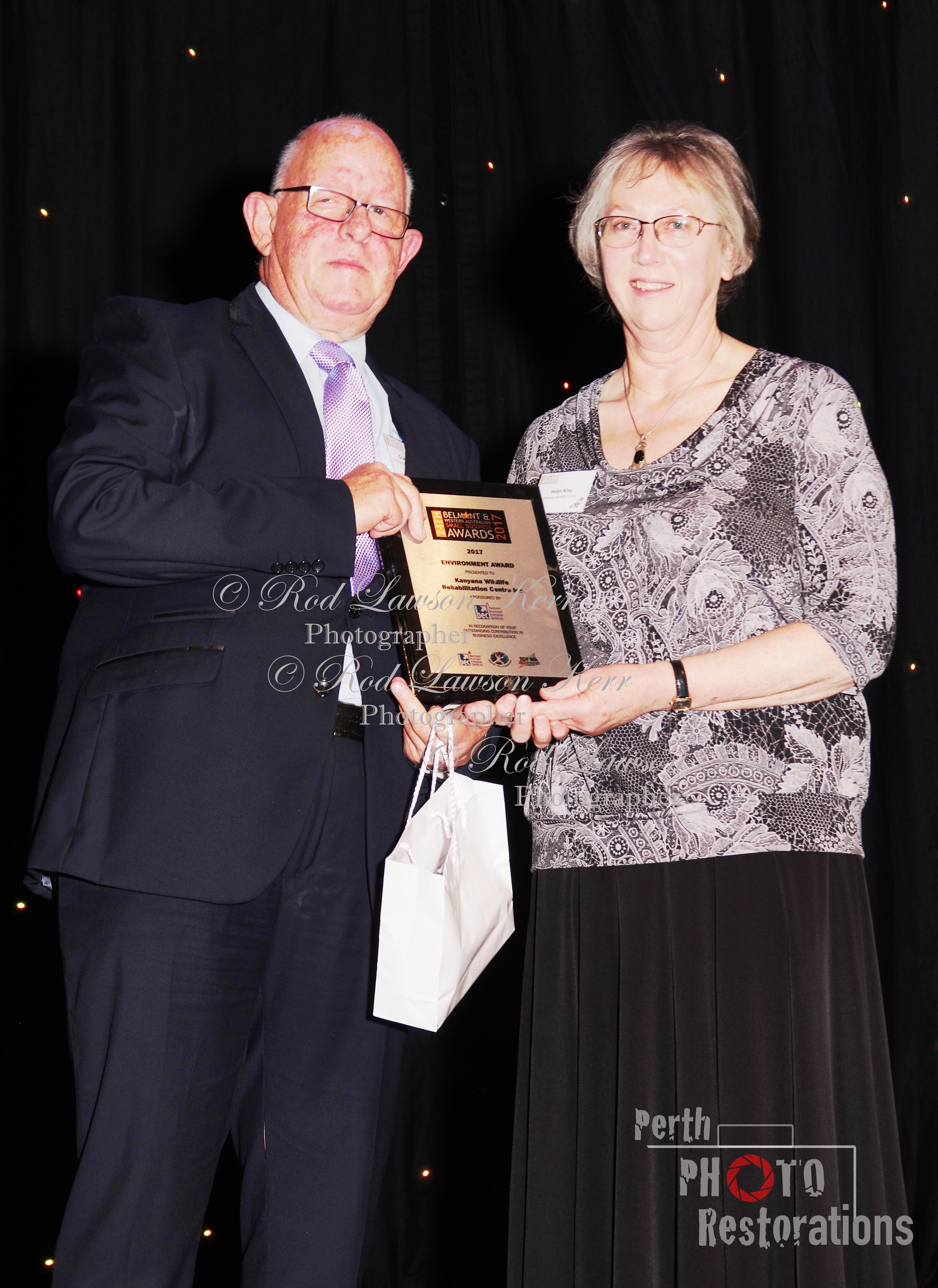 ENVIRONMENT AWARD
Sponsor: Belmont Business Enterprise Centre Inc.
Presented by: Jules Lewin, Chair, Belmont BEC
The Belmont Business Enterprise Centre provides low-cost advisory services to new and existing small businesses. Advice is provided through helplines, mentoring, networking, legal and accounting referrals. They also help with the preparation of marketing and business plans, have an extensive series of online business training topics and opportunities to attend trade and sourcing missions throughout Asia. Belmont BEC is an accredited member of BEC Australia and the Australasian Institute of Business and Enterprise Facilitators – the BEC national specialist business advisory Centre in creative, fashion & TCF related small businesses support.
Winner: Kanyana Wildlife Rehabilitation Centre
Accepted by: Helen Riley, Kanyana Wildlife Rehabilitation Centre
Kanyana Wildlife Rehabilitation Centre is a not-for- profit organisation dedicated to wildlife conservation. At their Lesmurdie facility, they rehabilitate sick, injured, orphaned,and displaced wildlife. They also undertake broad-based training and education for the community and corporate groups. Kanyana is an Associate Institutional Member of the Zoo and Aquarium Association.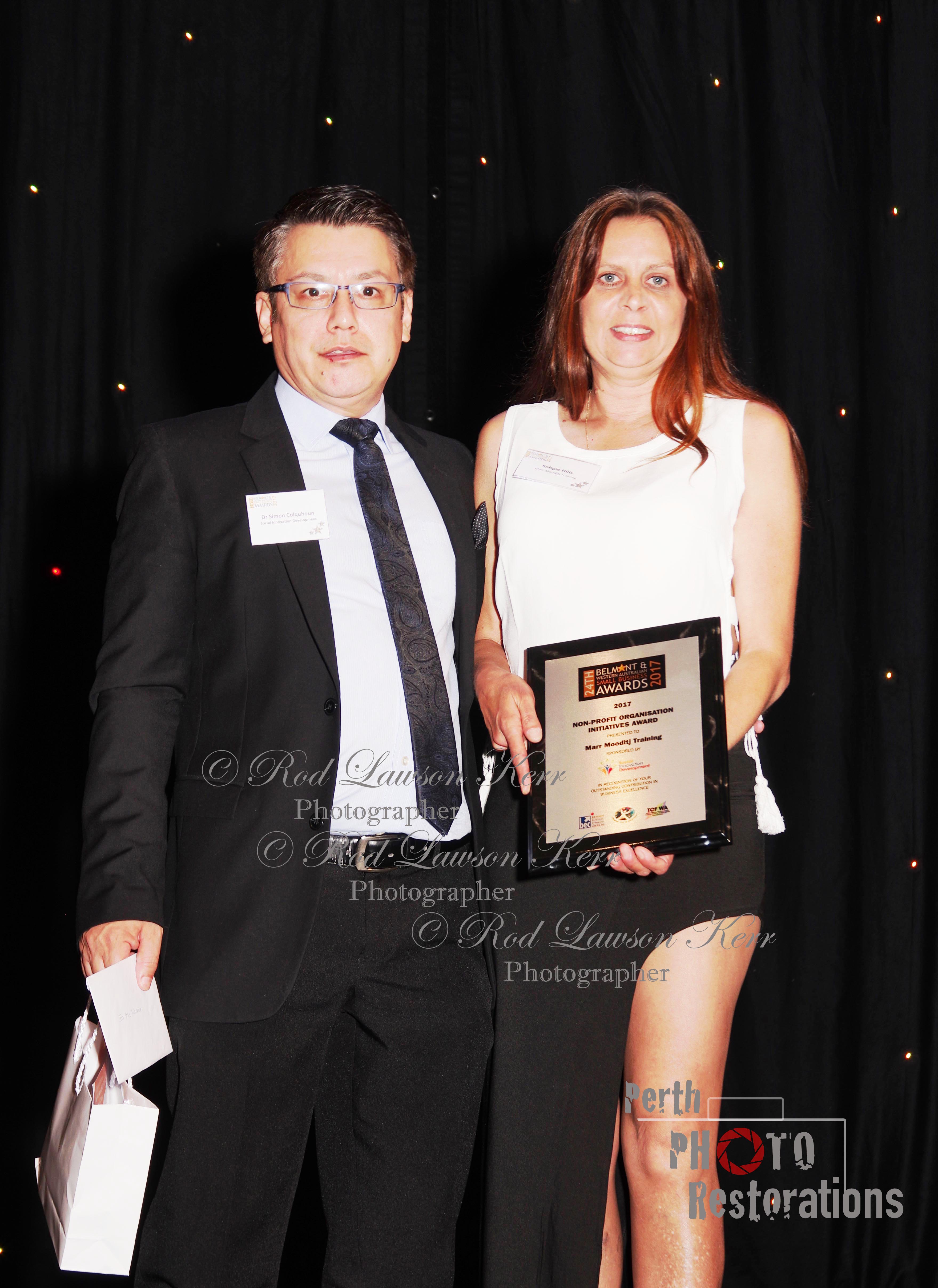 NON-PROFIT ORGANISATION INITIATIVES AWARD
Sponsor: Social Innovation Development
Presented by: Dr. Simon Colquhoun, Social Innovation Development
Collaborate-Innovate-Grow, this is the motto of Social Innovation Development — a social enterprise focused on making a real difference to our society through its work with not-for-profit organisations. The organization is currently crowdfunding to support its vital community work and details on how you can help are provided on a card in your show bags. Any donation is greatly appreciated and those who donate can attend an introduction workshop on how to conduct Social Innovation within your organisation.
Winner: Marr Mooditj Training
Accepted by: Sophie Hills, Marr Mooditj Training
Marr Mooditj is an award-winning Registered Training Organisation, committed to providing quality training and assessment services for Aboriginal and Torres Strait Islander people; empowering them to deliver and manage health care and community services in a culturally appropriate manner. They implement this by focussing on meeting the holistic needs of students and have been in operation for the last 34 years.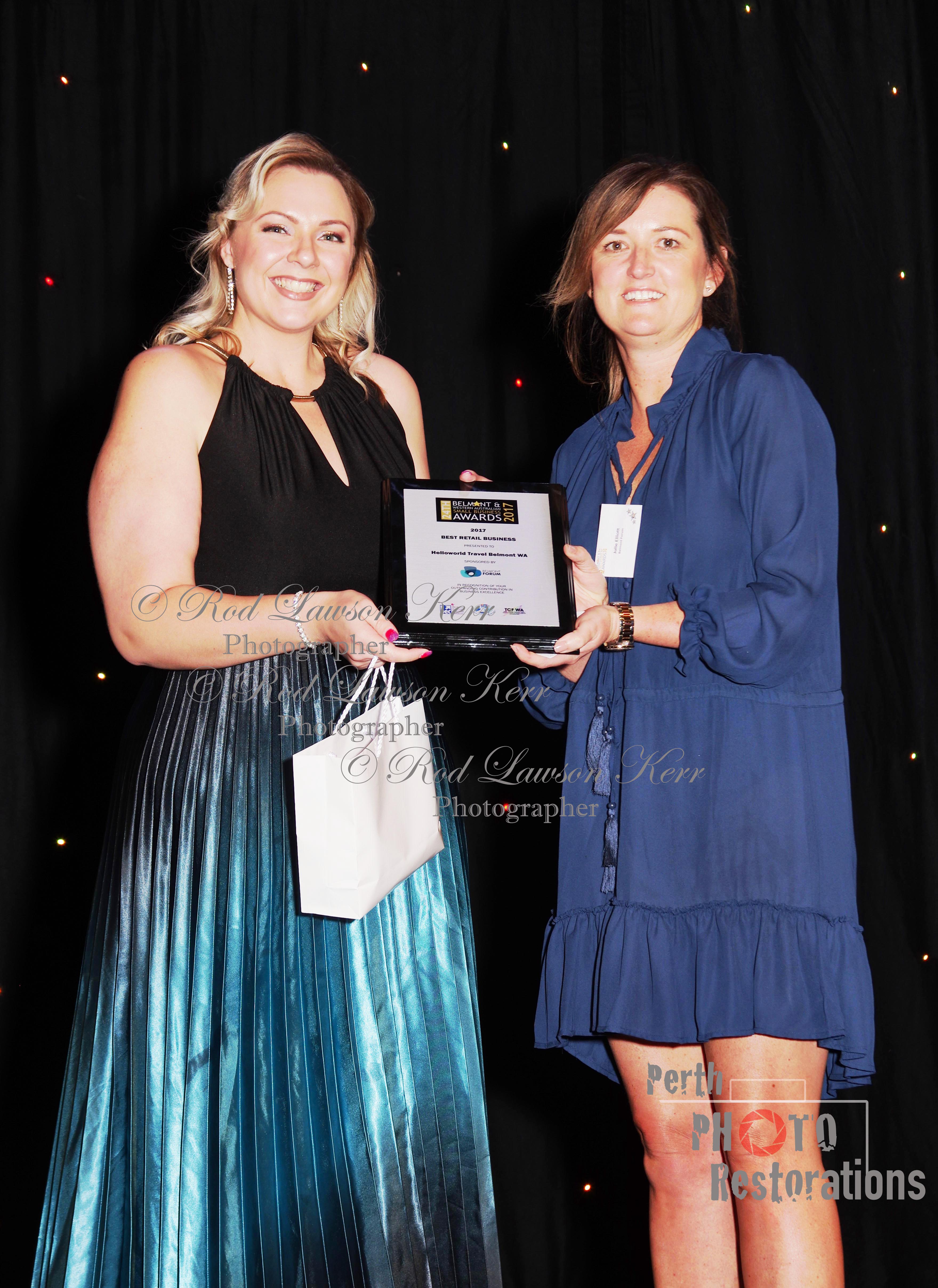 BEST RETAIL BUSINESS
Sponsor: Belmont Forum
Presented By: Julie Elliott, Marketing Manager, Belmont Forum
Belmont Forum is pleased to sponsor the Best Retail Business for the 24th consecutive year. As the largest retail centre in the City of Belmont, Belmont Forum is undertaking significant change at the moment and looks forward to delivering a premium retail offering for residents and workers within the City of Belmont.
Winner: Helloworld Travel Belmont WA
Accepted by:Tash Murray, Helloworld Travel Belmont WA
Belmont Forum-based, Helloworld Travel Belmont WA, is a locally-owned and independent family business headed by Debbie Nazzari and provides clients with unparalleled professionalism and true value in travel. Their award winning travel team have years of professional experience as well as extensive training, enabling Helloworld Travel Belmont WA to provide outstanding service to all clients.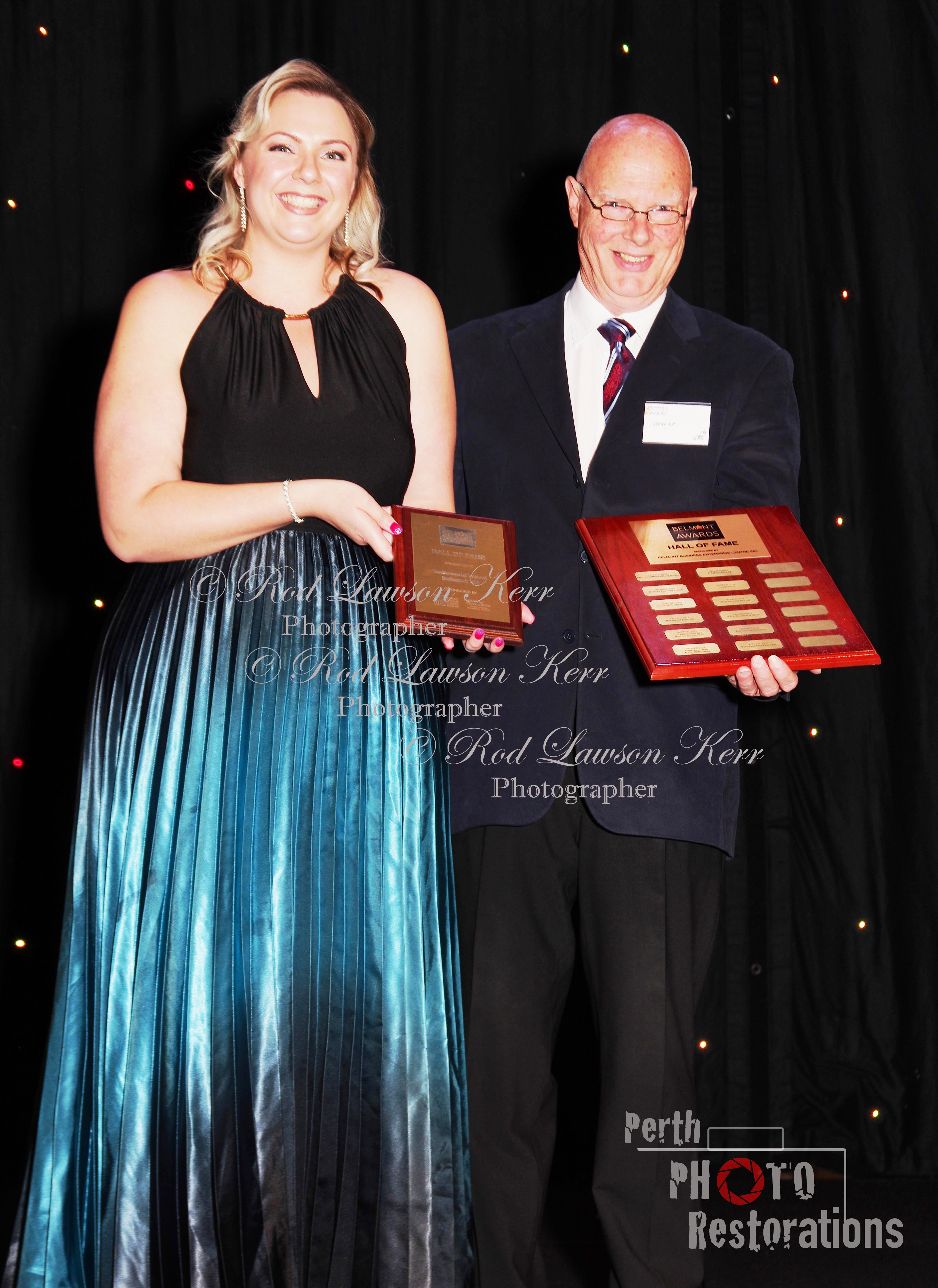 HALL OF FAME INDUCTEE
Sponsor: Belmont Business Enterprise Centre Inc.
Presented by: Harvey Rose, Belmont BEC
Hall of Fame inductee Helloworld Travel Belmont WA. 
Helloworld Travel Belmont was awarded the Best Retail Award in 2014 and 2015 and now the Best Retail Business Award in 2017. Consequently the company is now inducted into the prestigious Belmont & WA Small Business Awards Hall of Fame.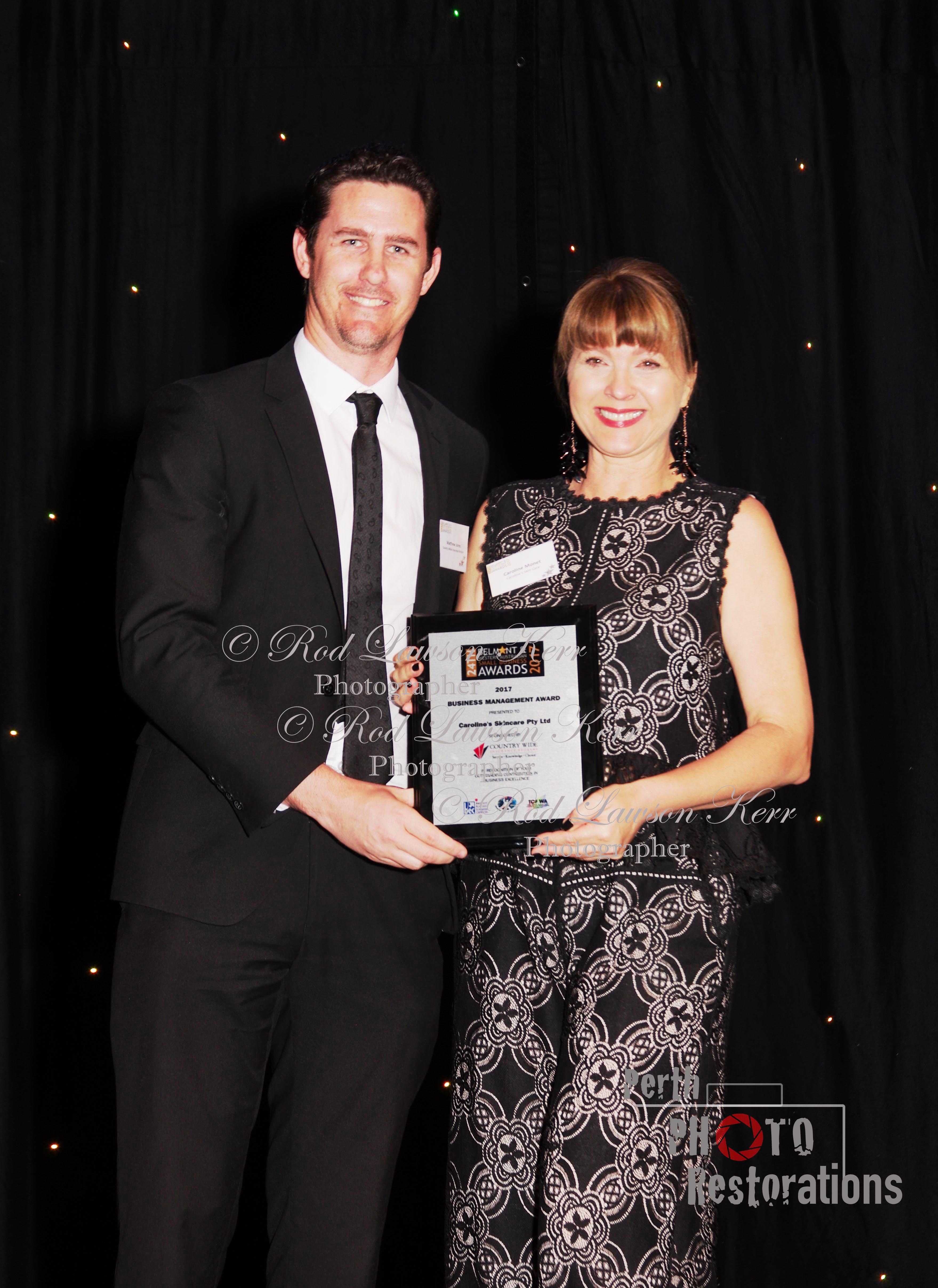 BUSINESS MANAGEMENT AWARD
Sponsors: Country Wide Insurance Brokers
Presented by: Matthew Jones, Perth Metropolitan Area Manager, Country Wide Insurance Brokers
At Country Wide Insurance Brokers their mission is 'to create trusted insurance solutions that deliver protection and certainty'. Established in 1989, Country Wide Insurance Brokers employs 45 staff across seven branch offices, with their head office here in Belmont. They service the general insurance requirements of their customers and support local businesses and community groups both here in Perth and through-out WA.
Winner: Caroline's Skincare
Accepted by: Caroline Monet, Caroline's Skincare
Following a lifelong interest in traditional remedies, Caroline Monet from Caroline's Skincare decided to turn her personal knowledge of aromatherapy to explore possible ways to ease skin irritation from which many people suffered. Over a decade ago — through a process of trial and error and using a concentrated blend of traditional oils and herbal extracts — Caroline's soothing cream was launched and now offers an entire range of successful, quality skincare products.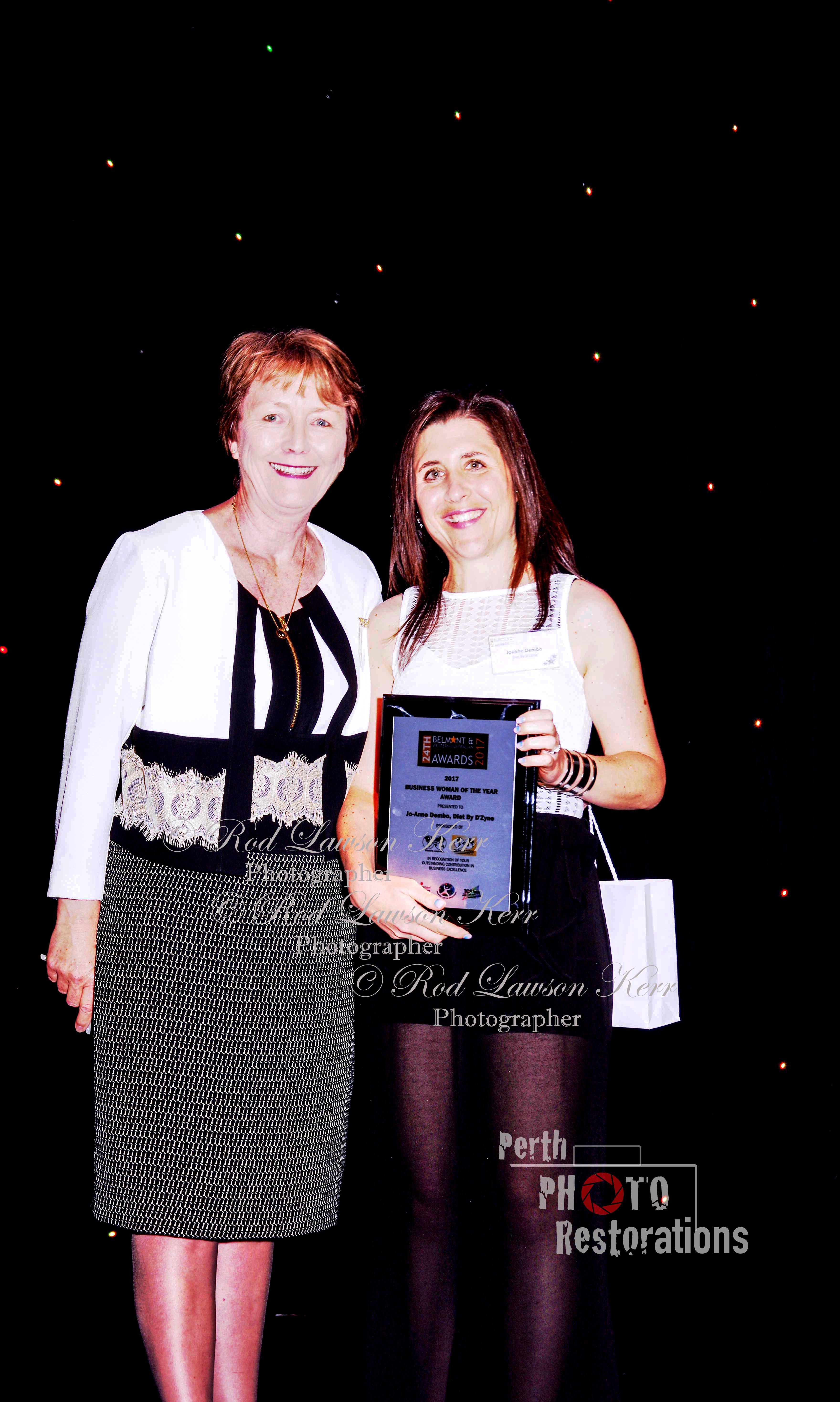 BUSINESS WOMAN OF THE YEAR AWARD
Sponsors: Business & Professional Women of Western Australia & BPW Business Incubator
Presented By: Kate Waters, State President, BPW WA
BPW Western Australia is part of a global network of Business and Professional Women which make real differences in women's lives by creating awareness, leading discussion and driving change. Their focus is on issues that affect women and work including equal access to education and training and they recognise business excellence. Members give their time and passion to support various campaigns and run projects that benefit women and their communities. BPW Business Incubator ONLINE Training and Mentoring Programs are conducted by Belmont BEC, which is a specialist business improvement provider to women owners and managers in small businesses across WA, Australia and beyond.Winner: Jo-Anne Dembo, Diet By D'Zyne
Accepted by: Jo-Anne Dembo, Diet By D'Zyne
Jo-Anne Dembo founded Diet by D'Zyne, a private dietetics practice in 2005. She has grown the business to more than 50 clinics, and 50,000 patients. Diet By D'Zyne offers a lifestyle solution to nutrition and life-long healthy eating. Its accredited Practising Dietitians provide nutrition advice for men, women, children, teens and the elderly, and cover a wide range of nutritional requirements.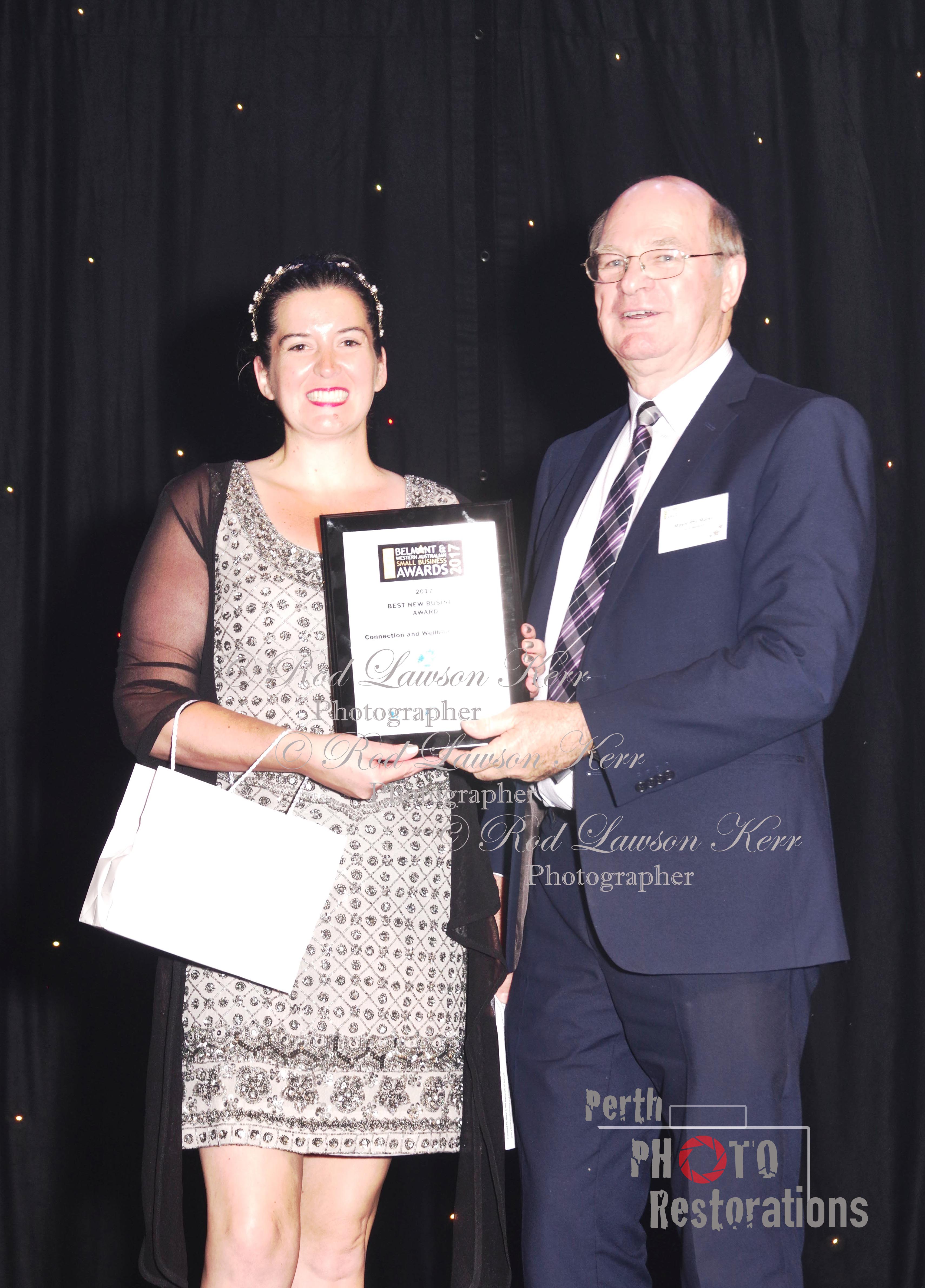 BEST NEW BUSINESS
Sponsor: City of Belmont
Presented By: Mayor Cr Phil Marks, City of Belmont
With a focus on establishing and maintaining a progressive business community, the City of Belmont is proud to be a major sponsor of the 24th Belmont & Western Australian Small Business Awards 2017. By recognising quality and excellence in the community, the City of Belmont – the City of Opportunity — continues to be a great place to live, work and invest.
Winner: Connection & Wellbeing Australia
Accepted by: Bella Broadway, Connection & Wellbeing Australia
Ascot-based, Connection & Wellbeing Australia focus on providing training and support to work towards the vision of a suicide safer community. Connection & Wellbeing Australia is a Social Enterprise offering a number of training packages for individuals, organisations and professionals including safeTALK suicide awareness training, ASIST suicide intervention training, and other specialist mental health and wellbeing training. They have a network of consultant trainers across Australia.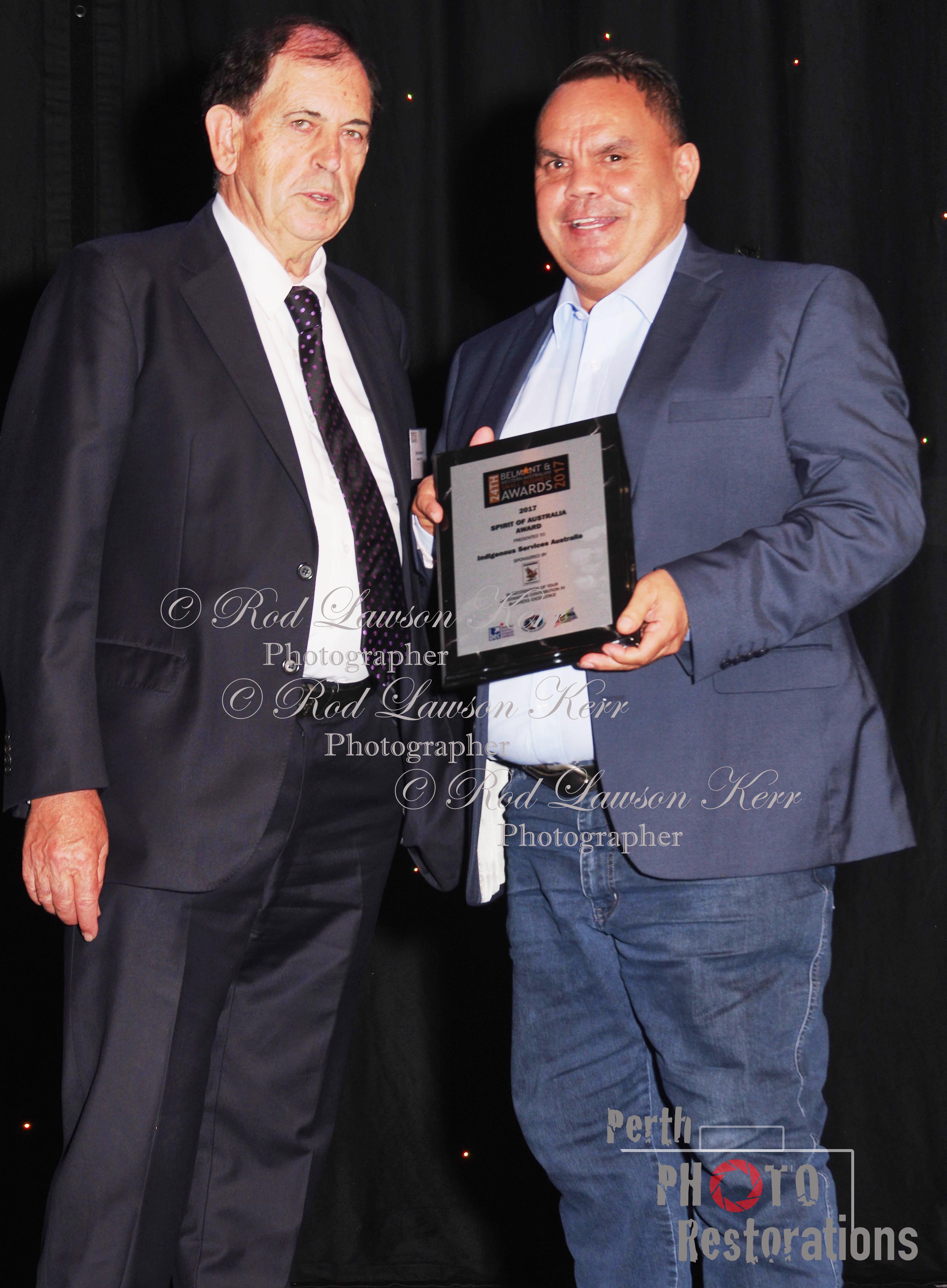 SPIRIT OF AUSTRALIA AWARD
Sponsors: Hanssen Project Management
Presented by: Gerry Hanssen, Director, Hanssen Project Management
Hanssen is one of the leading construction companies in Perth, building quality high-rise mixed commercial and residential apartments. The company is passionate about training and providing opportunities for people of all skill levels to develop and find their niche in the construction industry.
Winner: Indigenous Services Australia
Accepted by: Tony Shaw, Indigenous Services Australia
Indigenous Services Australia, is a 100% indigenous-owned and directed company providing cultural diversity training and consultancy services to corporates and communities across Australia. Indigenous Services Australia prides itself on the delivery of high quality, holistic indigenous participation programs. Their values are respect, integrity, compassion and fun.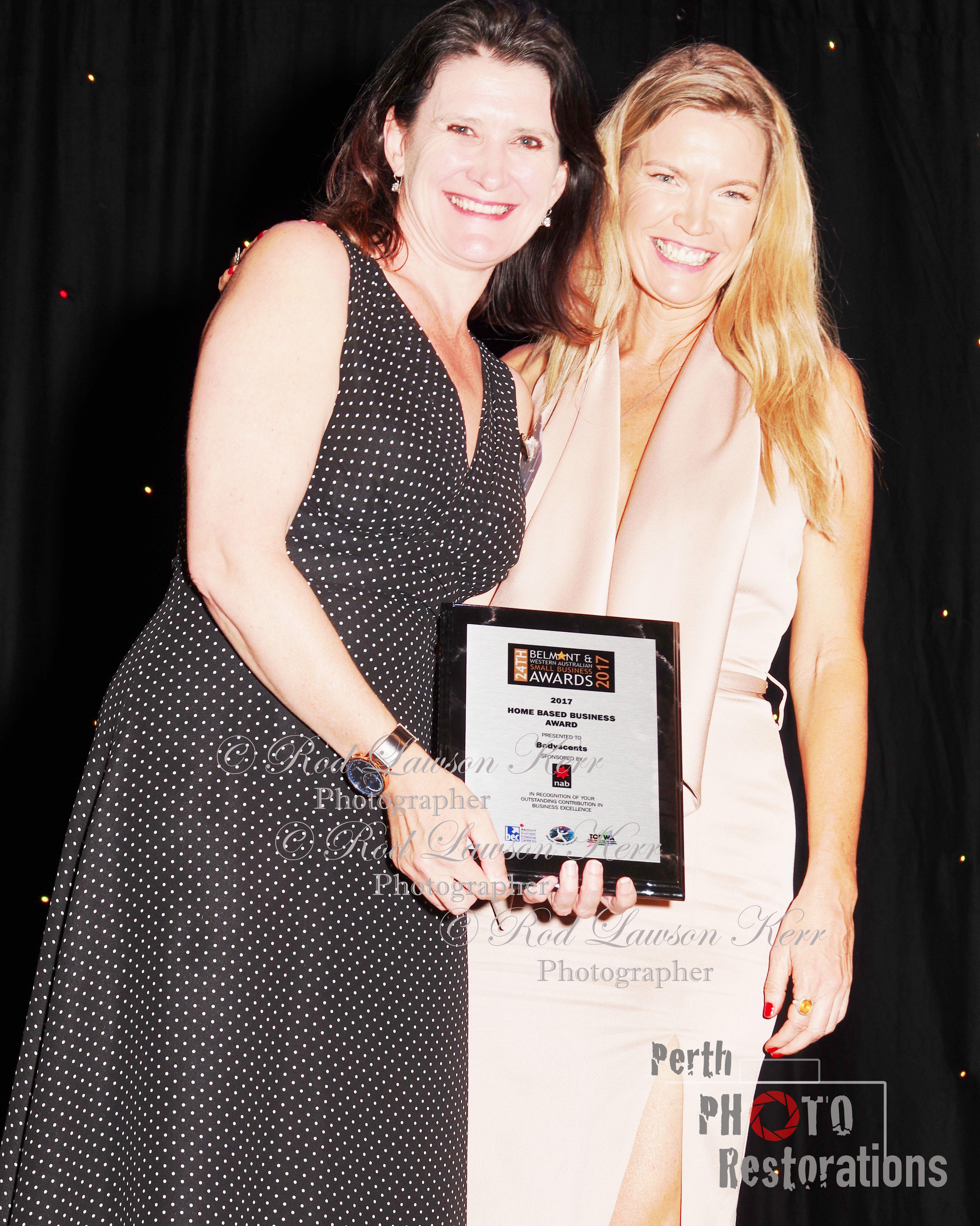 HOME-BASED BUSINESS AWARD
Sponsor: NAB
Presented by: Geri Ross, Belmont Business Banker, NAB
NAB's Small Business WA division consists of 27 Bankers who seek to meet the business and personal needs of small business customers with business lending requirements of less than $1m. A dedicated contact line ensures our Small business clients can easily contact someone during business hours. NAB's Small Business customers range from start-ups, to expanding and mature businesses across a range of industries including retail, manufacturing and services, with up to $5 million in annual turnover. The bankers have holistic conversations with clients about their business and personal banking needs and are supported by a range of specialists including wealth, insurance, transaction banking, foreign currency and equipment finance.
Winner: Bodyscents
Accepted by: Linda Chatwin, Bodyscents
Bodyscents was founded by Linda Chatwin in Kalamunda 10 years ago. She started her journey into wellness and beauty as a natural therapist operating from her home and providing massage, aromatherapy, healing, flower essences, Bowen therapy and the Emmett technique. Linda's passion for health turned into her own line of holistic skin care and healing products based on providing an effective alternative to big name brands.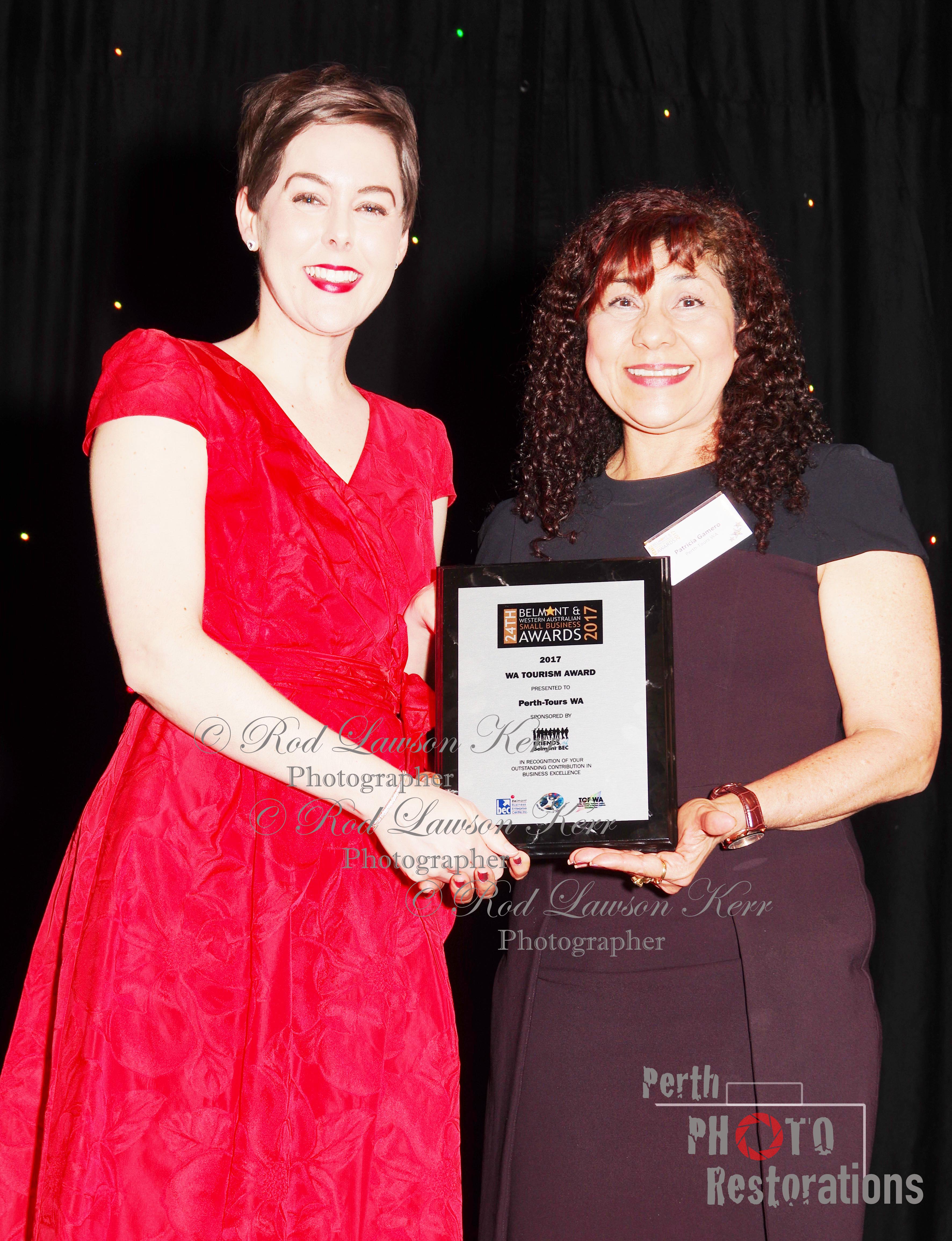 WA TOURISM AWARD
Sponsor: Friends of Belmont BEC
Presented by:  Cassie Rowe MLA, Member for Belmont
Friends of Belmont BEC was established by Belmont BEC to acknowledge its supporters and extensive member networks.  Since Belmont BEC was established in 1994 it has assisted over 26,000 small business intenders, start-ups and existing small businesses. The tourism sector has always attracted small business to support the state's business visitors and tourists through the operation of tour services, attractions, accommodation and hospitality services. Located in the precinct of the Perth Airport, Ascot and Belmont Racecourses and Crown Casino, Belmont attracts a large number of tourists passing through the city.
Winner: Perth-Tours WA
Accepted by: Patricia Gamero, Perth-Tours WA
Perth-Tours WA specialise in entertaining visitors to have memorable holidays. They offer clients relaxed journeys to discover Perth's natural surroundings. The company provides stress-free adventures focusing on nature, amazing sunsets and value for money. They have maintained leadership in the Small Groups tourism market segment by providing superior service.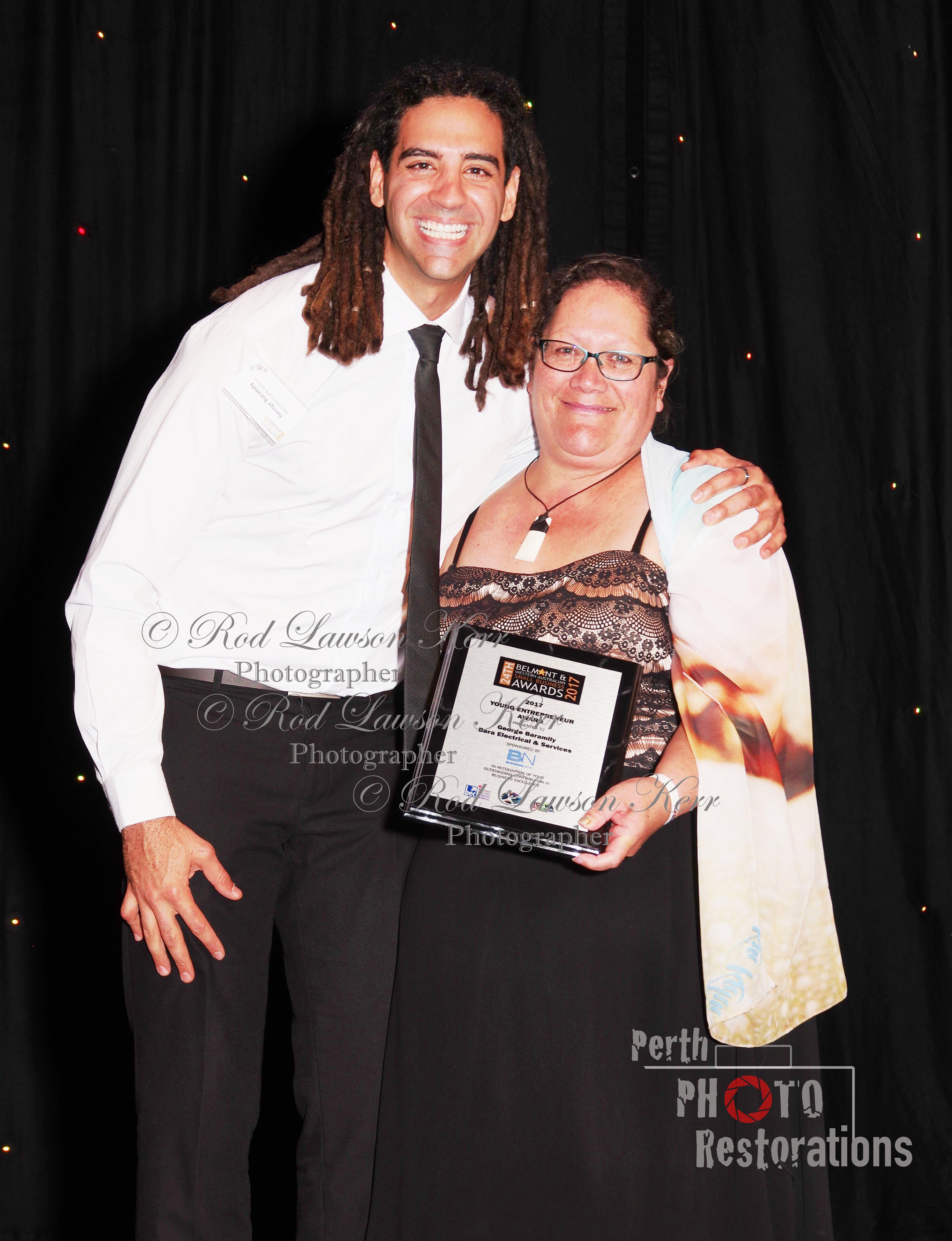 YOUNG ENTREPRENEUR AWARD
Sponsor: Business News
Presented By: Vivienne Letufuga, Business News
Business News aim to be the best news and information service, providing the insights, connections and opportunities of doing business in Western Australia.
They achieve this through an editorial team that is committed to delivering quality and trusted news, information and data engaging with the full range of WA business sectors.Winner: George Baramily, Bara Electrical & Services
Accepted by: George Baramily, Bara Electrical & Services
Belmont based, Bara Electrical & Services offers an experienced and professional team of Electricians and Aircon Specialists who have built a strong reputation as helpful and reliable "sparkies" in the Perth metro area. Started by George Baramily in 2014, Bara Electrical has grown through word-of-mouth and a focus on providing dependable and honest electrical services. George has also developed a patented app relating to the testing of RCDs and smoke alarms for residential clients.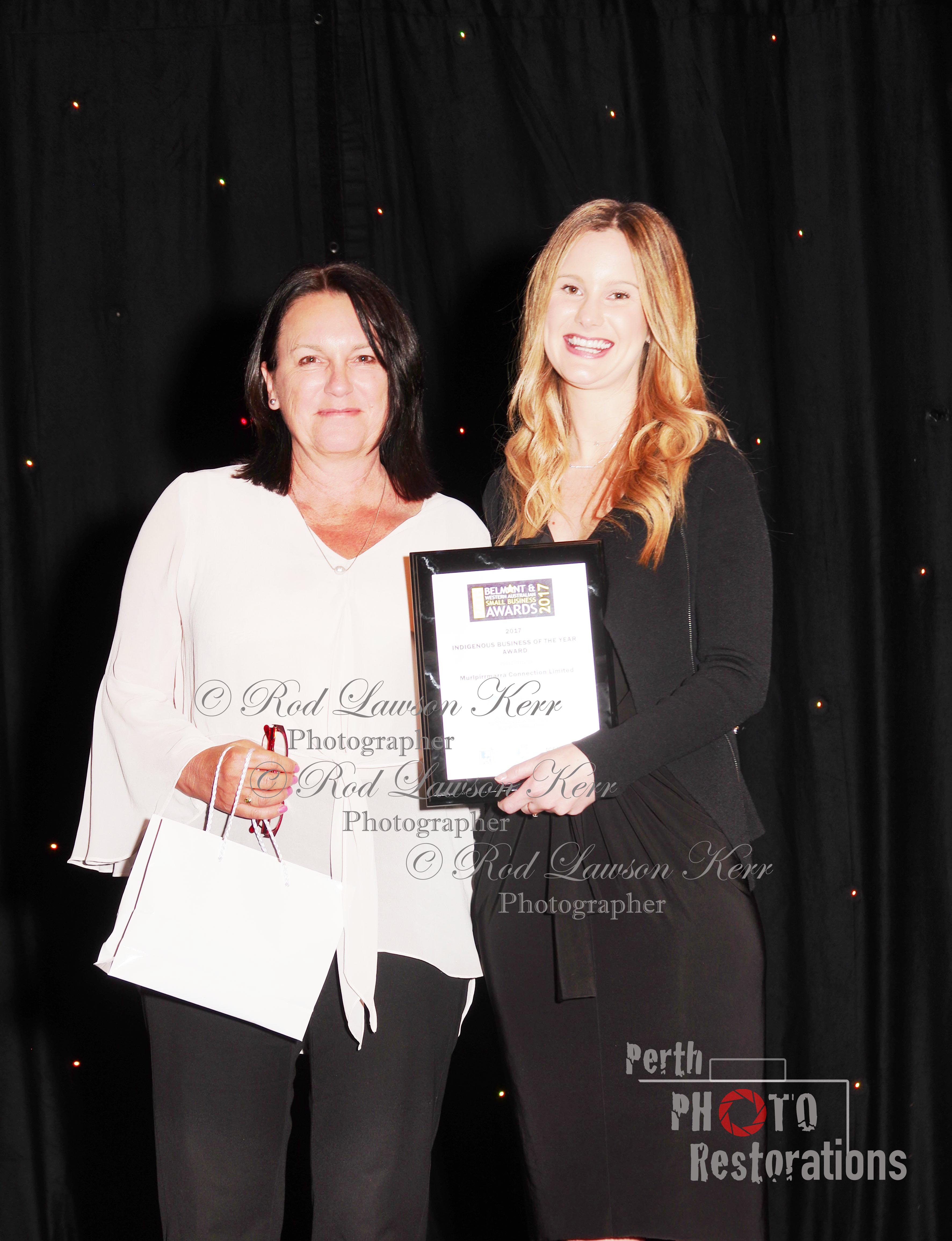 INDIGENOUS BUSINESS OF THE YEAR AWARD
Sponsor: Perth Airport
Presented By: Debra Blaskett, Chief Corporate Services Officer, Perth Airport
Winner: Murlpirrmarra Connection
Accepted by: Claire Laan, Murlpirrmarra Connection
Welshpool-based, Murlpirrmarra Connection is a not-for- profit organisation that provides Aboriginal youth in the remote communities of Wiluna, Leonora and surrounding regions in Western Australia, with educational opportunities. Delivering culturally relevant programs designed to support Aboriginal students throughout their secondary schooling, the organization aims to ensure these young men and women are prepared for their transition from school into tertiary studies, training and employment.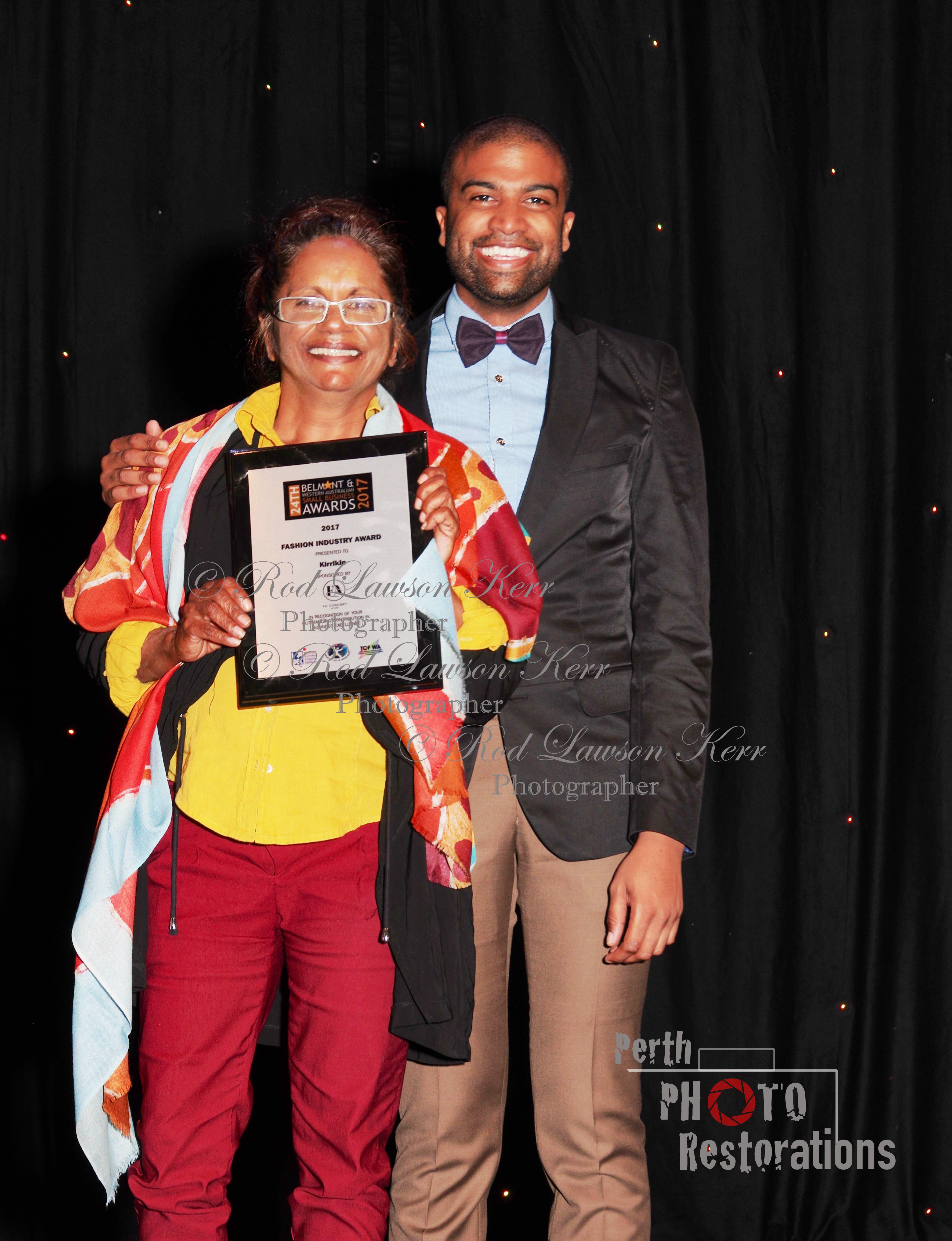 FASHION INDUSTRY AWARD
Sponsor: FA Concept Store
Presented By: Aymeric Futol, Founder & Director, FA Concept Store
FA Concept Store, is a taste of Europe, the newest addition to Perth CBD boutiques. Aymeric Futol and Christian Fert wanted to bring a sophisticated but affordable outlook to services in fashion ranging from makeup, hairstyling, photography, makeover, personal shopping and concierge services, to name just a few. The Founders' personal experiences combined with the expertise of European designers bring a fresh twist to Perth fashion and shopping.
Winner: Kirrikin
Accepted by: Francine Kickett on behalf of Amanda Healy, Kirrikin
Kirrikin is a uniquely Australian endeavour. Their luxury accessories feature artworks of contemporary Indigenous Australian artists, showcased on stunning handcrafted silk & cashmere scarves; silk neckties, bow ties and pocket squares. Kirrikin's exclusive designs revolve around identity through exploring Aboriginal people, traditions, and their land. They create spirited products that capture the essence of Australia. Kirrikin is an Indigenous registered business and a percentage of each Kirrikin purchase is directly returned to the featured Indigenous Australian artist involved in the design.
CUSTOMER SERVICE AWARD
Sponsor: Telstra Business Centre Belmont
Presented By: Carly Barrowman,Telstra Business Centre Belmont
The Telstra Business Centre Belmont helps local business with the complete range of Telstra Telecommunications Solutions. Located at 138 Abernethy Rd, Belmont, they have working technology on display and an experienced team available to offer professional advice. Alternatively, they can meet you at your business. Telstra Business Centre is looking forward to helping you increase your business efficiencies, improve your customer interactions and build your profits.
Winner: Kalamunda Plumbing Group
Accepted by: Max Jones, Kalamunda Plumbing Group
In 1954, Wally Jones had a strong desire to start his own plumbing business, and a vision of how it should be run. As one of the largest plumbing and water heater maintenance companies in the region, Kalamunda Plumbing Group are uniquely qualified to offer their clients versatile solutions in a timely fashion. They are a family-owned, customer-centric business which prides itself on high quality customer service.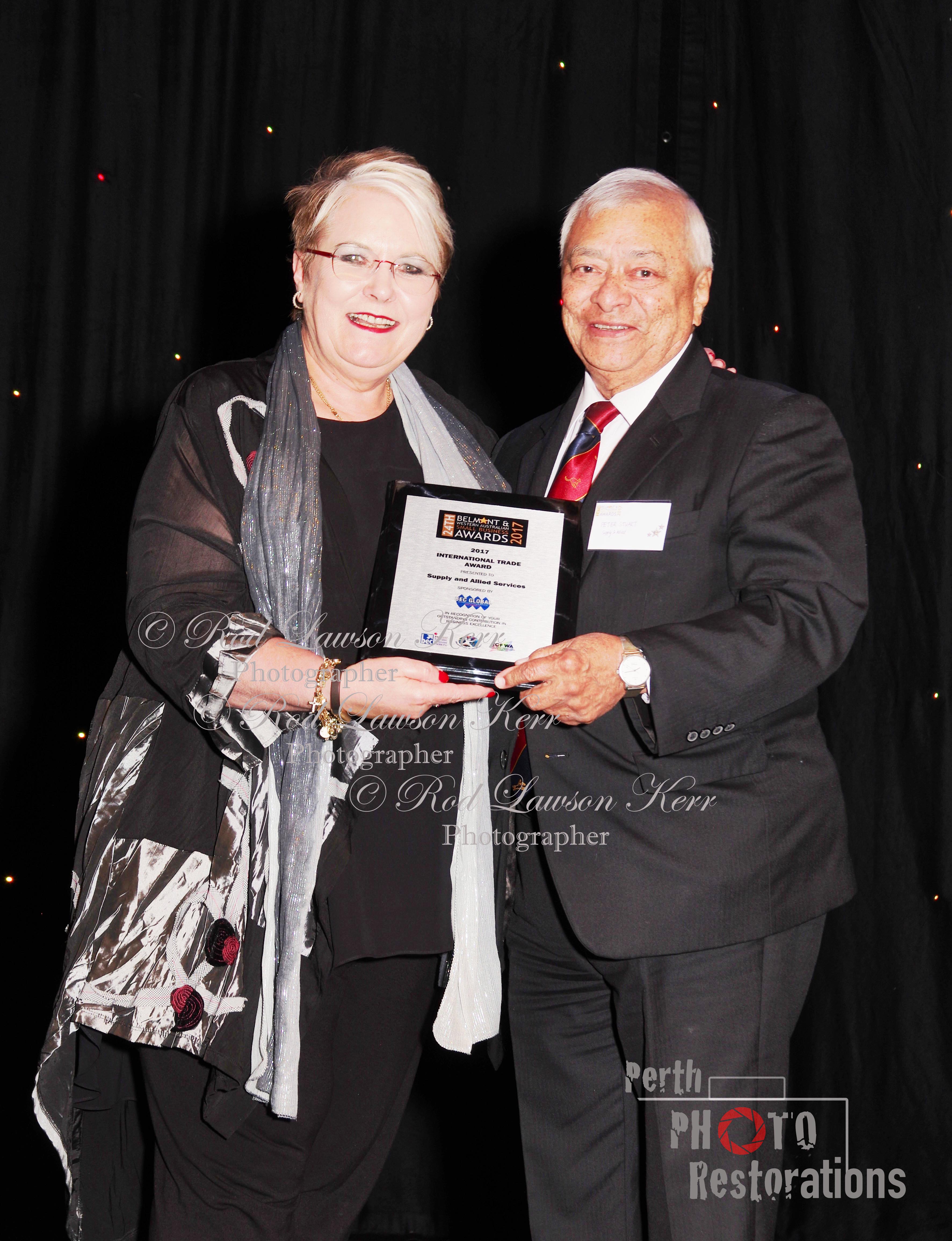 INTERNATIONAL TRADE AWARD
Sponsor: BEC Global
Presented By: Carol Hanlon, CEO, BEC Global  (Belmont BEC)
The international trade of goods and services around the world is a challenge for small business owners searching for new markets, clients or suppliers in this fast-changing global economy.BEC Global assists small businesses to quickly tap into trade opportunities, stay ahead of competitors and cope with the multiple demands of exporting and importing, various time zones, currencies and cultures. BEC Global helps provide global linkages and supply chain connections between countries such as Hong Kong, China, Mongolia, India, Korea, Vietnam and Taiwan to name just a few. BEC Global also supports United Nations CSW NGO Forums, International Trade Centre (ITC-WTO) and APEC Project initiatives.
Winner: Supply & Allied Services
Accepted by: Peter Stuart, Supply & Allied Services
Supply & Allied Services Pty Ltd was established by Peter Stuart in 1994, after emigrating from India. Peter identified a niche in the mining supply industry for remote mine sites that required specialised logistics, supply and warehousing strategies. Peter established Supply & Allied Services to provide professional consulting services in mining logistics and supply management, and has more than 20 sub-contracting consultants working for the firm around the globe in four continents.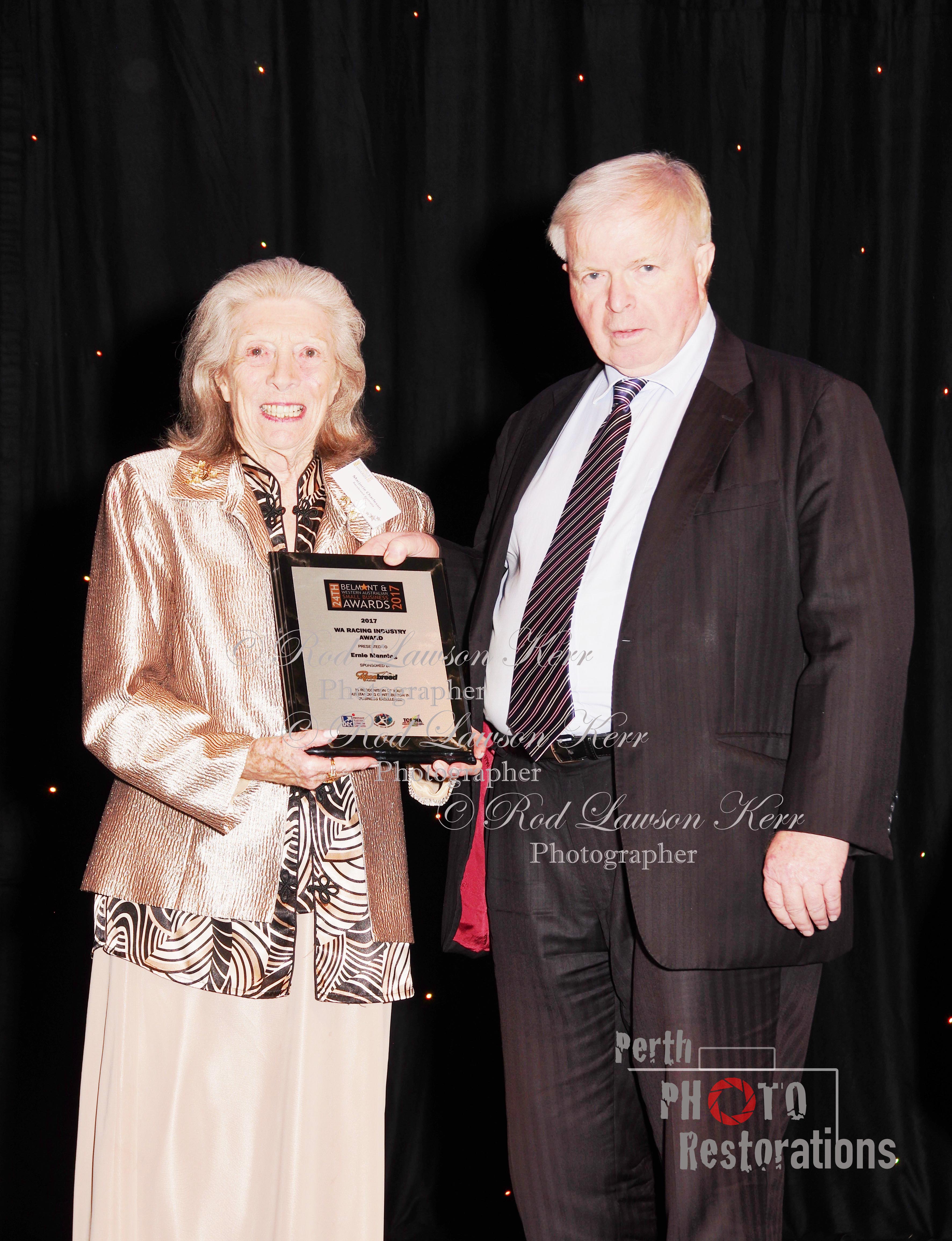 WA RACING INDUSTRY AWARD
Sponsor: Racebreed Australia
Presented By: Marjorie Charleson, Racebreed Australia
Marjorie Charleson's professional involvement with the Thoroughbred Horse-racing industry in WA began in 1967 and has included 16 years as Public Relations Officer for the WA Turf Club and Editor and Publisher of Racebreed Australia magazine for 12 years. The organisation has won several Belmont Small Business Awards, was inducted into their Hall of Fame in 2011, and been awarded Member of the Order of Australia for Services to Racing and the Community. Racebreed Australia received a Lifetime Achievement Award last year from RWWA and the Racing Industry, has been honoured with a feature race-name at Ascot for the past two years and has been a sponsor of the WA Racing Industry Award since 2009.
Winner: Ernie Manning
Accepted by: Ernie Manning
Ernie Manning provides racing news and information services across mainstream media channels such as press, radio, magazines and online. Ernie's customers are Australia-wide, and he has a knack of applying historical information and events to current news and information services. Ernie is consistently introduced as the 'Number one racing expert in the State of Western Australia'.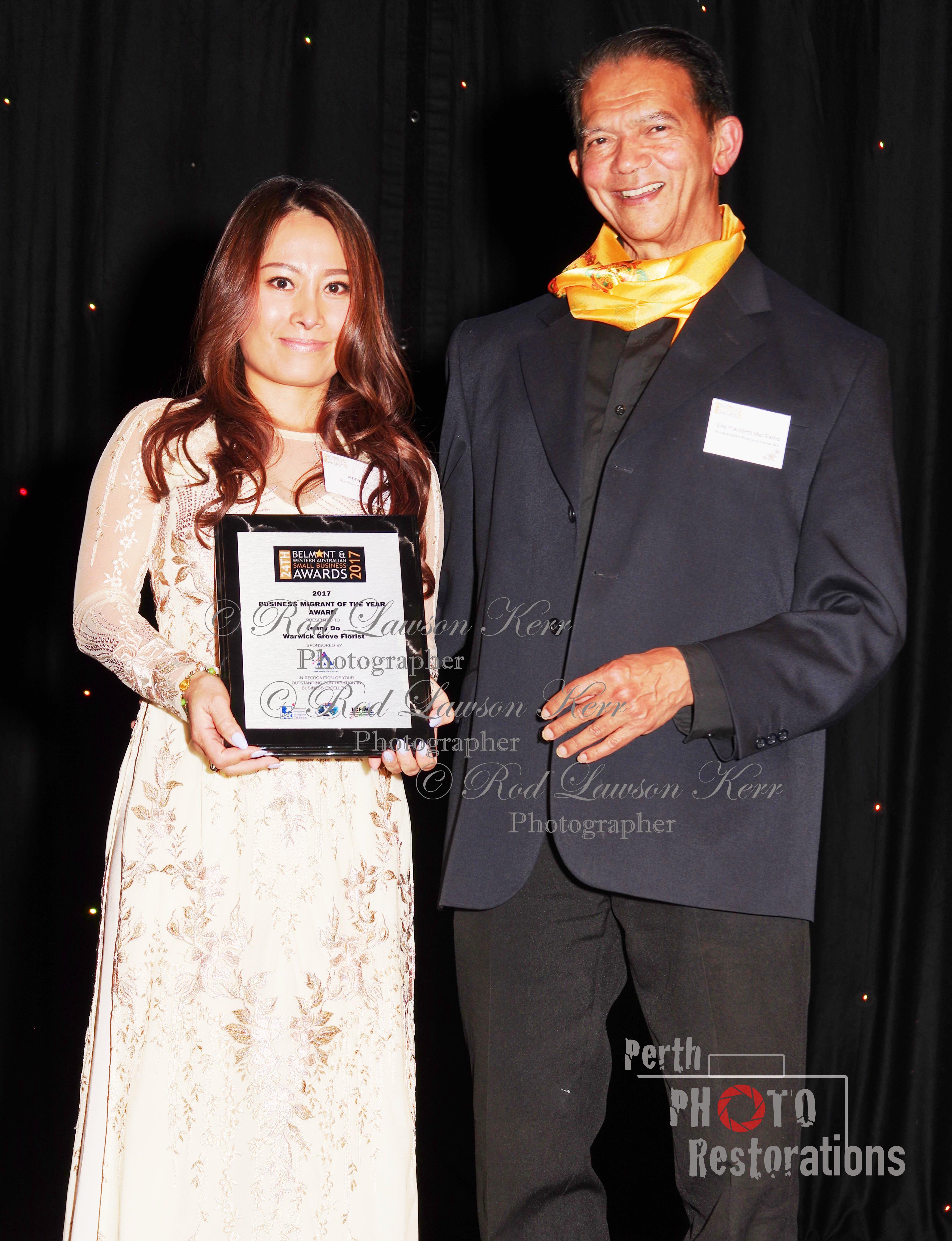 BUSINESS MIGRANT OF THE YEAR AWARD
Sponsor: The Australian Asian Association of WA
Presented By: Mel Fialho, Vice President, The Australian Asian Association of WA
The Australian Asian Association is one of Western Australia's premier ethnic conglomerate bodies, providing rent free accommodation to 17 of their client groups. The Australian Asian Association provides a range of services to their clients including Training, Legal Advice, Immigration Advice and Case Management, Welfare, Emergency Relief, Aged Care and an Ethnic Secretariat. The membership and services continue to grow year on year.
Winner: Jenny Do, Warwick Grove Florist
Accepted by: Jenny Do
Owner and Director Jenny Do began working as a florist over 10 years ago and her work has been nationally recognised.  Jenny migrated to Australia from Vietnam in 2006, escaping a domestic violence situation and raised her daughter solo. Faced with this challenge she decided to utilise the floristry skills she learned in Vietnam. Today, Jenny leads a highly professional and dedicated team with a combined 45 years' experience and passion for making floral magic. She has received numerous accolades including being Business News 40under40, WA Florist of the Year 2016 by Interflora Australia, and two awards at the 2016 IGA Royal Show for centrepieces and bridal bouquets.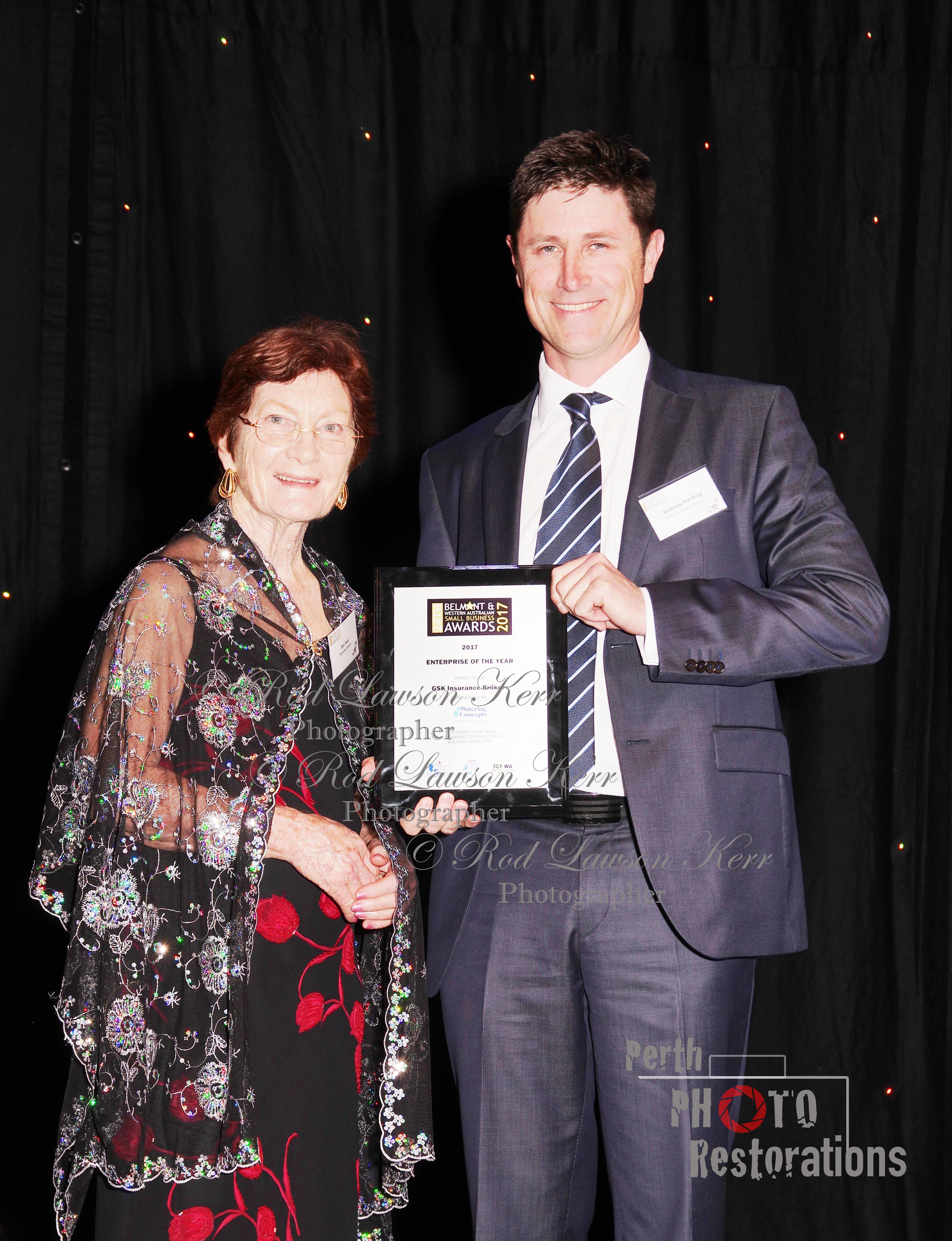 ENTERPRISE OF THE YEAR
Sponsor: Watering Concepts
Presented By: Bev Poor, Director, Watering Concepts
Watering Concepts is a Western Australian-owned company with a 37-year record of service within the community. Watering Concepts designs, supplies and services systems for water-based operations, including process water for mining, chemical applications, industrial waste applications and for use within the water utilities system. Watering Concepts also provide access to spare parts and repairs to most brands of filters, control valves and flow meters. They have maintained their reputation as problem solvers for water distribution operations.  The team can also provide on-site training sessions for mine-site field operators to help reduce downtime and increase productivity.
Winner: GSK Insurance Brokers
Accepted by: Andrew Harding, GSK Insurance Brokers
With increasing complexity around legal, industry and economic conditions, the margin for error in the business world has reached levels never seen before. This is where an end-to-end insurance and risk service becomes almost invaluable.
Belmont-based GSK Insurance Brokers help their clients plan for the long term. Forget quick-fix, off-the-shelf solutions that only patch up a fraction of your risk – GSK Insurance Brokers analyse a client's situation, identify areas of exposure and devise packages that will save precious time, money and pain now and in the future.
BUSINESS PERSON OF THE YEAR
Sponsor: Belmont Rotary
Presented By: Cr Margie Bass, Belmont Rotary
Belmont Rotary is a local service club that meets weekly to enjoy friendship and perform volunteer work in the local and international community.  Club members enjoy the camaraderie with like-minded professionals, and club projects offer additional opportunities to develop enduring friendships.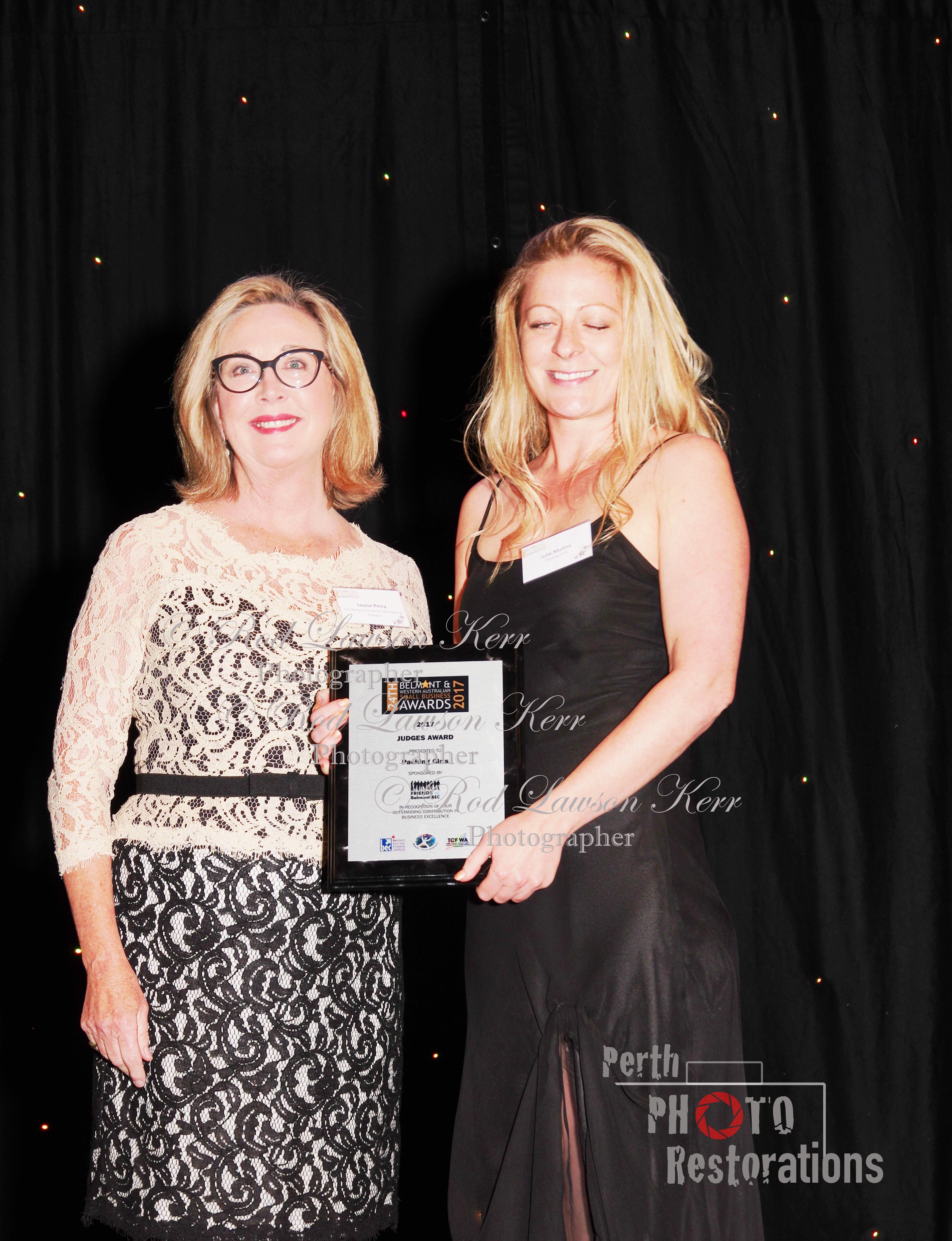 JUDGES AWARD
Sponsor: Friends of Belmont BEC
Presented By: Louise Percy, Patron, Belmont BEC
Friends of Belmont  BEC was established by Belmont BEC to acknowledge its supporters and extensive member networks.  Since Belmont BEC was established in 1994 it has assisted over 26,000 small business intenders, start-ups and existing small businesses.  The Judges Award was introduced to acknowledge a deserving small business and its notable achievements.
Winner: Packing Girls
Accepted by: Julie Mullins,Packing Girls
Julie Mullins started Packing Girls after wanting to take packing services to a whole new level. Julie was passionate about providing love and care to her clients' belongings. Today with a team of over 10 people working on homes around Perth stretching from Rockingham, Mandurah and Clarkson, Packing Girls is continuing the same genuine love and care that Julie has shared with all the people she has the privilege of meeting and working for.

The Belmont Small Business Awards in previous years