Congratulations to the Winners and Finalists
23rd Belmont & Western Australian Small Business Awards 2016
26th October
Media Release: 23rd Belmont Small Business Awards 2016 Higlight Small Businesses  Across WA.
BEST MARKETING AWARD
Sponsor: Westways Visual Communications and Worldwide Printing Solutions
Presenter: Neil Cranny, Managing Director, Westways Visual Communications
Westways Visual Communications is a diverse graphic design, photography, video production, web development studio and major print supplier. Their motto is – "From business cards to magazines and everything in between". Westways has been based in the City of Belmont for over 25 years, so next time you're thinking of producing any marketing or promotional material to communicate your business, think Westways Visual Communications, – "our focus is making your business standout"
Winner: Volunteer Task Force Inc.
Accepted By: Kath Snell, Volunteer Task Force Inc.
Volunteer Task Force Inc. has been serving the community since 1970. Their mission is to deliver services that support independence, enhance safety and amenity of people, and to help build the community through volunteering.
Their services are aimed at supporting those who have difficulty with everyday tasks due to frailty or disability. We take an enablement approach with a focus on providing services "with" a person and not "for" or "to" a person. Volunteer Task Force Inc. are committed to real images, real people and real stories in their marketing while incorporating a logo for their successful Water Wise program. They adopted this two-pronged approach by targeting marketing materials and advertising campaigns along with engagement with community.

MOST INNOVATIVE ENTERPRISE
Sponsor: Mustera Property Group
Presented By: Anthony Ho, Mustera Property Group
Mustera Property Group Ltd is an Australian focused Real Estate Investment and Development company listed on the Australian Securities Exchange. The Company provides a real estate development platform for quality residential, commercial and industrial, hospitality and mixed-use projects. Mustera provides integrated real estate investment solutions with the ability to pursue a diverse range of Australian real estate opportunities across all investment types, capital structures and asset classes. The Company has established ties with both local and offshore institutions providing a unique platform for its success.
The Group's success is underpinned by a highly skilled and motivated team with diverse expertise across property sectors and risk-return profiles.
Winner: Lust Pearls
Accepted by: Jill Hansen, Lust Pearls
The seamless fusion of pearls with inlaid diamonds makes LUST a range of jewellery unlike any other seen in the world. As a pioneer in this jewellery technique and a world leader in the use of diamonds in pearls, Jill Hansen, the proud owner of LUST, creates some of the most exquisite pearl jewellery ever seen. With over 20 years' experience in the pearl industry, Jill has done everything from seeding and culturing pearls to selling them at the top international pearl markets. Jill's jewels are worn by many a discerning pearl lover, from stars at the Oscars to homemakers with exceptional taste.
MOST CREATIVE AWARD
Sponsor: Belmont Business Enterprise Centre Inc.
Presented By: Jules Lewin, Chair, Belmont BEC
The Belmont Business Enterprise Centre provides low-cost advisory services to new and existing small businesses. Advice is provided through helplines, mentoring, networking, legal and accounting referrals. They also help with the preparation of marketing and business plans, have an extensive series of online business training topics and opportunities to attend trade & sourcing missions throughout Asia. Belmont BEC is a member of BEC Australia and the Australasian Institute of Enterprise Facilitators and the BEC Australia specialist business advisory centre in creative, fashion & TCF related small businesses support.
Winner: Owl & Bear
Accepted by: Chiara Romeo
Owl & Bear are an event and design company with over 10 years' experience in the Perth events scene. They specialise in handmade furniture items and lighting installations for weddings, birthdays, engagement parties, kitchen teas and everything in between. They also custom make furniture pieces to sell to loving new homes. Owl & Bear have a warehouse located in Mount Hawthorn and travel between Perth metro and the south West creating magical events everywhere they go.
TECHNOLOGY AWARD
Sponsor: Qbit
Presented By: Dave Musarra, Qbit
Qbit is a progressive and proactive Information Technology company that provides products and services to Perth based businesses. Investing in the latest technology ensures Qbit are leaders in the IT services field. Qbit prides itself on not just delivering good customer service, but Exceptional Customer Service and guarantees their products and services won't disappoint
Winner: Fortix
Accepted by: Paul Faix, Fortix
Fortix help their clients scale up their businesses by centralising and visualising all business processes in a single, easy to use business management system called Fortix Freedom.
They provide cloud based software solutions for growing SME's which automates business processes, saves time and drive profits for their clients. Fortix have a range of solutions available to meet their clients' needs and the flexibility to partner with them in a way that is both suitable and affordable for their businesses.
ACHIEVEMENT AWARD
Sponsor: Aaragon Construction Management
Presented By: Robert Francis, Aaragon Construction Management
Aaragon Construction and Management Pty Ltd specialise in Development Solutions.
With their knowledge and expertise, Aaragon is able to offer solutions for any proposed development, no matter how large or small. Their services include the provision of everything required for a development to be successful, from initial concepts, planning, and the obtaining of required approvals; to financial modelling and even the preparation of financial submissions. They can also assist in obtaining finance or acquisition of development partners. Aragon Construction also provide for the construction and project management of your development project.
Winner: Training For Me
Accepted by: Droyt Robb, Training For Me
Training For Me is a Registered Training Organisation that offers flexible and individualised training to all those that have a passion of being in their chosen industry and who want to make a real difference. They offer Nationally Recognised Qualifications in a variety of areas, specialists in Childcare Training and First Aid Training. Training for Me also provide professional development workshops, staff training for employers and can help in the area of recruitment.
KARL FARRELL INSPIRATION AWARD
Sponsor: Textile Clothing Footwear Resource Centre of WA (TCFWA)
Presented by: Carol Hanlon, Founder and CEO, TCF WA
The Textile, Clothing and Footwear Resource Centre of Western Australia Inc. provides a valuable resource for the fashion & TCFL industries. Since they were established in Belmont in 1998, the not-for-profit centre has been so successful, that it now receives requests from across Australia and overseas. TCFWA provides specialised fashion business skills, mentoring and supply chain sourcing on and off shore and has been recognised as a leader and role model organisation. TCFWA recently was a national Finalist in the Hong Kong National Business Awards and awarded the City of Belmont Environment Award for its TCF Australia Energy Efficiency Training Project.
Winner: Spirit of the Streets Choir
Accepted by: Lorraine Frendin
Spirit of the Streets Choir is a not-for-profit community organisation which was set up to provide an environment where people from all walks of life and social backgrounds could come together in song and friendship. It is a choir where people who experience social disadvantage, isolation and often stigma can feel part of a family. Spirit of the Streets Choir creates a non-judgmental, inclusive and empowering environment for all. The Choir will celebrate its 10th anniversary in May 2017.
VOLUNTEER OF THE YEAR
Sponsor: Perth Airport
Presented By: Gemma Hunter, Perth Airport
As the gateway to Western Australia, and with an exciting phase of redevelopment well underway, Perth Airport's own Gold Coat Volunteer Program is vital to ensure that passengers and visitors to the airport are provided with information and assistance within the international and domestic terminals. The airport recognises the invaluable contribution that volunteers like the Gold Coats make to the community, and would like to congratulate the winner of the Volunteer of the Year Award and all entrants in this category.
Winner: ED Connect Australia
Accepted by: Julie Mullet, ED Connect Australia
ED Connect Australia connects volunteers who want to make a difference with young people in school who need extra help. They harness the wisdom and skills of older generations to enrich the learning experience of young people who are at risk of falling by the wayside in an often over-burdened school system. Ed Connect Australia enhances wellbeing and enriches lives and communities by enabling people of all ages to help each other.
COMMUNITY SPIRIT AWARD
Sponsor: Southern Gazette
Presented By: Nathan Wayne
The SOUTHERN GAZETTE community newspaper is your source for information on what's happening in your local surrounding area. Distributed to homes and businesses in the City of Belmont, Town of Victoria Park and City of South Perth, the SOUTHERN GAZETTE is here to help grow your business by ensuring your advertising dollars are spent reaching the right people. Think of us as your most prominent shop window, displaying your goods and services to real prospects each and every week.
Winner: Starick
Accepted by: Amanda Hughes
Cloverdale based Starick is a not for profit organisation which provides multi-layered support services in Perth's south-east metropolitan area to women and children experiencing family and domestic violence. Starick's services include two refuges for women with children, counselling services, supported community housing, court support, advocacy, children's programs, community outreach services and an Op-Shop.
ENVIRONMENT AWARD
Sponsor: WA Treeworks
Presented by: Tracie Barker, WA Treeworks
WATreeworks specialises in delivery of arboricultural services. Its clients include utility and mining companies, government departments, local shires and residential clients. Their goal is to identify client objectives, create innovative and viable solutions that set the standard for safety and efficiency within the tree care industry and seek out opportunities where WA Treeworks can minimise environmental impact and make a positive contribution within the community.
Winner: R. Moore & Sons
Accepted by: Stuart Davis, R. Moore & Sons
Kewdale based R Moore & Sons specialise in the remanufacturing of diesel engine components predominantly for the heavy industry. In April 2015 the business invested in a 100KW Solar system as part of their broader costs and environmental footprint reduction. They have also developed a treatment plant to reduce the impact of waste water. The new waste water plant provides a higher quality of treated water that is reused several times in their cleaning processes. Reducing water usage and the impact of their waste water has been a long term and ongoing objective for the company.
BEST RETAIL BUSINESS
Sponsor: Belmont Forum
Presented By: Julie Elliott, Belmont Forum
Belmont Forum Shopping Centre is the largest retail facility within the City of Belmont. Belmont Forum recently welcomed ALDI to the centre which added to the retail offering for Belmont residents and workers. In addition works are now underway on a 6 restaurant dining precinct due to open in 2017. Belmont Forum is pleased to be the sponsor of the Belmont & Western Australian Small Business Awards Best Retail Business award.
Winner: OPSM Belmont Forum
Accepted by: Vanessa Deeker & Amanda Brand, OPSM Belmont Forum
The team at OPSM Belmont Forum provide detailed eye examinations which includes testing of vision and recommending optical correction if needed. They use the latest technology to detect eye disease and conditions that can potentially affect vision such as cataracts, glaucoma and macular degeneration. Patients are also provided advice on UV protection and common eye conditions. OPSM Belmont Forum provides prescription spectacles and non-prescription glasses, contact lenses, ophthalmic frames and eye wear accessories.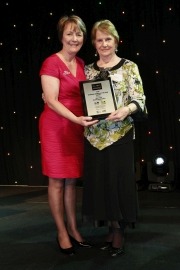 BUSINESS WOMAN OF THE YEAR AWARD
Sponsors: Business & Professional Women of Western Australia & BPW Business Incubator ONLINE Training & Mentoring Program
Presented By: Kate Waters, President BPW WA
BPW Western Australia is part of a global network of Business & Professional Women that makes real differences in women's lives by creating awareness, leading discussion and driving change. Their focus is on issues that affect women and work including equal access to education and training and they recognise business excellence. Members give their time and passion to support various campaigns and run projects that are good for women and the world. BPW Business Incubator ONLINE Training & Mentoring Programs are conducted by Belmont BEC, who is a specialist business improvement provider to women owner/managers in small businesses across Australia and beyond.
Winner: Nita Sams, Classic Bookbinders
Accepted by: Nita Sams, Classic Bookbinders
Starting life in the backroom of a printing shop in 1983. Classic Bookbinders has grown to be WA's leading book binding company. They are the winners of numerous Industry Awards for their high quality in design and craftsmanship. Their accolades include being commissioned to make a book of Remembrance for the Catholic Church, which is now housed in the Vatican. In a formerly male dominated industry, Nita has been President of the WA Printing Industry Association and also a Board member for the National Council.
BEST NEW BUSINESS
Sponsors: City of Belmont
Presented By: Cr Steve Wolff, City of Belmont
The City of Belmont is a vibrant, modern City located just six kilometres from Perth CBD. During 2016 significant infrastructure projects, such as Development Area 6 and the new Airport West rail link, continue to gain momentum in the City. Along with the ongoing development at The Springs, these projects are firmly establishing Belmont as an accessible business district and a great place to live and work. With a focus on establishing and maintaining a progressive business community, the Council is proud to sponsor the award for the Best New Business. By recognising quality and excellence in the community, the City of Belmont – the City of Opportunity continues to be a great place to live, work and invest.
Winner: Airport Apartments by Aurum
Accepted by: Michael Kar JP, Airport Apartments by Aurum
Less than a kilometre from Perth Airport located in Redcliffe; Airport Apartments is a modern collection of apartments which will provide the perfect accommodation base for those travelling to Perth. Airport Apartments boast a 4 and a half star rating and fantastic reviews on independent sites such as TripAdvisor. They also offer a free 24/7 airport shuttle service and free on-site parking.
SPIRIT OF AUSTRALIA AWARD
Sponsors: Hanssen Project Management
Presented by: Gerry Hanssen
Hanssen is one of the leading construction companies in Perth building quality high rise mixed commercial and residential apartments. The company is passionate about training and providing opportunities for people of all skill levels to develop and find their niche in the construction industry.
Winner: The Space Place Observatory
Accepted by: Bella Wunderlin
The Space Place Observatory and Cartref Park Gardens offer an experiential tourism experience centered on the natural environment. They offer night time astronomical events at their premises, and have a travelling telescope service that is utilised by many schools. The Space Place Observatory has undergone major upheaval in the last 12 months with a change of location and name, and has come through with flying colours including gaining council approval for their new site.
HOME-BASED BUSINESS AWARD
Sponsor: NAB
Presented by: Brad Stone, NAB
NAB's Small Business WA division is a team of 20 Bankers that seek to meet the business and personal needs of small business customers with business lending requirements of less than $1m. Our customers range from start-ups, expanding and mature businesses across a range of industries including retail, manufacturing and services, with up to $5 million in annual turnover. Our bankers have holistic conversations with our customers about their business and personal banking needs and are supported by a range of specialists including wealth, insurance, transaction banking, foreign currency and equipment finance.
Winner: Hilton Plumbing
Accepted by: Clinton Hancock, Hilton Plumbing
If you need a plumber in Perth, then look no further than Hilton Plumbing. They pride themselves on the service they provide to their customers. They make appointments and keep them. They give you a quote and will stick to it. They equip their vans with the latest technology, and their plumbers with the latest knowledge. They aim to save you time and money, and treat your home with respect and care.
YOUNG ENTREPRENEUR AWARD
Sponsor: Business News
Presented By: Charlie Gunningham, Business News
The aim of Business News is to be the best news and information service, providing the insights, connection and opportunities of doing business in the nation's most successful economy.
They achieve this through an editorial team that is committed to delivering quality and trusted news and information and engaging with the full range of business sectors in the WA economy via print and digital platforms.
Winner: Samuel Ong, Mustard Seed Podiatry
Accepted by: Samuel Ong, Mustard Seed Podiatry
Mustard Seed Podiatry provides a range of podiatry services. Samuel's passion for podiatry developed at university, and once he grasped the complexity of the human foot, he was hooked. Samuel saw first-hand how podiatry could help and improve the lives of patients. He saw a gap in the Perth market in terms of the quality of podiatry service offered, so he created a podiatry experience that was both memorable and remarkable.
INDIGENOUS BUSINESS OF THE YEAR AWARD
Sponsor: Perth Airport
Presented By: Gemma Hunter, Perth Airport
Perth Airport is proud to continue its support of the Indigenous Business of the Year Award. As custodians of the land on which the airport is located, Perth Airport recognises the importance of the area to the Noongar people and values its ongoing partnership with the local Indigenous community.
Perth Airport would like to congratulate the winning Indigenous Business of the Year and all entrants in this category
Winner: Marr Mooditj Training
Accepted by: Margaret Quartermaine, Marr Mooditj Training
Marr Mooditj Training is an Aboriginal managed organisation producing training and assessment services to the Aboriginal community. It was founded in 1983 by Professor Joan Winch to provide training in health and wellbeing for Aboriginal people to work in and with their communities to access and understand services. They understand that Aboriginal health is viewed in a holistic context that encompasses emotional, physical, cultural and spiritual health.
FASHION INDUSTRY AWARD
Sponsor: TCF Global
Presented By: Irving Lane, Chair, TCFWA
TCF Global assists designers with sourcing and linkages to global networks of supportive fashion organisations, trade missions and events. TCF Global also assists social enterprise and TCF Village Community projects with micro economic development projects for women starting small sewing related businesses globally and facilitates many sourcing missions for fashion designers to attend trade fairs across Asia.
Winner: La Luna Lifestyle
Accepted by: Belinda Phillips, La Luna Lifestyle
La Luna Lifestyle became the vehicle whereby founder Belinda Phillips could empower disadvantaged women that were living under situations of domestic unrest, illness or lack of education. La Luna Lifestyle is a Fair Trade lifestyle brand, focusing on designing, manufacturing, wholesaling as well as retailing. Belinda focuses not only dressing women, but also on addressing the various plights of women throughout the world – particularly those in third world countries.
WA RACING INDUSTRY AWARD
Sponsor: Racebreed Australia
Presented By: Marjorie Charleson, Racebreed Australia
Marjorie is the proprietor of "Racebreed Australia" magazine since 1998, and has won three Belmont Small Business Awards and is a sponsor of the WA Racing Industry Award since 2009. She was inducted into the BEC Hall of Fame in 2012. Marjorie was awarded the Australian Centenary Medal in 2003 for service to the Racing Industry and to the Community. In August this year she was also recognised by racing authority Racing and Wagering WA with the inaugural "Lifetime Achievement Award" at the Annual WA Racing Awards.
Winner: Paula Wagg
Accepted by: Paula Wagg
Paula Wagg has held a Professional Racehorse Trainers License since 1991. Based in Ascot, Paula prepares thoroughbred racehorses for owners with a view to winning races programmed in WA. She feeds her horses the highest quality feed and having a small stable means that teamwork and cooperative input are the cornerstones of success for her stable. Paula was the first female to become a licensed jockey in WA.
CUSTOMER SERVICE AWARD
Sponsor: Telstra Business Centre Belmont
Presented By: Kym Trezise, Telstra Business Centre Belmont
The Telstra Business Centre Belmont helps local business with the complete range of Telstra Telecommunications Solutions. Located at 138 Abernethy Rd, Belmont, they have working technology on display and an experienced team available to offer professional advice. Alternatively, they can meet with you face to face at your business. Telstra Business Centre are looking forward to helping you improve your business efficiencies, improve your customer interactions and increase your bottom line. That is why we are all in Business!
Winner: WiseClick Training and WiseClick Business Services
Accepted by: Karen Robinson, WiseClick Training and WiseClick Business Services
WiseClick provides business consulting and accounting software support, as well as an extensive range of training options. Supporting Xero, MYOB, Intuit and other accounting and business software. They are experts in cloud based accounting and business solutions and have been operating in Perth for over 15 years. They are a proudly Western Australian owned company and always put their customers first.
BUSINESS MIGRANT OF THE YEAR AWARD
Sponsor: The Australian Asian Association of WA
Presented By: Mel Fialho, The Australian Asian Association of WA
The Australian Asian Association is one of Western Australia's premier ethnic conglomerate bodies, providing rent free accommodation to 17 of their ethnic conglomerate. The Australian Asian Association provides a range of services to their clients including Training, Legal Advice, Immigration Advice and Case Management, Welfare, Emergency Relief, Aged Care and an Ethnic Secretariat. The membership and services continue to grow in geometrical proportions as evident from tonight's function.
Winner: Crusty's Fresh Bread
Accepted by: Kim Trang, Crusty's Fresh Bread
Crusty's Fresh Bread in Belmont is a wholesale and retail bakery, with a main store in Belmont and 3 other shopfronts in Perth. The Vietnamese owners have had the business for over nearly 15 years. The bakery makes a range of bread, bread rolls, pies, sausage rolls and cakes fresh from scratch. The owners are now proud Australians and are grateful for what they have achieved since coming to Australia over 20 years ago.
INTERNATIONAL TRADE AWARD
Sponsor: BEC Global
Presented By: Belmont BEC Patron, Ben Wyatt, MLA, Member for Victoria Park, WA Shadow Treasurer.
The international trade of goods and services around the world is a challenge for small business owners searching for new markets, clients or suppliers in this fast changing global economy.
BEC Global assists small businesses to quickly tap into trade opportunities, stay ahead of competitors and cope with the multiple demands of exporting and importing, various time zones, hemispheres and cultures. BEC Global helps provide global linkages and supply chain connections between countries such as Hong Kong, China, Mongolia, India, Korea, VietNam and Taiwan. BEC Global supports United Nations CSW NGO Forums, International Trade Centre (ITC-WTO) and APEC Project initiatives.
Winner: In Balance Australia
Accepted by: Dwayne Rowland, In Balance Australia
Proudly 100% Aboriginal owned and family-run, In Balance is an award winning Malaga-based export company that distributes Australian developed and manufactured industrial cleaning products. Their high performing and cost effective range of industrial cleaning solutions outperforms dangerous and toxic conventional products, reducing the impact on people and the environment. Their industrial cleaning products use raw materials made from Australian flora.
ENTERPRISE OF THE YEAR
Sponsor: Watering Concepts
Presented By: Bev Poor, Watering Concepts
Watering Concepts is a Western Australian owned company with a 36 year record of service within the community. Watering Concepts designs, supplies and services systems for water-based operations, including process water for mining, chemical applications, industrial waste applications and for use within the water utilities system. They can assist with designing new projects or building and supplying customised control valves for existing systems. They provide on-site or workshop repairs and refits for existing equipment dealing with control of flow, pressure, quality and distribution of solutions. Watering Concepts also provide access to spare parts and repairs to most brands of filters, control valves and flow meters. They have maintained their reputation as Problem Solvers for Water Distribution Operations. The team can also provide on-site training sessions for mine-site field operators to help reduce downtime and increase productivity.
Winner: Optus Business Centre Perth
Accepted by: Paul & Yasemyn Malyniak, Optus Business Centre Perth
The Optus Business Centre Perth designs simple telecommunication solutions for small to medium sized business. Their Belmont based business is built on the basis that as business owners, they truly understand the challenges of SMB telecommunications. As testament to their hard work, they have grown their profit by 18% in the past 2 years. Optus Business Centre Perth in association with Alzheimer's Australia has now raised more funds than any other team in the history of their annual fundraiser, over $10,000 from the Memory Walk.
BUSINESS PERSON OF THE YEAR
Sponsor: Belmont Rotary
Presented By: President Teresa Turnbull, Belmont Rotary
Belmont Rotary is a local service club that meets weekly to enjoy friendship as well as do good works in the local and international community. Club members enjoy the camaraderie with like-minded professionals, and club projects offer additional opportunities to develop enduring friendships.
Winner: Sharon Kais, Kais Contractors
Accepted by: Sharon Kais, Kais Contractors
Whilst specialising in the Earthmoving, Civil construction and Mining industries in Western Australia's remote regions, Redcliffe based Kais Contractors has become well known over many years for its expertise in final trimming, including experience in the latest techniques of GPS / Topcon technology. They provide all necessary equipment, such as lasers, tripods and survey support equipment for computerised control of final trimming. Director of Kais Contractors, Sharon Kais, actively supports a range of worthy charities such as Ronald McDonald House and Variety.
JUDGES AWARD
Sponsor: MY Business Incubator
Presented By: Jasmyn Mumme, Past Chair, Belmont BEC
My Business Incubator is a virtual Incubator project of Belmont BEC and delivers specialist small business improvement services ONLINE to small businesses across Western Australia and nationally. MY Business Incubator also facilitates Training, Mentoring, Networking, Workshops and Forums on a fee for service basis.
Winner: Shanks Pony Tours
Accepted by: Patty Williams
Shanks Pony Tours has been in operation in Midland and Guildford now for nearly three years. The Tours showcase the incredible history and hidden secrets of the Midland and Guildford areas.
Patty believes that Fun Filled Tours of the Midland and Guildford will encourage visitors both local, interstate and international to discover what very few people know.
HALL OF FAME INDUCTEE
Sponsor: Belmont Business Enterprise Centre Inc.
Presented by: Cassie Rowe, Past Chair, Belmont BEC
Hall of Fame inductee – Kath Snell, Volunteer Taskforce Inc.
Volunteer Task Force was awarded the Best Staff Training Award in 2009 and Volunteer Award in 2015 and now with the Best Marketing Award in 2016 they are inducted into the prestigious Belmont & WA Small Business Awards Hall of Fame

The Belmont Small Business Awards in previous years